Digital Art on the Steem Blockchain
I hope everyone had a great weekend. Today I am posting a more simplified piece of artwork. I decided on doing something black and white, and more abstract. I again am using my Apple Ipad 6th Gen. with Pencil, and using Procreate as the drawing software. Within Procreate, there are many different types of "brushes" you can use when drawing or painting.
The different brushes in Procreate can resemble the lines of a sketching pencil, the smearing roughness of chalk, the creaminess of oil and the fine mist like spray of an air brushing tool. This ability to mix media without having to actually buy any supplies is truly revolutionary, in my opinion, for novice artists like myself that like to dabble in many types of media but don't have the resources, skill set or time to really get into using actual physical art media such as acrylic or oil painting or any of the many other types of art media.
I was fortunate to have bought my Apple Ipad on sale, and with a 0% interest for 1 year loan that I pay in $30 monthly installment payments. This has made it easy for me to purchase and experiment with the Apple Ipad. I mostly use it for when the urge to draw something comes about. In this painting, I had the desire to paint something simple and somewhat abstract. I really didn't know what I was going to paint, until after a few up and down strokes, I was reminded of a cattail in a marsh, and then the rest just fell into place.
I decided to play on the word "wading" in the title instead of the word "waiting," which is more of the typical use for this word in this type of sentence. No one usually "wades" in water to be found, unless of course you happen to be marsh cattails waiting for some geese to come down from the sky, and thus the word play and the title.
Thank you for stopping by my art gallery on STEEM!
+++ @streetstyle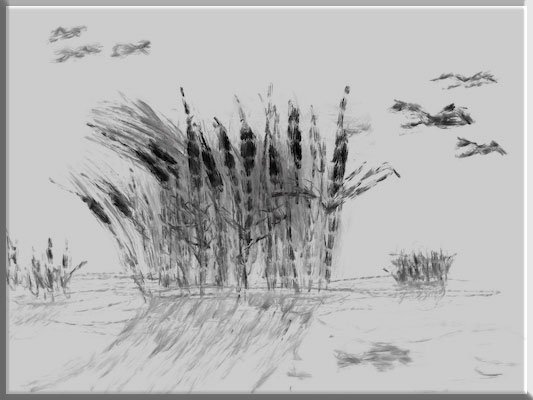 streetstyle - steem 2016
Wading to be Found, 2020
Digital oil brush on Apple Ipad w/ Pencil using Procreate