I joined Steemit in May this year with a software development and data analysis background, but no real familiarity with cryptocurrencies. Through developing Steem Reports over the past six months, and hanging about in witness and dev chat rooms/forums, I've also a received a good practical education in how blockchains work.
Thank you to those who have financed the development (and my learning) so far, though your votes, contributions and suggestions. I will continue to develop new tools in 2018 as the 'active users' metric approaches 2000/month, and I have also started work on a separate video related Steem project which I expect to provide more information about, and open source, early in the new year.
---
According to Alexa Traffic Rankings and Google Trends, it looks as though things are picking up nicely for Steem/Steemit generally recently, so I'm looking forward to seeing how they develop in 2018.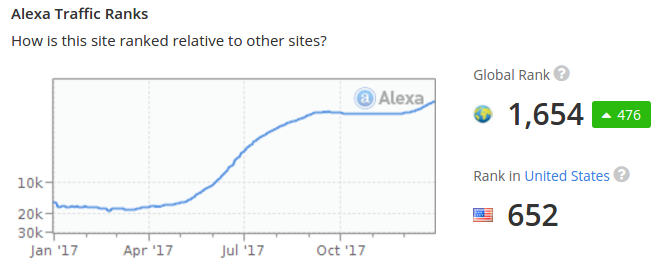 https://www.alexa.com/siteinfo/steemit.com


https://trends.google.co.uk/trends/explore?date=2016-01-01%202017-12-31&q=steem,steemit
---
Happy New Year!