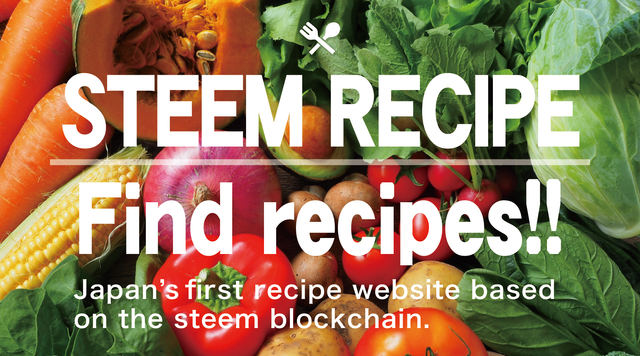 SteemRecipe (alpha version) is Japan's first recipe site based on the STEEM blockchain.
---
SteemRecipe(α版)は日本初のSTEEMブロックチェーンを使用したレシピサイトです。

1. About SteemRecipe
Unlike existing recipe sites, SteemRecipe aims to become a website where people who write recipes are evaluated and rewarded for good recipes.
---
1. SteemRecipeについて
SteemRecipeは既存のレシピサイトと違い、レシピを書いた人が評価をされ、報酬を獲得することで美味しい料理のレシピの情報が蓄積されるウェブサイトの実現を目指します。




2. Trusted recipe site
We aim to create a reliable recipe website. All recipes created by users can be viewed for free and can be rated by users, creating a blockchainbased database of highly rated information. Anyone can take advantage of the good gourmet recipes.
---
2. 信頼できるレシピサイト
信頼できるレシピサイトを作り上げていくことを目指しています。皆様が作成したレシピは全て無料で見る事ができ、ユーザーが評価をし、それによって評価の高い(良質な)情報が蓄積されます。だれでもその良質なグルメレシピを活用することができます。




3. Alpha Version Release
This is our first version (Alpha Version) and may contain bugs. We will add features and bug fixes for the beta releases. If you find a bug, please report it in our Discord Channel.
---
3. アルファ版リリース
今回のリリースは最初のバージョン(アルファ版)であり、バグを含む可能性があります。ベータ版のリリースに向け機能の追加、バグフィックスを行っていきます。バグを見つけた方はディスコードで報告をお願いいたします。

https://discord.gg/qdwvDTe

4. Support for this project
Please upvote, resteem, and delegation support this project.
This project is still under development. We started this project with the idea that creating the tools you need on the Steem blockchain will increase Steem's value. We would kindly like to ask you to support us to make this project better.
---
4. このプロジェクトの支援について
このプロジェクトについてのupvote、resteem、delegationが私たちへの支援となります。まだまだ開発中のこのプロジェクトへの支援を何卒よろしくお願いいたします。私たちはSteemブロックチェーン上で皆さまが必要とするツールを作成することがSteemの価値を向上させるとの想いでこのプロジェクトをスタートいたしました。このプロジェクトをより良いものにできるよう皆さまのお力をお借りできればと考えております。




5. SteemRecipe Team
SteemRecipe was created by these member.
---
5. SteemRecipeチーム
SteemRecipeは以下のメンバーによって作成されました。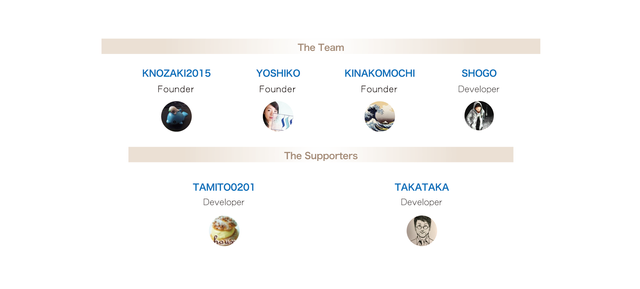 The Team
Founder @knozaki2015
Founder @yoshiko
Founder @kinakomochi
Developer @shogo
The Supporters
Developer @tamito0201
Developer @takataka
Finally, I'm happy to announce SteemRecipe this time.
Steem is still not well known in Japan, but I hope that many new services will be developed in Japan as the first Steem blockchain based service in Japan is released.
In order to expand Steem's recognition in Japan, we will strive to provide a great community support.
We will start the service in other languages after the release in Japanese, so please wait for a while.
---
最後に、今回SteemRecipeを開発、発表出来たことを嬉しく思います。
日本でまだまだ知名度の低いSteemですが、Steemブロックチェーンを使った日本初のサービスのリリースを期に、新たなサービスが日本から続々と生まれることを願っております。
日本でのSteem知名度拡大を目指し、充実したサービス運営を心がけて参ります。皆様のご利用を心よりお待ちしております。