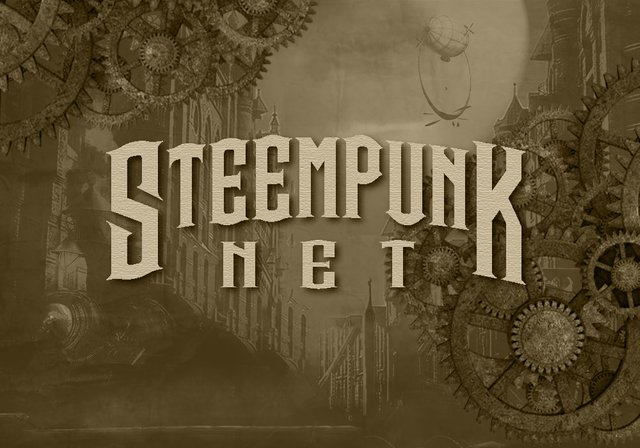 STEEMPUNK-NET Update No. 10
Hi all and be welcome to the Weekly Newsletter Number 10, this time for the first time directly from the @steempunknet account.
I will again jump the normal procedure and directly talk about the things we are cooking in our laboratories :)
Even though we wanted to somehow pause during christmas season we did not and have a few very cool achievements to announce.
First iteration of "Proof of Game" almost ready
@dehenne has been working day and night and since a few days you can see daily stats about the game on the account @steempunksnet. This will be the basis for version 1 of our "Proof of Game" concept. We will use those stats that we are doing there and will put the leaders of those into the "beneficiaries" of the article, making them directly earn percentages of the revenue of the post.
We are super enthusiastic about bringing this important part of the game live and keeping our promise to let our players earn through gaming
This is only the first iteration of the "Proof of Game" concept, but a very important milestone for us. The 2nd and even better implementation will be done once SMT are live and we can have our own coin inside the game.

Like already mentioned we are having now daily and weekly stats on the @steempunksnet account. Check out the stats!
And if you have ideas for additional ones please come to us in STEEMPUNK-NET Discord, we are always happy to receive ideas

Official repo for whitepapers and concepts
Like already told in this Post we are closely collaborating using Utopian as a base. We now added another repo for all whitepapers and
conceptual work called https://github.com/pcsg/steempunknet
This will make it easier to work together with us for STEEMPUNK-NET!
By the way, the collaboration is already paying off for everyone, the whitepaper is now available in English, German, Spanish, Turkish and Polish. Link to all.
We are extremely happy about that! Keep them contributions coming, Ladies and Gentleman!
If you dont know how to contribute via utopian please join our STEEMPUNK-NET Discord and we help you gladly.

Do not forget our Artists
The story around Langdon Bennett is evolving, see the blog of @asperger-kids to follow the story!
I heard that there are other storytellers getting ready in the ever growing Steempunk community to show their talent!
Stay tuned!

Advisors & Sponsors
It is a special honour for us to have @Teamsteem as our first official Advisor, he is doing a marvelous work for Steem and has been already of very great value for us!
If you did not do already please consider voting him as a witness.
Do you also want to help us bring value to steem and be mentioned here? We would be more than happy to have you on board! Come to our STEEMPUNK-NET Discord Server and talk to us!
We are looking forward to help Steem grow!
Thanks alot for reading!
Jan, for the STEEMPUNK-NET Team
---
|german version|
STEEMPUNK-NET Update No. 10
Hallo zusammen und Willkommen zum Update Nummer 10 von STEEMPUNK-NET, zum ersten mal direkt vom @steempunknet Account
Ich werde mich wieder nicht an die normale Form halten und direkt über die Sachen schreiben die wir immoment in unserer Hexenküche zusammenbrauen!
Eigentlich wollten wir ja in den Weihnachtstagen etwas Pause machen, aber manchmal kommt es anders als man denkt!
Erste Version vom "Proof of Game" fast fertig
@dehenne hat Tag und Nacht gearbeitet und seit einigen Tagen sind die ersten täglichen Statistiken über das Spiel auf dem Account @steempunksnet zu sehen. Das ist die Basis für unser "Proof of Game" Konzept in der ersten Ausbaustufe. Wir benutzen diese Statistiken um die einzelnen Champions der Kategorien zu küren und darüber dann die "Beneficiaries" im Post einzustellen, das führt direkt dazu das die Spieler an den Einnahmen des Posts prozentual beteiligt werden!
Wir sind total happy diese Methode jetzt schon an den Start zu bringen, ist es doch unser klar erklärtes Ziel gewesen Steemians für das Spielen von STEEMPUNK-NET zu belohnen!
Das ist nur die erste Version des "Proof of Game" Konzeptes, aber ein sehr wichtiger Meileinstein für uns. Die 2. und noch interessantere Variante wird direkt mit dem Go-Live von SMT implementiert werden, so dass wir dann unsere eigene Coin innerhalb des Spiels haben werden!

Wie oben schon beiläufig erwähnt haben wir unser Statistik Modul live geschaltet, die täglichen und wöchentlichen Stats findest du unter @steempunksnet! Falls ihr weitere Ideen habt kommt zu uns auf denSTEEMPUNK-NET Discord, wir sind immer froh neue Ideen zu hören!

Offizielles Repo für Whitepapers und Konzepte
Wie schon in diesem Post erklärt arbeiten wir sehr eng mit Utopian zusammen. In diesem Zuge haben wir ein **weiteres Repo hinzugefügt, dass die Whitepapers und Konzepte enthält --> https://github.com/pcsg/steempunknet **
Das wird es weiter erleichtern mit uns zusammen an STEEMPUNK-NET zu arbeiten!
Die Zusammenarbeit mit Utopian trägt schon erste Früchte, das Whitepaper ist jetzt in Englisch, Deutsch, Spanisch, Türkisch und Polnisch verfügbar.Link
Wir sind super happy darüber! Schreibt Beiträge via Utopian!
Wenn ihr nicht genau wisst wie ihr Beiträge über Utopian schreibt kommt in den STEEMPUNK-NET Discord, wir helfen euch dabei sehr gerne!

Vergesst unsere tollen Künstler nicht!
Die Story rund um Langdon Bennett geht weiter! Checkt den Blog von @asperger-kids um dabei zu bleiben!
**Auch andere Autoren in der wachsenden Steempunk Community haben ihre Fühler ausgestreckt und sind dabei eigene Geschichten zu entwerfen! **
Bleibt dran!

Berater & Sponsoren
Es ist uns eine große Ehre @Teamsteem als unseren ersten Berater an Bord zu haben, er leistet großartige Arbeit rund um Steem und war uns schon eine große Unterstützung!
Er macht ebenfalls großartige Arbeit als Witness, voted Teamsteem mit eurer Witness Stimme!
Willst du auch hier erwähnt werden und uns dabei helfen Wert für Steem zu schaffen? Dann komm zu uns in den STEEMPUNK-NET Discord Server und lass uns reden! Wir freuen uns darauf Steem beim Wachsen zu helfen!
Vielen Dank fürs Lesen!
Jan, für das STEEMPUNK-NET Team