Steem Governance is Multiparty
In a recent post we stated the following about how we plan to move forward from the rollout of HF20:
We have already begun discussions with the Witnesses about developing common standards, not just for testing code, but for holding Steem developers, such as us, accountable to their needs, and the needs of the community members they represent. We believe the system that will emerge from this will be far more mature, effective, and powerful than the methods in place prior to Hardfork 20. We are excited about the potential for positive change that will emerge from the challenges we have faced, and will continue to face, as a community.
In today's post we would like to explore this issue further and share our thoughts on how Steem's governance can function best.
3 Major Steem Groups
There are three major groups within the Steem ecosystem: Steem holders, Witnesses, and blockchain developers. The Witnesses are the gatekeepers of the code. It is ultimately their decision whether code that is created by developers should be adopted and implemented in Steem. This is the role Witnesses are elected to serve by the Steem holders, which consists of the users of Steem DApps and the businesses that build those DApps.
Witnesses
In order for Steem blockchain developers (like Steemit) to produce code as effectively as possible, and Steem holders to be as informed as possible, we believe that it would be a substantial benefit to the ecosystem for each Witness to publish the standards that each will hold for proposed Steem code, as well as standards they will apply to the development process used to create that new code. These would be the standards they are committed to enforcing before they would consider adopting and running code in a new version of Steem. We also believe these should include additional standards for each Witnesses' own procedure which would ensure that their requirements for new code are met.
Verification Standards
We would expect that the standards governing the Witness' own process for verifying code, and verifying that code process standards are met, would include information and documentation about each Witnesses' code testing apparatus, or that employed by whomever performs their code review. We expect further that Witnesses who leverage their own apparatus for code review would be much more valuable to Steem than Witnesses who do not. We believe that HF20 has clearly demonstrated that testing attitudes need to be more conservative, inclusive, and rigorous, and that this proposal for Standards is much more in line with conservative development.
Some Witnesses have already taken it upon themselves to propose such standards. @reggaemuffin, for example, published the standards he would apply when determining whether to adopt a hardfork, as well as the actions he pledges to perform himself. @reggaemuffin also shared additional standards that would be followed in the event they were made a top 20 witness. @bobinson has also published a thoughtful post outlining how he plans to proceed. There have been several other Standards published as well. Some are more low level and some are more high level.
We have not evaluated these standards in sufficient depth and will refrain from doing so until we publish our own. In the meantime, we are very encouraged to see that this process has already begun. We believe it is important that we, as a community, find a Goldilock's moment where the community's Standards in aggregate are "just right."
Developers
Steemit, Inc. is currently going through our own HF20 post-mortem, which we have no doubt will reveal unacceptable flaws in our process, and result in us developing and publishing our own standards for the Witnesses and Steem holders to review. We believe that governance on Steem is close to functioning very well, and the conversation that will now ensue is how to make it much better and empower more Steem holders than ever.
Users and Businesses
Through this process of publishing standards, Steem users and businesses will be able to hold those Witnesses accountable to their published Standards, and must hold them accountable. With Steem comes the responsibility to elect responsible gatekeepers of Steem code and voice your ideas for improving the ecosystem. It is your votes, after all, that determine who occupies these important gatekeeper positions. And it is the people who occupy those positions who will be responsible for communicating to us what code they will approve, and what standards that code has to meet. With such standards in place, it will become abundantly clear to everyone which Witnesses successfully, or unsuccessfully, work within established standards.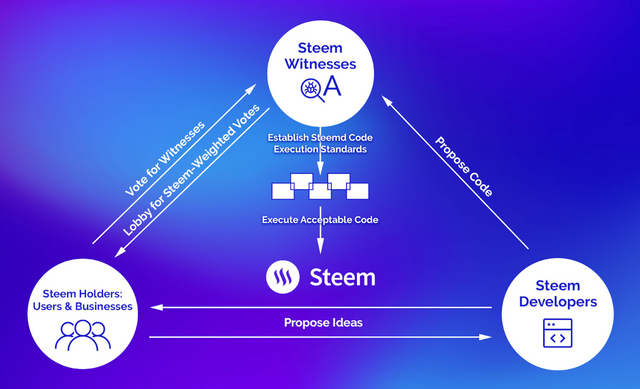 We are holding ourselves accountable for how HF20 transpired, and know the community wants to hold itself accountable as well. This is about coming together as a community to establish a clear path forward so that all the critical groups within this ecosystem can focus on their responsibilities, communicate their requirements efficiently to one another, and accelerate consensus.
Empowering All Constituents
We believe that this system has the potential to truly empower each one of these Steem constituents. It empowers the Witnesses by encouraging, even demanding, that they develop standards with respect to which the developers must comply. This, in turn, empowers the developers by giving them clear guidelines that they can follow knowing that, if they meet those standards, their code will eventually be adopted. And it empowers Steem holders who, through Witness voting, determine what standards are developed for the purpose of gatekeeping new code.
Steem empowers all of us, but with power comes responsibility, and we believe that the most important responsibility right now is the pressing need for all Witnesses to actively develop and communicate reasonable code acceptance standards that will enable us to hold one another accountable. I expect some Witness Standards to evolve through community discourse on this topic. I encourage everyone to be open minded to new concepts of Standards and steadfast in convictions toward finding a Goldilocks inflection point so that all of Steem benefits optimally from future upgrades to the chain.
Steemit CEO, Ned Scott