Happy Birthday Steem!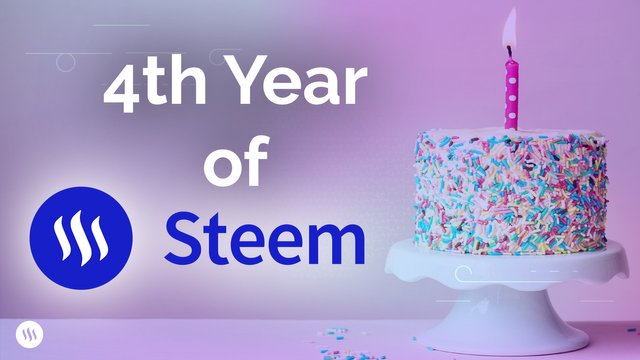 Three years ago today the very first Steem block was produced and since that time the blockchain has continued to produce blocks every 3 seconds nearly without interruption despite constant growth in users and applications.
Community
Its first year in operation, Steem saw rapid growth due to the adoption of steemit.com, still the largest blockchain-powered social application in the world. That rapid growth led to Steem becoming the fastest and most transacted blockchain in the world by the end of 2017. But these are just vanity metrics. The most valuable metric was that we were building an amazing, hyper-engaged community. Best-in-class specifications are certainly important when you're talking about a platform for building applications, but equally as important is an active community of users and developers. In retrospect, year two was really about reaching an inflection point of users and developers that would set the stage for the massive growth in Steem applications which distinguish Steem's 3rd year in operation.
Dominating the Rankings
Steem apps are now dominating the rankings on stateoftheapps.com. Gaming applications like steemmonsters.com are showing the world that Steem is about more than just great social applications like Partiko, Busy and Esteem. These games are leveraging Steem's unparalleled support for Soft Consensus to offer features that people previously believed required Smart Contracts that are difficult to code and expensive to execute. They demonstrate in objective terms that Steem is actually better for application developers of all types than the most hyped general-purpose protocols.
Scaling
This year we've made unparalleled strides with respect to addressing the real scaling challenges that blockchains with actual usage (of which Steem is far ahead) are facing.
Resource Credit System
The Resource Credit system was added to Steem in Hardfork 20 and that system has been functioning so well … nobody even talks about it. This system furthered Steem's lead as the most advanced, sustainable, and scalable freemium blockchain in the world by implementing a market-based system on-chain which ensures that the amount of resources consumed by users is sustainable and scalable.
Free Account Creation
At the same time, this advanced system also enabled a revolutionary blockchain feature that no other chain has managed to accomplish even still: the ability for any stake-holder to create free accounts that are still capable of transacting. Any one with enough Steem Power now has the ability to create free accounts and give those accounts to those who want to join our community, helping to cement Steem's position as the #1 onramp to cryptocurrency. At the same time, the Resource Credit system functions seamlessly in the background to ensure that these new accounts cannot bloat the blockchain.
MIRA
Soon, Steem developers will be releasing yet another major scaling solution called MIRA that will enable the blockchain to be run on commodity-hardware and not in RAM. As the only blockchain servicing web applications that provide real-time feedback with thousands of daily active users, the Steem developers have had to solve the real scaling challenges that application developers actually face. Most high performance blockchains run entirely in RAM which works great … until people actually use them. Once they do, running a node that stores an entire blockchain in RAM becomes prohibitively expensive.
Node Cost Reductions
Steem is nowhere close to hitting its limits in terms of transaction throughput, instead the cost of running nodes was the true scaling bottleneck. If no one can afford to use your blockchain, it doesn't really matter how many transactions it can perform a second. By moving the blockchain to commodity-hardware we can ensure that the costs of maintaining nodes increases at a far more sustainable pace so that we can scale to the next level. There is no silver bullet to scaling. It's about many lead bullets, fired in the proper sequence.
MIRA essentially resolves the scaling challenge of sustainable node-cost. With that out of the way, when transaction throughput becomes a true bottleneck, focus can shift entirely to integrating the necessary solutions. Such solutions could even be come from general-purpose protocol developers who will be forced to tackle those challenges long before Steem will thanks to its application-specificity.
Smart Media Tokens
Unfortunately, one important deadline was missed, and that was the release of the Smart Media Tokens protocol. Much of the work on this protocol is complete and once MIRA is released, the Steemit Blockchain Team will refocus on that project. We know that there are a great many people who can't wait to launch their very own cryptocurrency that leverages Steem's lightning fast block times, fee-less transfers, and revolutionary Proof-of-Brain algorithm. That's precisely why it was so important to shift focus to MIRA and ensure that Steem would be able to support all of the transactions that will come from the release of SMTs.
Every year of Steem's life has been full of new developments and progress to an entirely new plateau of usage. While things never go completely according to plan, Steem's ability to outpace the competition where it matters has been astounding. While we, the Steem community, have certainly seen our share of trials and tribulations, Steem has always continued to chug along every 3 seconds, allowing us to emerge stronger from all the challenges.
Year 4
The blockchain world is far too challenging and volatile to make accurate predictions. Year after year, Steem continues to surprise even us, the team that launched it. What we do know is that no other blockchain has undergone such heavy usage, for such a long period of time, and managed to keep up with the demand without skipping a beat. Not only that, but improve. Steem has 20 Hardforks under its belt, and another on the horizon that will introduce a worker proposal system into Steem (the SteemDAO) and the first Hardfork built by a community developer: @blocktrades.
We can't say what year four will have in store for Steem, but we can say that thanks to MIRA, our amazing community of developers, and our vibrant community of users, the Blockchain of Opportunity is positioned to thrive.
The Steemit Team