I just got notified through @firepower's post that crypto news website CCN reported about STEEM being listed on StateoftheDApps.com.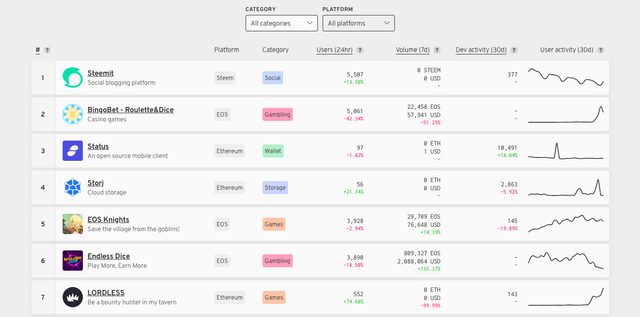 It's what I was hoping for in the first place, since people love 'quick & easy ways to get data/something to write about', and now Steem is part of a visually attractive overview next to two other much (more?) talked about blockchain projects. I read the article. It's fun to read what 'they' see:
Steem dApp listings are still being populated so the leading dApps might not be in the right order just yet. According to the Steem website the social blogging platform Steemit is Steem's most used dApp followed by its mobile application eSteem, decentralized video platform DTube, funding platform Utopian, and the Steem Monsters collectible game.
Interestingly, the Steemit social platform enters the rankings with nearly 5,000 users in the past 24 hours, only beaten by one more listed dApp and that's BingoBet based on the EOS blockchain. Despite activity on the Ethereum blockchain in recent years its trailing poorly for dApp user rankings which could be a sign of trouble for the blockchain. Though Ethereum's promised upgrades could solve the scalability issues which are deterring dApp developers right now.
[source]
As @firepower mentions,
If Steem blockchain and STEEM token is to grow, then we need to keep it alive in conversations outside of this ecosystem.
And I hope that's what we'll achieve with getting 'our' numbers and 'our' activity out. Let's see if the news about Steem being listed on StateoftheDApps gets mentioned in more articles the coming days - and if not, @tarazkp suggests a way to get our app statistics up (hint: through actually start using them more ;-)), and @crimsonclad suggests a challenge in which we're going to play with and define our brand message.
I'm doing my part by finally trying out the eSteem desktop (!) app which got revamped and I got interested in after I saw the team's presentation at SteemFest. I must say, I'm loving the experience so far! This is starting to look like a 'grown up' editor like we've gotten used to through CMS'es like Wordpress.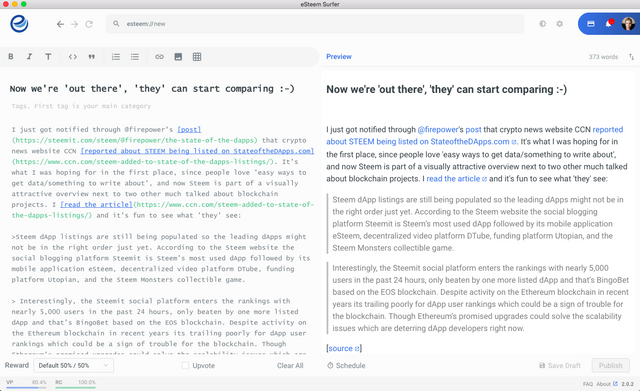 [Kudos for making a desktop app @esteem! I love that I'm not distracted by all the opened browser tabs!]
Oh, last but not least: don't the numbers look pretty so far? Keep it up, or better yet, step it up!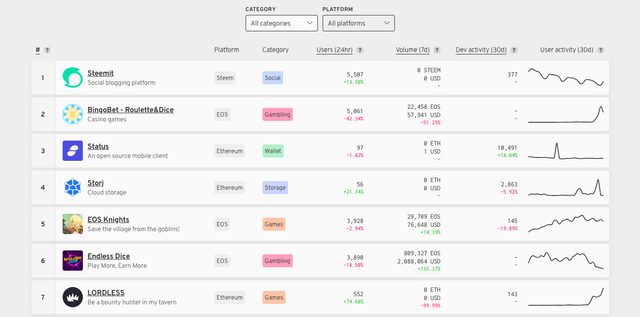 [Steemit's number 1 ranking of all listed dApps on stateofthedapps.com]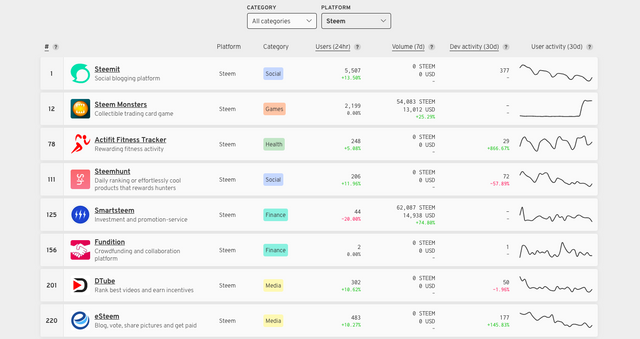 [Our 'top apps' so far!]
Let me know if you see exciting news about Steem statistics 'out there', and if not, as always: Steem on!