In August I discussed how the 80 cent level was a key technical price level for steem and that we were going to come down and test. We did indeed test it and successfully bounced off the price level twice - we are in the clear!
Au contraire mon frère
Not so fast boys and girls, it seem this latest crypto market dump has taken steem down again and the problem is we breached 80 cents!!!!
Houston, we may have a problem.
Below is a daily chart of steem against the USD. As you can see last month we bounced of 80 cents twice. It looks like a recently established level, but it is actually a level from way back in the day and the two recent tests made it that much more of a psychological price point.
With price closing below it, what now?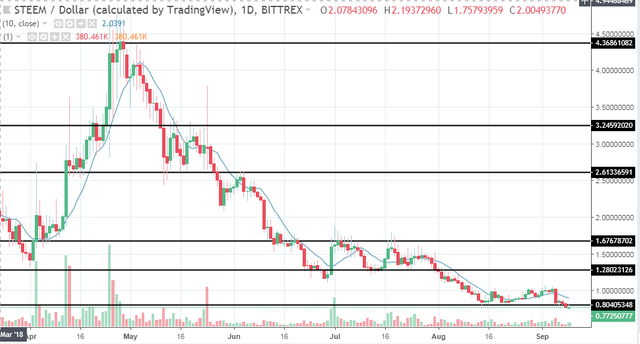 Look Out Below??
Do you see what I see?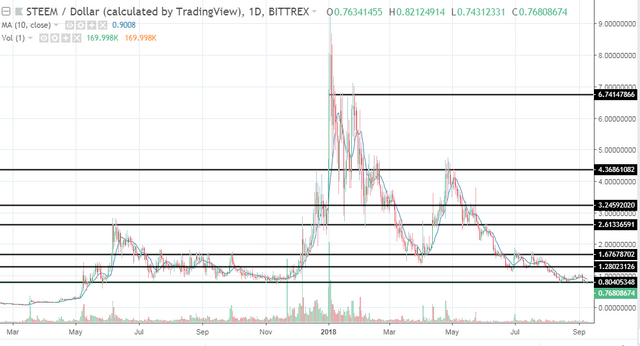 There is a lot of real estate below 80 cents. The only real basing we have is back in May of 2017 at 25 cents and then after that it's down in the teens.
That is not to say there isn't any pivot points before then, but they are more pivot points there real support levels. When I zoom in I can see big intraday spikes off levels in the .50-.60 area so it is worth taking note of.
However, in the end I am a fan of established levels. Levels that show there is clear buying support and, well we don't have too much of that below 80 cents for a while.
Hoping things don't get ugly. Let's hang onto this 80 cent level instead.

Need to learn the basics about bitcoin, the blockchain and wallets?

Free e-book: ScaredyCatGuide to Knowing What the Heck Bitcoin Is

Disclaimer: All info in this post is my opinion and for informational purposes only