Buy the rumor sell the news- Upcoming HF in Steem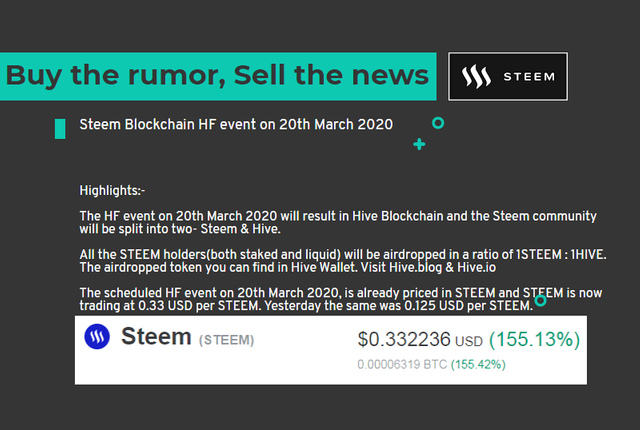 In 2018 STEEM visited an all time high of 8 USD per STEEM. SInce then the overall trajectory is downward and downward only to an extent that it lost almost 99% of its value to witness 0.09 USD recently. In 2019, in the first quarter, there was a mini pump from 0.22 USD to 0.56 USD. But all such move were proved to be temporary and STEEM was never able to capitalize on those small upward moves. That is why the major trend remained down for most of the time.
We have seen many changes, hardforks to improve Steem and its ecosystem as well as its price, but all those efforts did not encourage the broader market sentiment of STEEM.
Then comes the 14th Feb event when Steemit Inc stake was taken over by Justin Sun. The aftermath of the episode is well known to all and I don't want to go into that detail, rather what I want to highlight is that, such a positive sentiment and such a pump is now being witnessed when the community is going to split into two, no matter what the reason is(obviously this pump is with intended at getting some airdrop of HIVE). This pump may soon die. Even let that be...but after struggling to see a nice pump over years, finally I am witnessing a pump in STEEM, rightly or wrongly does not matter.

The upcoming HF event(scheduled on 20th March) is bringing cheers and definitely a time to rejoice. How fast that would fade out does not matter, because we have already lived that downtrend for almost 2 years as of now.
STEEM is now trading at 0.332 at the time of writing this article, which is 155% of yesterday's price. That's really huge because the broader crypto market is flat, no movement at all in altcoin or Bitcoin. So at least as of now STEEM is the king and its mooning and that's a soothing experience for me, becuase I was yearning to see STEEM mooning.
So when the divorce is inevitable, lets enjoy that event and live that chapter too. Welcome Hive...!!!
---
(1) The inforgraphic is my original work.
(2) The screenshot is taken from Coinmarketcap.