Are You Earning MAGIC Tokens? I tried and failed miserably - Try for yourself at your own risk!
I'm not much of a gambler but when I start playing, I don't have much of a common sense break to stop me from losing every single cent I have. For that reason I was reluctant to try out MagicDice because I knew where I would end up. Sitting on the floor, in the corner of a dark room, banging my head on the wall because I lost my black fund in a blink of an eye. Not to mention my monthly paycheck, and the one from month before also.
All would be gone if I was to start gambling. Whether it's roulette, slots, or a virtual dice game, it doesn't matter. I just can't handle losing so I keep playing until I lose everything.
That's why I didn't even want to start playing MagicDice but when I saw they give out MAGIC tokens for playing which will later give out a portion of their profits based on the amount of tokens you have, I couldn't resist to try and collect some so I played a couple rounds.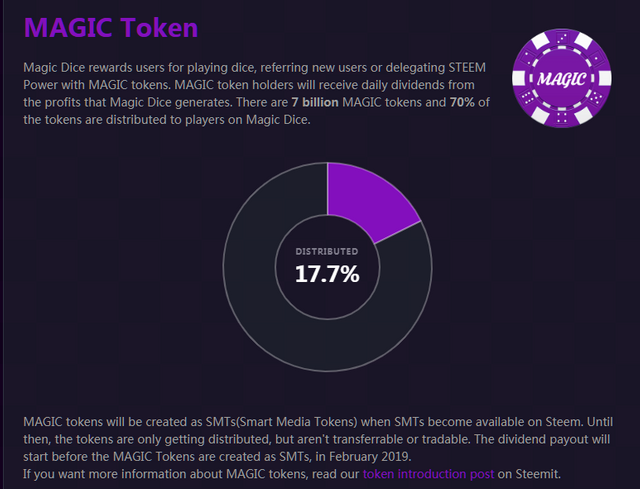 Thinking I could "outsmart" the game by playing with as little risk as possible to quickly gather some tokens I started betting small amounts on the dice to roll over 6, which is a 94% chance to win. The reward for gambling is 25 MAGIC tokens per STEEM wagered so, I thought that I could easily get to 100k MAGIC tokens and stop playing afterwards.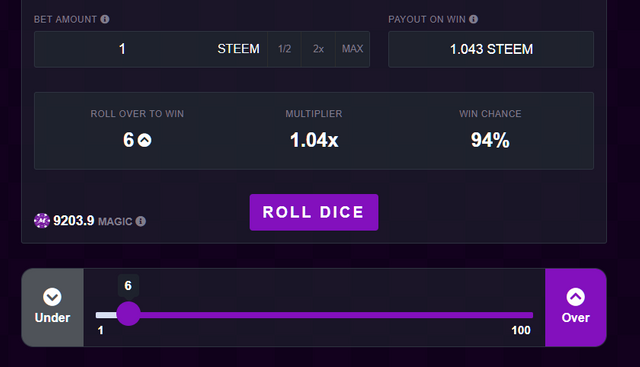 First couple rolls went by and I was already feeling great for getting those MAGIC tokens which will forever drip small amounts of STEEM/SBD to my account in form of dividends.

With a measly 6% chance to lose I expected that I would be able to play at least 10 - 20 games without losing. I was getting 500 MAGIC tokens per roll so, in my mind the odds were in my favor. 100k MAGIC tokens was achievable and I was on my way of acquiring them.
I rolled the dice one more time and it decided to return a fucking 2! Out of 100 numbers, the algorithm decided to give me a darn 2! I lost 20 STEEM out of 50 I had and then it hit me. Shit, you are either going to lose it all now, or you are going to stop.

I thought about it for a second and decided to keep playing. Almost hitting that ROLL DICE button I reconsidered my decision. Battling with my mind and my gambling tendencies I kept reasoning myself to why it's better to keep playing vs not to.
Thankfully I didn't continue. I came back to reality and realized what I knew from the get-go. If I continue playing, slowly but surely, I'll lose all of my coins that I worked so hard to acquire. I couldn't allow myself to do that so I literally shut down the PC not to get in temptation again. Went outside and smoked a joint to calm down and forget about it.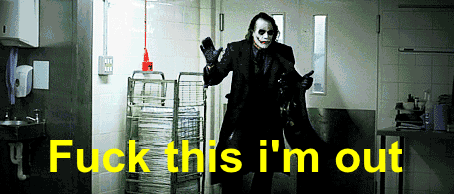 Glad I did because I'm sure that if I kept playing I would be left with 0 STEEM in my wallet.
And so will you if you play this game, or any other gambling game for that matter.
I wrote this to try and stop some of you from doing exactly that.
Even though you might win sometimes, the odds are that you are going to lose everything you have, if you play long enough. So, don't even start!
But if you do want to play anyway, even with the odds not being in your favor, be sure to use my ref link, lol.
https://magic-dice.com/?ref=runicar
GL/HF to all of you gamblers out there!