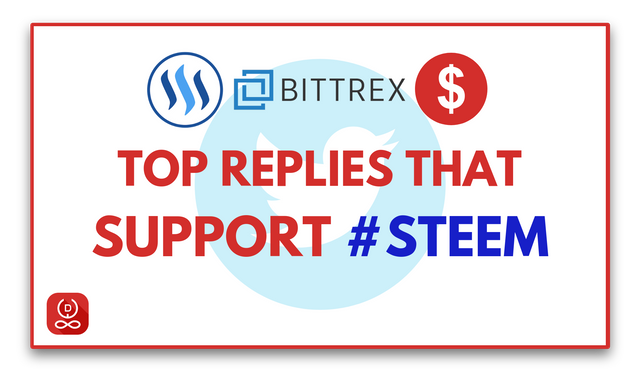 Recently, @Bittrex posted a tweet on their official Twitter account asking their followers: "Let's hear it. What USD market pair would you want to see in 2019?" We all know how much beneficial this would be for of us if we achieve this milestone.
This is a perfect opportunity for STEEM community for their voices to be heard and hence we launched a task involving all the Steemians out there to support STEEM. You can read about it here. We are blown away by the response we have got so far. #STEEM is all over that tweet along with other coins as well. Now to reach on the top of the campaign, we all need to come together & support each other by Liking, commenting and retweeting all the replies that support STEEM or mention #STEEM/$STEEM.
We want to thank each and every Steemian who has supported this campaign so far! Our work is half done and still there is a lot left.
How You Can Support
Like, Retweet and comment on the below mentioned tweets. In addition, you can do the same to all other tweets which are supporting Steem.
Following is the list of replies/tweets that got the maximum activity on the @Bittrex Exchange's Twitter thread:
Tweet: https://twitter.com/FollowBTCNews/status/1084160030356713475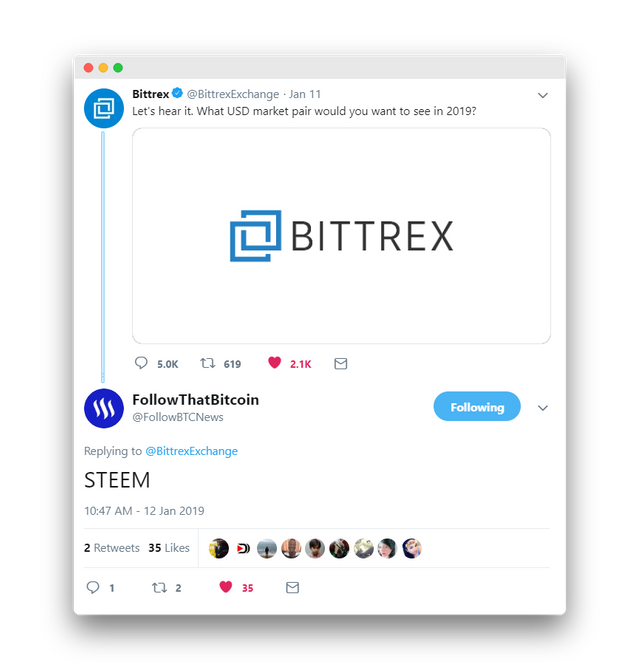 Tweet: https://twitter.com/XformationDan/status/1084163391239811072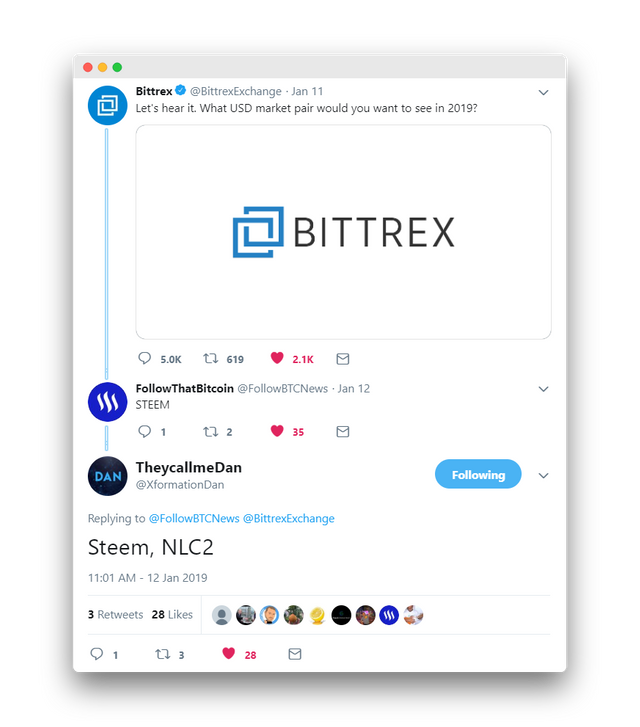 Tweet: https://twitter.com/CryptoCuratorUK/status/1084219947767746560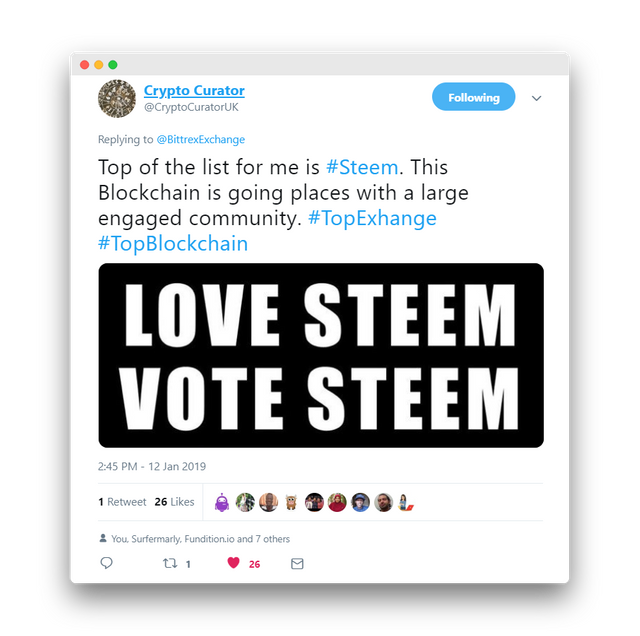 Tweet: https://twitter.com/utopian_io/status/1084154060364763136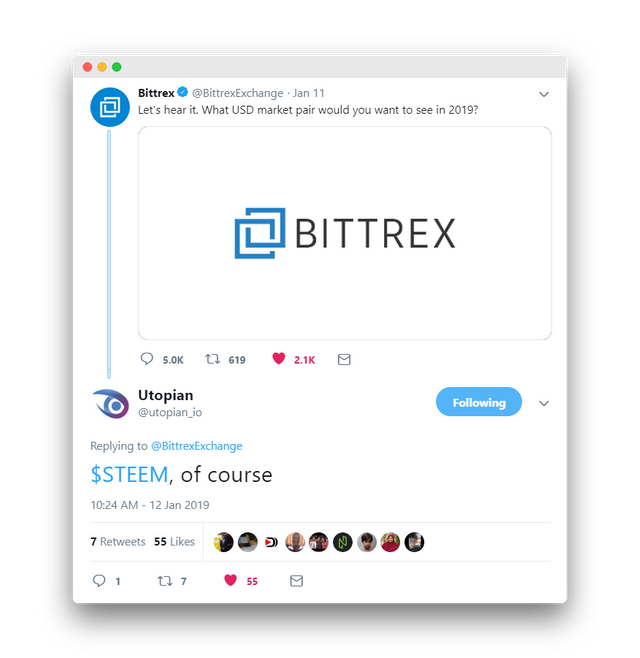 Tweet: https://twitter.com/NathanMars7/status/1084267939564376065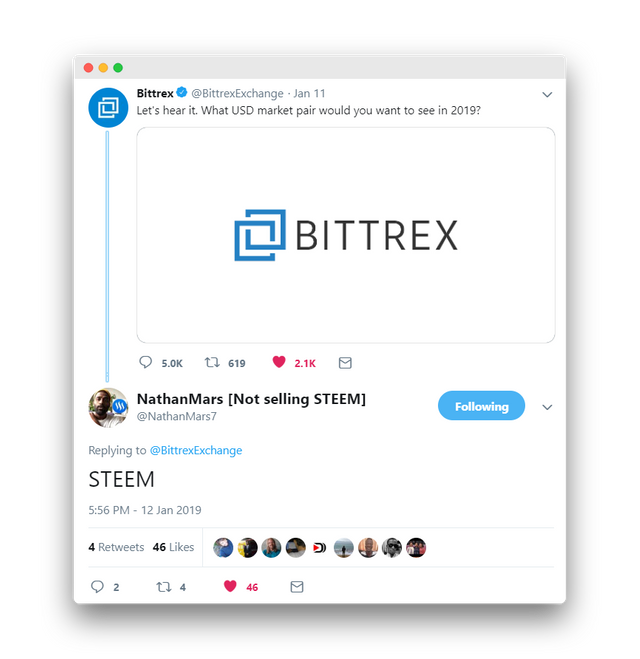 Tweet: https://twitter.com/StephenPKendal/status/1084174721921486848
Tweet: https://twitter.com/funditionio/status/1084401896666923008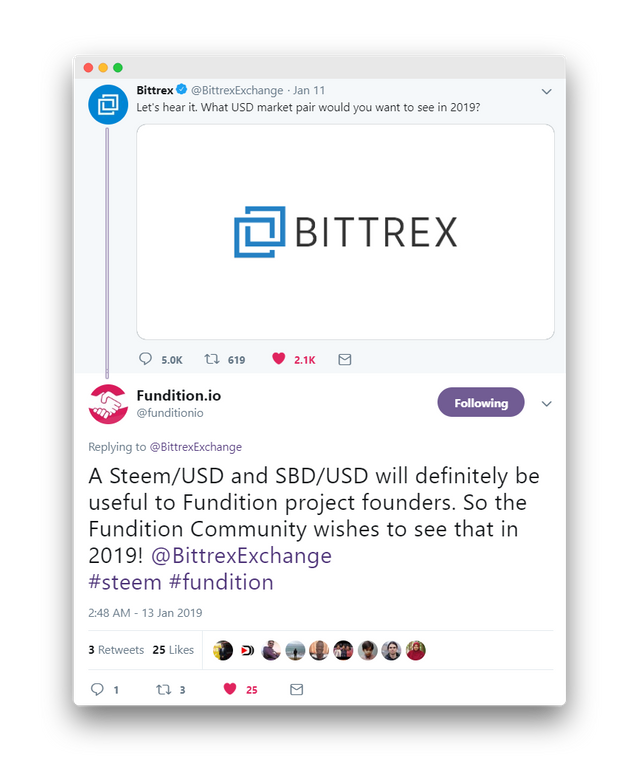 NOTE: All liquid rewards will be donated to @girlsfoundation - non-governmental organization committed to the enlightenment of women and helping their need.

Oracle-D
is a new STEEM blockchain business venture bringing new investment into the ecosystem. Founded by @starkerz and @anarcotech, we previously were co-founders of the #promo-steem and @steem-ambassador projects, and we developed the CAMPUS curation system, which is a fully decentralised system for distributing rewards.
Core Mission
We remain apolitical, and our number one goal is to raise the price and utility of the STEEM blockchain, improve culture and education about the blockchain, and create opportunities which support exceptional quality content creators through collaboration with investors and clients. In other words, to add as much value to the blockchain every day as we can.
Account Creation API
If you are a DApp owner, your might be interested in our new account creation API. It helps small DApps with little SP or RCs to create their own sign up process to onboard new users on the Blockchain. You can read more about it in this blog or directly go to http://go.oracle-d.com/acapi to register. It is available only for the DApp owners and not for the regular endusers.


You can support us in the following ways:
Go to our campaign's link given above and donate to us. The funding we get will be used only to cover the expenses of the events we will attend to attract more investors.
Upvote & Resteem this blog and spread the word about Oracle-D and our campaign.
Support our writers and their content which will ultimately empower quality on the STEEM Blockchain.
Join our curation trail in SteemAuto to maximize your curation rewards.


Upvote @Oracle-D witness by going to https://steemit.com/~witnesses
or directly through SteemConnect
Any kind of contribution is much appreciated and thank you for being a part of this Journey! Also, please do not hesitate to connect with us for any kind of collaborations that can help the STEEM Community grow.


Connect with us at the following: