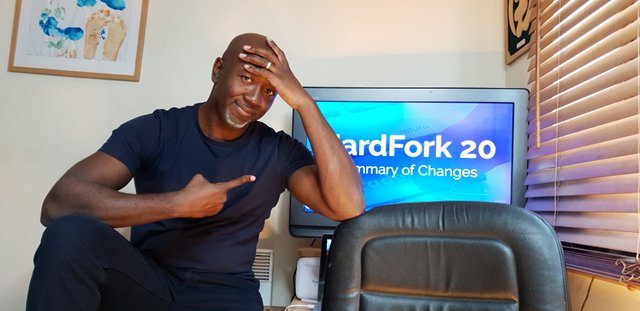 Full disclosure
First off, full disclosure I'm a big fan of Steem and DPOS blockchains. To my mind Steem is one of a handful of decentralised Blockchain protocol that has begun to deal realistically with the challenges of scaling.
Greater scrutiny
There is one problem. In dealing with these big ticket items Steem makes itself vulnerable to criticisms that other Blockchains don't need to worry about.
To draw a football analogy, other Blockchain are playing Sunday league kick-about in the park whilst Steem is figuring out how to implement VAR. If you don't watch football, real football not the American stuff, go look it up. Suffice to say that if I'm critical of Steem it is from a viewpoint of Steem being in the Premier League of Blockchain technology. Anything I say against it should be viewed through that lens.
Niceties out of the way... let's get into it.
Necessary evil
I'm not going to get in the micro details of 'Resource Credits' and 'mana' and why these things are needed for Steem to scale. Neither am I going to get into how users have been crippled in terms of posting on Steem recently.
I'm going to take that as a given.
Things mess up in technology projects and when things mess up on a public Blockchain you can't just roll back to the previous iteration. Steem is more than just a blogging site where a few posts may be lost as a consequence of rolling back. It's a financial transaction system. All confidence will be lost in the platform if it is known to have rolled back and undone transactions.
So we're left in a position where Steem needs to soldier through the existing issues and it looks to be doing that.
Helicopter view
What interests me about this is a bigger question around the friction that exists between lead developers, large stakeholders and custodians of the Blockchain. This issue isn't unique to Steem and exists across many Blockchains as they mature.
In Steem, the Witnesses are the custodians and Steemit (the company) plays a duel role as both the de facto lead dev team and the largest stakeholder. Steemit also has big changes it wishes to implement on the Blockchain, most notably Smart Media Tokens (SMTs).
Paper Witnesses?
We're therefore left in a position where the role of Witnesses is vulnerable to being seen as a rubber stamping exercise when it comes to governing changes that Steemit wants to implement on the Blockchain.
This has to change at some stage in the future if Steem is going to be considered an effective decentralised Blockchain. A mature Blockchain should be difficult to change. It should be burdensome to reach consensus on a hard fork. It shouldn't be that the boss says "Jump" and everyone else says "How high."
There is a danger of too much appeal to Authority on Steem that begets a centralised mindset. It's not just Steem, I've seen it with Etheruem and an appeal to the wishes of Vitalik. With EOS and an appeal to the the wishes of Dan and Block.One. Hell people in Bitcoin still appeal to the words of Satoshi even though he existed 'stage left' a long time ago. And so in Steem we need to be careful that Witnesses are just seen as conduits through which Ned and Steemit's wishes are funnelled.
Baby steps... for now
Look, in these early stage in Steem's development we can get away with a Hardfork 20. On the basis of the ends effectively justifying the means. We can also (possibly) get away with doing everything possible to see that SMTs get implemented. We've come so far with SMTs that to go back would be 'as difficult as to go over' (Macbeth).
Robust governance
However beyond that I think, as a community, Steem need to up the ante on governance. As stakeholders we need to hold Witnesses to the highest standard. Running a reliable node is the base level requirement. Providing value should be a given. Due diligence and review of code changes should a minimum expectation. It should be a matter of selecting those who do this the best.
Being the largest stakeholders Steemit must resist the urge to railroad Witnesses into becoming patsy to their wishes. Even the perception of that happening is a sure fire way to diminish the value of the platform.
However having Witnesses that are visibly independent, accountable, transparent and bastions of the Blockchain strengthens Steem's place at the forefront of public Blockchain development.