GOOD PERSON TOKEN: Something Big Is Coming From Steemit Inc!
Hello Nairafans!
Good Person Token! GPT sounds like something out of the sci-fi classic to reward heavenly angels on this blockchain. Oh! Wow! Its real! Its coming soon...
---
I belong to a telegram group where @Ned personally mentioned this. He cheerily announced how the Steemit's github repository is getting more organized to highlight the projects that are being worked on in real time. Also he gave the impression that many things are being worked on silently...
How would you feel if Steemit.com had a second universally distributed token with account-based voting, individuality verification and super linear rewards curves?
Ned Scott
Did you see that coming? Those are like the magic words we have all been waiting to hear:
Account-Based Voting:
this is an alternative to stake-weighted voting. Individuals are considered as individuals based on the value they have brought to the network rather than on the size of their wallet. This has the ability to halt inequality, whale power abuse and neglect of quality contents.

Individuality Verification:
You know how accounts can be classified into Bots, Spam & Human? Essentially, this will help us to identify humans and reward them for their ingenious works on the blockchain. You have to be a real individual to be able to benefit from GOOD PERSON TOKEN.

Super-Linear Rewards Curve:
Whoop-Whoop! Quality is back baby! This was what we had before the inevitable change to the linear rewards curve. However the addition of the other 2 factors makes the idea much more super!
---
This is just the beginning fam!
Take a look at this chart personally created by @NED to explain Oracle-Based Smart Media Tokens (OSMT). He chipped in that the whitepaper for this is currently getting completed.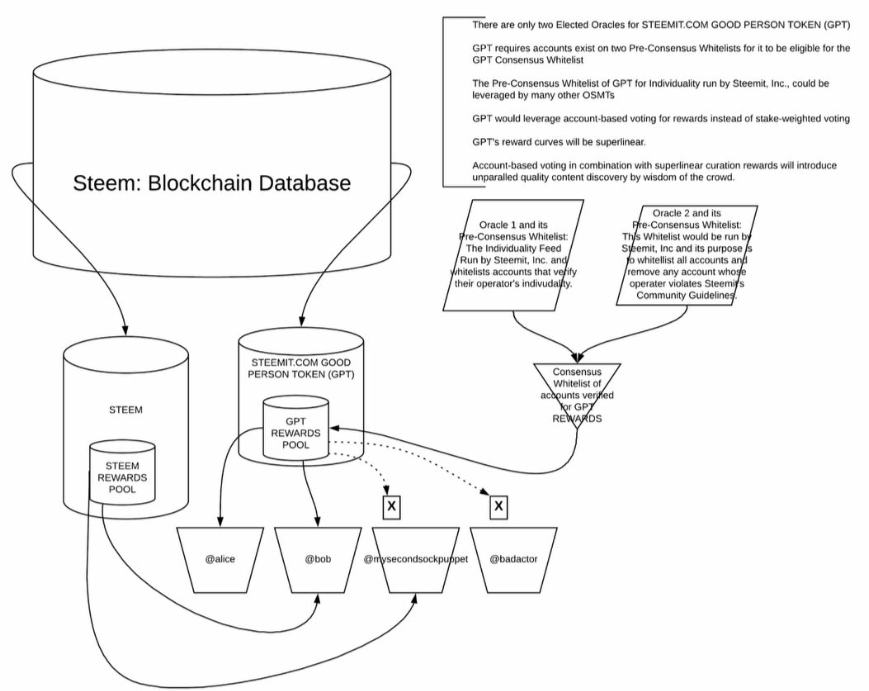 We are actually on the verge of something great. A new system to reward originality, uniqueness, quality, and intuitiveness based on the steem blockchain.
It will be like a parallel universe with steem token. Remember, SMTs are still scheduled to be released in Q2/early Q3 of this year.
I got a feeling...that we are in for a great jolly ride to the bank...
FASTEN YOUR SEATBELTS
ZOOM!