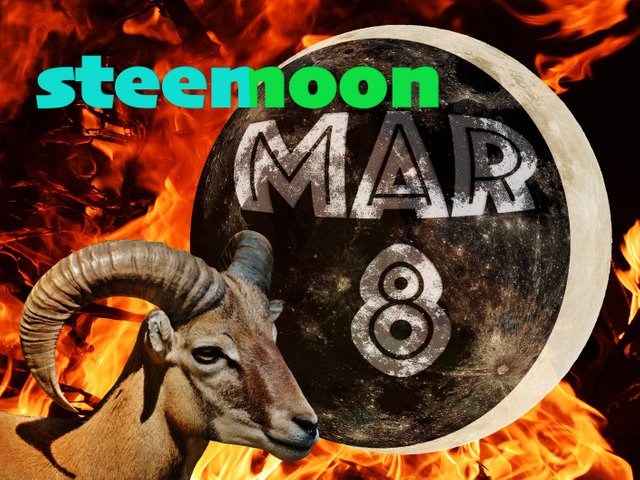 WELCOME TO THE NEW

Noticed all the drama on Steem, lately??? Perfectly normal if you ask the stars. And this time, I even asked the cards…
Happy 8th of March, my friends! The moon is waxing in Aries now. Uranus has entered Taurus, Venus is in Aquarius which causes friction with Uranus. Don't take anything personal, don't decide, stay in your heart for a while. Until the 28th of March we'll stay in some kind of emotional nebula. From tomorrow on, we can be very productive and disciplined because the Sun is in sextile with Saturn. This time is perfect to see things in a sober way and getting them over with. Your self-control increases. This energy stays for almost 3 days and helps you to choose what you need or needn't anymore. I will be visited by a friend who helps me sorting out and getting rid of all my furniture and belongings. I recommend you to do something similiar. Have a spring clean or get rid of feelings and ideas that don't serve you any longer. Sun and Saturn support long-term-goals, so whatever you plan these days lies on a stable fundament.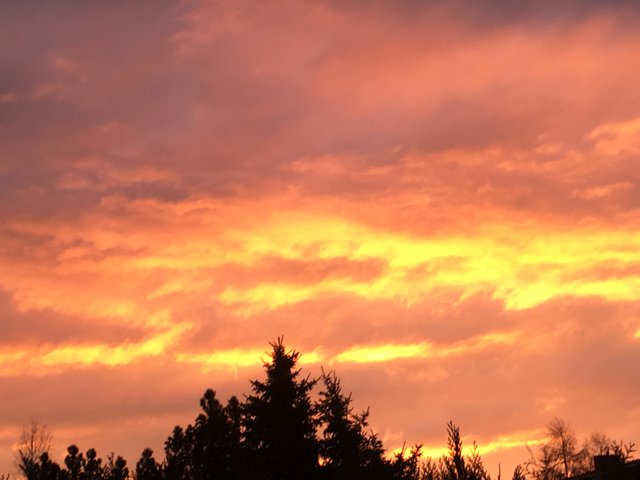 … of course, the sky was on fire this morning. Hello, Aries!
But since Mercury (Logic, Reason) is still regrograding, it's important to focus on your inner desires and not get huffy about anything. Don't sign contracts this month, doublecheck everything you think and say. Love your friends. Having a conflict with someone who you sure love? Go on loving from afar or just tell them that you do and wait for the fog to settle. DON'T END ANY RELATIONSHIP RIGHT NOW! Feel twice!
… back to the moon …
… BACK??? Have we been there? Who knows … if you do, contact me! …
Anyways, this fresh moon is waxing in Aries, Aries is an initiator. He loves to start new things and has lots of fire. In a phase like the one we're in, that may multiply hasty reactions. Rather use this Aries' fire plus the increasing energy of a waxing moon to start new things. Like planting seeds or cutting your hair if you want it to regrow faster. Whatever you want to see rapidly grow: Today's the day for it.


A waxing moon is always a Yang-phase. Yang is the white part of the yin and yang, standing for brightness, or action in that case. Aries is a Yang sign, too. Today is very much about action and there's a lot that can be done today. You find me in the garden. Here we go …

The moon in has the following qualities
| Element | Fire |
| --- | --- |
| Color | Red |
| Counter Color | Yellow & Blue |
| Body Parts | Brain, Nose, Eyes, Head |
| Weather | Warmth |
| Plant Parts | Fruits |
| Organs | Sensory Organs |

Body & Health
| BODYPART | WHAT TO DO TODAY? |
| --- | --- |
| Teeth | * |
| Hair | Cut if you want to regrow fast, Coloring, Nurturing |
| Nails | Correct ingrown nails |
| Skin | Structuring Care |
| Diet | Protein & Fruits |

Plants
| PLANTS | WHAT TO DO TODAY? |
| --- | --- |
| Soil | replant today!!! |
| Seeds to grow | Rose & CANNABIS, Blooming Plants, Fruits, Tomatoes, Herbs |
UNDER NO CIRCUMSTANCES! TODAY YOU WON'T:
eat too much fat
dung
remove warts
body hair removal
clean your windows
paint your walls

BONUS LEVEL
Today I was in the mood to do a tarot reading for the month of March concerning all Steemians. And the cards were very much in lign with the song the stars are singing these days.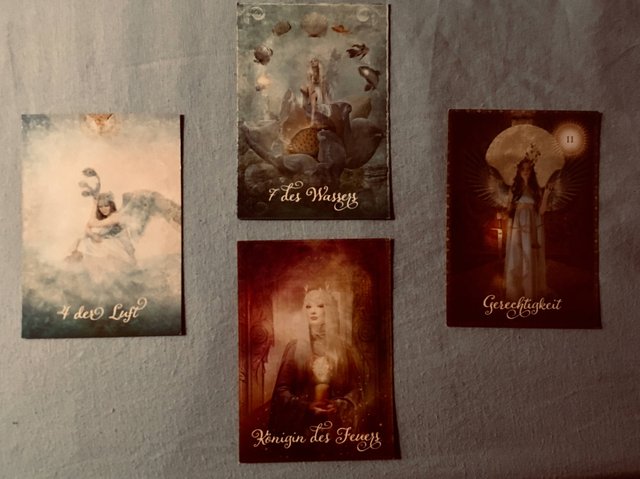 ---
Currrent situation:
4 of Air
Obstacles:
7 of Water
Chances:
Queen of Fire
Recommendation:
Justice
---
Meaning:
The 4 OF AIR represents this little break we're facing on the blockchain right now. It says: All systems overwhelmed, please stand still. It advises you to not take part in any of those big dramas all over Steem (and elsewhere). It's about meditating & healing, turning inwards to listen to your desires and emotions. And from my own experience on this blockchain, that's exactly what most of us are doing right now. And those of us who wouldn't, got lost in drama, lately …
7 OF WATER tells you, that everything you decide right now, could turn out a desaster. Whatever seduces you right now, better think twice. Take a break. Listen to the 4 of Air and rather turn inwards. There are too many illusions out there, atm. Have I already suggested to TURN THE F*** INWARDS?!?11
THE QUEEN OF FIRE came to tell you that you are powerful and can support others with your power and knowledge. If you don't get lost on the negative pole of this power (causing drama, reacting emotionally, misusing your (Steem) Power), this energy can help you to strengthen Steem. Think about the community and build strong connections. And whatever provokes you: Bite your tongue. Wait a minute …
JUSTICE. Take responsibility and act fair and reasonable. Find injustice in yourself and erase it. Again, think twice! Choose wisely,
Center yourself and set up some boundaries for yourself and all of us.
Stars, Tarot & Me saying: THANK YOU!

How do you like this new service? What more would you like to know? Please comment! The #Steemoon calendar will become better thanks to your feedback!


and if you like my magic …