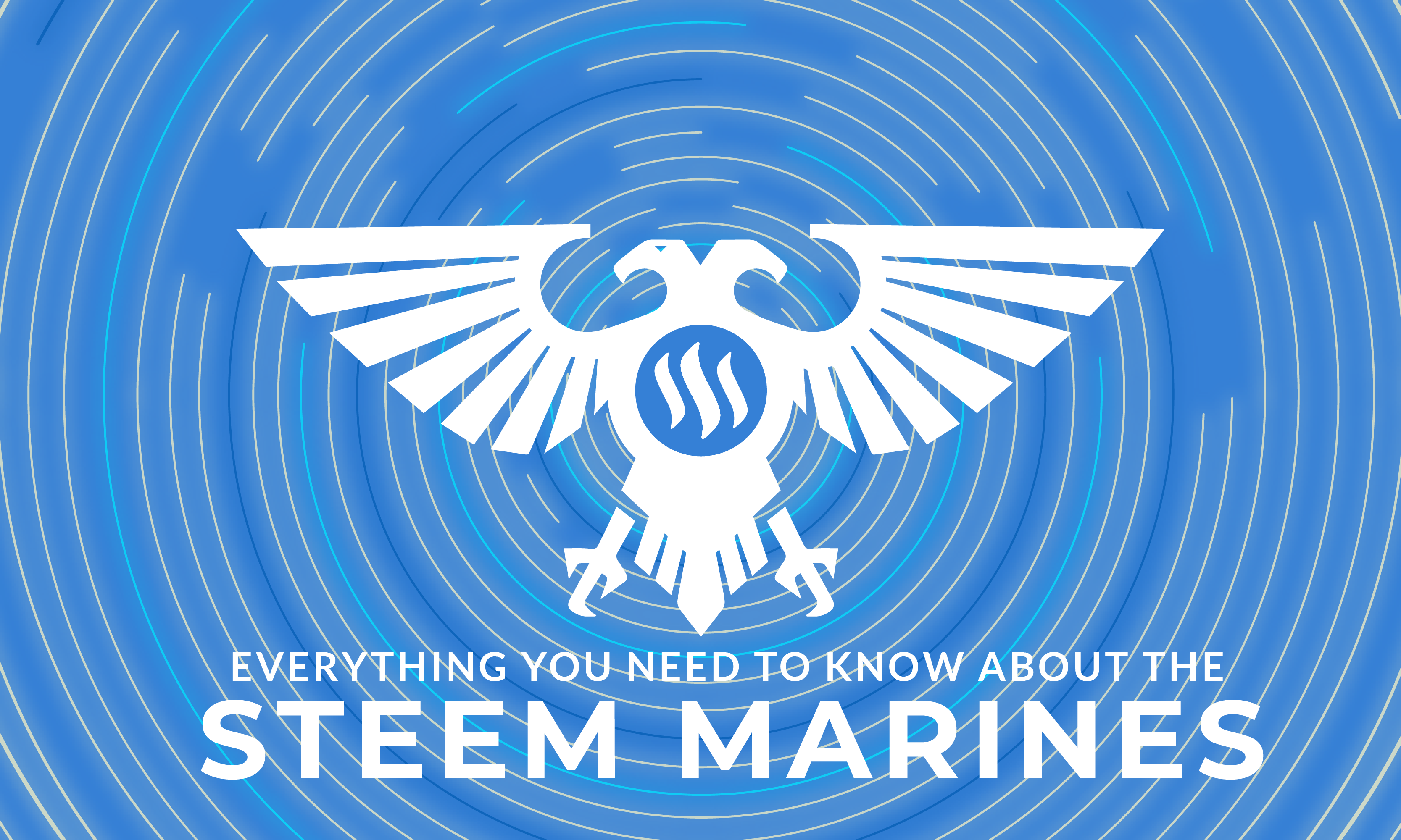 I realize a lot of you don't know what Warhammer 40k is. That's absolutely fine! In fact, I am going to create all of this content assuming no one knows what Warhammer 40k is.
Now I will try my best to break this up into digestible pieces for you.
---
The Basics
Let's cover the basics of Warhammer 40k.
Warhammer 40,000 is a tabletop miniature war game owned and maintained by Games workshop
It is very Lore Driven, with a storyline that spans over 40,000 years.
It has been adopted in many ways, such as Video games, Movies, and books. And has a strong die-hard community that love the lore and the game.
To play, one needs a Rulebook, Codex (Which is basically a book created specifically for a specific army), Miniatures, ruler, dice, and an opponent.
As for you, you don't quite need to know how to play, although I strongly recommend that you check out the hobby further if this appeals to you.
---
What are STEEM MARINES
The STEEM MARINES are custom faction created by me. They are Space Marines, which are the ELITE superhuman forces of mankind in the lore.
There will be a core lore created, that will cover things like, how the STEEM MARINES were formed, where they reside in the lore, and a basic timeline that spans from how they were formed to the current timeline.
However, this is where you come in. As supporters of this content, you will help shape WHO the STEEM MARINES are, and what they're doing, and more importantly, what happens to them.
Will the STEEM MARINES grow to into a powerful force and begin a GRAND CRUSADE? Will the STEEM MARINES fall to chaos and have a galatic civil war?
Who commands the STEEM MARINES? What are their Elite units?
These are all questions that you as a supporter will have a hand in deciding and shaping.
---
The Types of content that will be produced
I know Warhammer 40k sounds niche, but there is actually a lot of things that are all equally interesting and make fantastic content to consume.
Assembly and Painting
You don't have to be an Artist to appreciate art. In fact, the less you know about art, the easier it becomes to appreciate the amount of work and the final product.
With Warhammer 40k, Assembly and painting is a very large part of this project. And there are variating levels of complexity based on the models being painted.
Showcases, Progress, and tutorials are the types of content I will be producing from just this aspect.
Creative Writing - Lore
What really makes armies distinct and unique is the lore they are based on. Coupled with the fact that supporters will get to help shape up this lore, It's going to be extremely interesting. Complete with Illustrations.
Now, I may actually outsource this just because I want only highquality material with careful considerations. But it's definitely going to be part of the content I will be providing.
Battle Reports
Narrative campaigns based on lore is a promise. When we have events that happen, there are going to be narrative campaigns to determine the outcome of the supporter's votes. What this does is it makes an extremely entertaining narrative that dynamically changes the STEEM MARINES story, as well as expose all of you guys to some good ol' fashion Warhammer 40k.
Matched and Competitive play
And of course, One of the most fantastic and interesting pieces of content that can be produced is competitive play, where the army is fielded in local and global tournaments.
So for this content, think videos of actual play with the miniatures intended for people who have never played the game.
---
The Goal
Another extremely important thing you should know is, what is the goal of this?
That's an excellent question.
The goal is simple, Creating content that represents the Steem blockchain. I want to come up with content that is going to generate genuine interest in what steem is, and thus bring people to take a closer look into the steem platform.
I want to show off this content and answer questions like, what is the steem blockchain, what makes it so special. But I want to do it with the support and backing of the steem community.
Now you may think this is a dumb idea, but think of it this way:
If you're heavily invested or heavily use the steem blockchain or even steemit, it costs you 0 dollars to leave an upvote to help support a project that is aiming to bring more users on board and generate hype and interest in a creative and artistic way.
More interest and hype can create more demand, which makes Steem that much more valuable. You hitting that upvote button could mean the difference between your investment remaining the same value, or making it more valuable.
If steem had 0 projects behind it, and 0 content on it, it's probably never going to be heard of versus if steem had hundreds of different projects based on it.
Additionally, if you're big enough to pledge, you'll be getting a return on curation rewards which makes it so that not only it's not costing you a thing to help support this project, and not only are you helping a project that is trying to spread awareness of steem (And trying to increase value of the platform), but you literally make even more money by doing so.
And if that wasn't enough to get your support here's a list of things your support will get you
Unique Characters based on you created and adapted into the Army Lore
Free handpainted Models based on your character
Merchandise such as exclusive T-shirts and Physical goods related to STEEM MARINES / EVENTS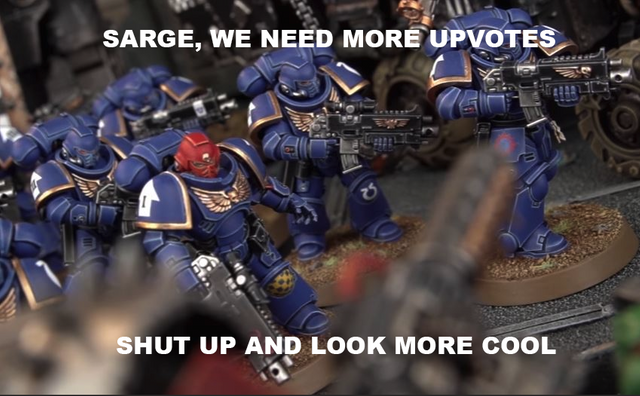 Want to become apart of this?
This is where the magic will be happening. Votes, news, content updates, exclusives will all be available at this discord server.
Everyone is welcome to join, but keep note that this will not be a channel to spam posts in.
This is very much a work in progress, but I have a very general idea of what it will all look like. Everyday I'm hard at work laying the foundation of what could possibly be one of the coolest things that steemit has ever seen.
Share your thoughts
Dialogue is completely open, share your opinions, what you think should happen, what I could do, anything. I will reply to your comments. The is one thing that I'm really looking for feedback on, so any feedback is gold to me.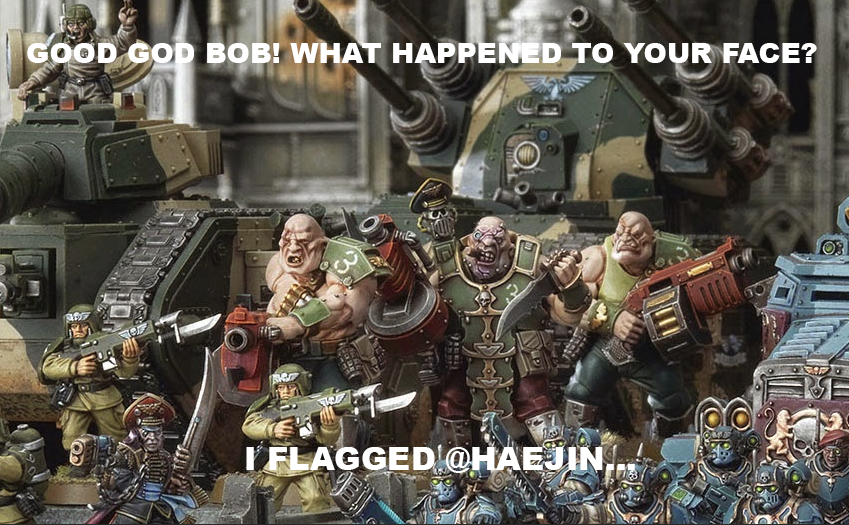 ---