Had some spare STEEM kicking around (invested in SR actually) and decided it would be proper fashion to power up some STEEM, in order to get an upvote amount greater than the $0.02 that I was previously able to throw at folks with upvotes. As it sits over the past week or so I've more than doubled my available SP.

Before powering up the 2800 I just locked in my SP was sitting around 2200 STEEM. Currently at witness rank #79 I am paid roughly 9.608 STEEM a day to run my witness server. This works out to 288.24 STEEM monthly that I am currently paid to run my witness. This is basically $50 USD a month which is JUST break even for running the hardware required in order to run a proper witness, but does not afford a seed node.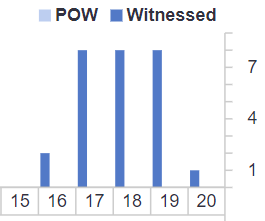 ( a screencap from https://steemdb.com/@klye/blocks showing daily block creation )
The good news about powering up all this STEEM is that now my upvote is worth a total of around $0.067 in value. This is a hell of an upgrade from the previous $0.025 100% upvote valuation. Good for folks receiving my upvote!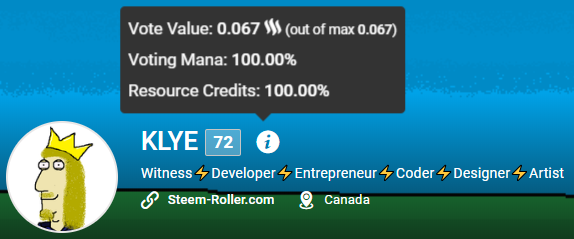 ( screencap from https://steempeak.com/@klye showing maximum vote value )
While I could have used this STEEM in the SR bankroll it feels better to me to power up STEEM into my preferred blockchain. Over years prior I'd made a decent amount of STEEM doing posts and having a higher witness rank and by powering up this STEEM I hope that I can once again build up an account with decent upvote value, and also start recovering my witness rank. As a STEEM developer it certainly helps to offset development costs with having a higher amount of SP and witness rank.
Lots of development and whatnot planned for our STEEM blockchain in the upcoming future, thanks for upvoting, supporting and tossing me witness votes folks! Shall talk to you soon..!
Looking for a fast, provably fair 1% dice game for STEEM with investing?
Come check out Steem-Roller.com today!
Play or Invest!
---
Need to get in Contact with KLYE?
Join the Official #KLYE Discord Server Today!