This has nothing to do with your money or voting on posts or curation. You lose nothing adding me here nor really give me anything. Its just about security and fairness on Steem network.
Witness Voting
So let me remind You guys of how STEEM works since many can be new here from this glorious number.
There are two types of votes - for posts/content and for witnesses.
Witnesses are the guys who make STEEM going. The host nodes, move transactions and secure the network.
While each person chooses what posts to vote on, there is a built in option to let someone else (ie more experienced) to vote for witnesses for you - called a proxy.
If you trust i know what I'm doing let me be your proxy for witness voting. It costs you nothing, it has nothing to do with using your SteemPower or posts. Its other type of vote.
Im already a proxy for a few people - if you follow me, consider to add me as proxy - its very simple.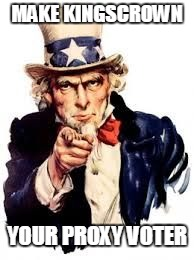 Add kingscrown as a proxy in few easy steps:
Browse to the very bottom and find PROXY section
Add me:

Remember use PROXY not direct witness voting
If you use steemconnect by @busy.org team then you can just click here - https://steemconnect.com/sign/account-witness-proxy?proxy=kingscrown&approve=1


Passing me the proxy vote will not change your money or vote power in any way.