| TIME | Oct-18 | Nov-18 | Dec-18 | Feb-19 | Mar-19 | Apr-19 | May-19 | Jun-19 |
| --- | --- | --- | --- | --- | --- | --- | --- | --- |
| SP HOLDING | 1995.09 | 2132 | 2919.45 | 3636.89 | 3874.66 | 4136.74 | 4279 | 4445.18 |
| GROWTH | | 136.91 | 787.45 | 717.44 | 237.77 | 262.08 | 142.26 | 166.18 |
| GROWTH PERCENT | | 6.86% | 36.93% | 24.57% | 6.54% | 6.76% | 3.44% | 3.88% |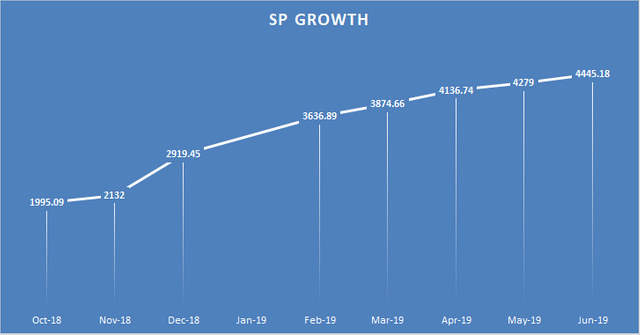 A look into my personal growth so far (recorded 7 months worth of data on my account). I think there is a way to track back the growth of the account but I forget which platform to do it. If anyone happens to know the website, please drop a link for me. Looking at the chart and the table, my growth had been relatively stable beside the two months whereby I pumped in extra Steem through fiat purchase to boost my SP as the price was relatively low (ranging from $0.40 per Steem to $0.28 per Steem). Even though now Steem is at a very low price level, I had put in enough fiat as an investment for my account to have a certain level of impact (have sufficient voting power). Looking at October 2018 to April 2019, the growth has been around 6.5% but after May 2019, it had dropped to 3.5%. That being said, one of the very significant reasons for this drop is the presence of @myreader. The account had supported a lot of #teammalaysia members and I am also one of the benefactors. However, the account had pulled out its investment and start powering down. This constituted a significant drop in earning. Nonetheless, I am still keeping the momentum and keep producing contents while trying to find a ground that I want to stand. For this, I am putting myself back into @archisteem whereby I would like to curate sustainable architecture around the world, giving people idea on how design could impact the lives of many. Looking back, it has been 137 days since the account posted anything and finally it is time to revive it again. Looking forward to this weekend launching of @archisteem again. Will make it simple to manage at the very first stage and slowly build up the momentum again. Also, not forgetting on the project that had been on going for some time which is the 1001 Places to Remember. There were lots of work done and I will be utilizing the previous work and turn it into something beneficial for the community. As of now, I am still planning on how to pursue this. While on it, the account will be focusing on sharing interesting architecture happening around the world.
Again, @esteemapp has also contributed a lot to the growth of my account which stood approximate 1% of the growth for the month. Meaning to say, it is a whopping 30% or more growth as the total growth is around 3.5%. This is huge and I really grateful to be able to utilize @esteemapp to post. Again, great thanks to @good-karma, the developer team and also the curation team!
Compilation of Reports: