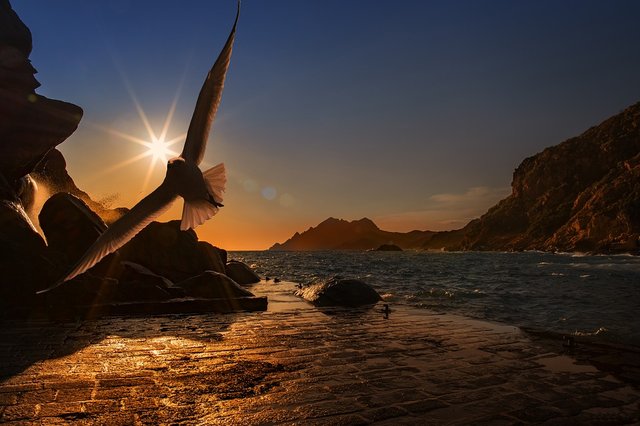 Having free will is something that is inherent to the way we live our lives as humans. Free will stems into every ebb and flow of our society. Whether you're an ad man trying to sell some cereal, a surgeon working on a patient or just the average joe going out for a meal, free will is something we know we have.
But do we really have free will or are our actions governed by our inherent desires? Many people would answer that by saying that their ability to have inherent desires is in fact what gives them free will.
If I desire a chocolate chip cookie and then eat the cookie, you could say that I had the free will to choose to desire that cookie and then I made another free decision to put that cookie in my mouth and eat it.
Our desires are not exactly free though, as I've learned from reading Homo Deus. The way that Yuval puts this is fantastic:
"Humans act according to their desires. If by 'free will' you mean the ability to act according to your desires – then yes, humans have free will, and so do chimpanzees, dogs and parrots. When Polly wants a cracker, Polly eats a cracker. But the million-dollar question is not whether parrots and humans can act out their inner desires – the question is whether they can choose their desires in the first place."
---
Can We Choose Our Desires in the First Place?
Going back to our cookie analogy, what makes me desire the cookie in the first place?
Many would say that they simply wanted a cookie so they conjured up the desire to eat a cookie. That's simply not the case though. Our desires are far more complex than a simple decision to desire.
What if we could predict our desires seconds before we consciously are aware that we even have that desire? Would that change the way we view our desires? Would our desires no longer be free? Instead, would we view our desires as being the results of our DNA, past experiences and ability to reason?
"These are not just hypotheses or philosophical speculations. Today we can use brain scanners to predict people's desires and decisions well before they are aware of them. In one kind of experiment, people are placed within a huge brain scanner, holding a switch in each hand. They are asked to press one of the two switches whenever they feel like it. Scientists observing neural activity in the brain can predict which switch the person will press well before the person actually does so, and even before the person is aware of their own intention. Neural events in the brain indicating the person's decision begin from a few hundred milliseconds to a few seconds before the person is aware of this choice."
"When a biochemical chain reaction makes me desire to press the right switch, I feel that I really want to press the right switch. And this is true. I really want to press it. Yet people erroneously jump to the conclusion that if I want to press it, I choose to want to. This is of course false. I don't choose my desires. I only feel them, and act accordingly."
---
How to Test This Idea on Yourself
Yuval offers us a little thought experiment to see if you can figure out the root cause or thought that leads to a desire. Give it a shot and see what happens:
"Next time a thought pops up in your mind, stop and ask yourself: 'Why did I think this particular thought? Did I decide a minute ago to think this thought, and only then did I think it? Or did it just arise in my mind, without my permission or instruction? If I am indeed the master of my thoughts and decisions, can I decide not to think about anything at all for the next sixty seconds?"
---
Real-World Implications
The real-world implications of whether or not we can freely choose our desires are immense. This idea of controlling our desires can be applied to so many different fields, sciences, practices, arts…
Yuval provides us with the example of a "robo-rat laboratory":
"A robo-rat is a run-of-the-mill rat with a twist: scientists have implanted electrodes into the sensory and reward areas in the rat's brain"
Think that's crazy? Just wait for this next part:
"This enables the scientists to manoeuvre the rat by remote control. After short training sessions, researchers have managed not only to make the rats turn left or right, but also to climb ladders, sniff around garbage piles, and do things that rats normally dislike, such as jumping from great heights."
This is mind-control in the making. In fact, they can actually "control" the rats by changing their desires and making them desire to do things that a rat would normally never desire.
If our so-called "free-will" is controlled by our desires and our decision to act based on our desires, then how far off is it to believe that controlling someone's desires would give you the ability to control the way they live their entire life?
Let's say that in some sci-fi future scenario we all end up with some sort of computer chip apparatus in our brain that stimulates certain desires. Would we even know that someone is controlling our desires? Or would we simply feel the desires arise out of seemingly nowhere as we already naturally do?
"To the best of our understanding, the rat doesn't feel that somebody else controls her, and she doesn't feel that she is being coerced to do something against her will. When Professor Talwar presses the remote control, the rat wants to move to the left, which is why she moves to the left. When the professor presses another switch, the rat wants to climb a ladder, which is why she climbs the ladder. After all, the rat's desires are nothing but a pattern of firing neurons. What does it matter whether the neurons are firing because they are stimulated by other neurons, or because they are stimulated by transplanted electrodes connected to Professor Talwar's remote control? If you asked the rat about it, she might well have told you, 'Sure I have free will! Look, I want to turn left – and I turn left. I want to climb a ladder – and I climb a ladder. Doesn't that prove that I have free will?"
Bringing it back to the sci-fi scenario: if someone controlled our desire to say, work 10 hours a day, how would we know whether or not we actually want to work 10 hours a day?
If our brains are being stimulated in the same way that the rat in our experiment was stimulated, then wouldn't we actually feel like we want to work? Because we don't really know where our desires come from, it's not far off to believe that if someone manipulated these desires without our knowledge, they could get us to do things that we may not normally do but we would think that we actually want to do them.
---
Can This Be Replicated to Humans?
We've seen in several experiments that humans too can be manipulated by electrode stimulation.
"t is possible to create or annihilate even complex feelings such as love, anger, fear and depression by stimulating the right spots in the human brain. The US military has recently initiated experiments on implanting computer chips in people's brains, hoping to use this method to treat soldiers suffering from post-traumatic stress disorder."
Yuval also offered another example of this type of experimentation on humans that is being done in Hadassah Hospital in Jerusalem. They are implanting electrodes into their patients' brains which are attached to a computer that's implanted in their chest. When the computer sends a command to the electrodes, weak currents are sent to the area of the brain that's responsible for depression. This type of treatment isn't always successful, but many of the patients have reported that their dark feelings disappeared as if by magic.
This one story really caught my eye:
"One patient complained that several months after the operation, he had a relapse, and was overcome by severe depression. Upon inspection, the doctors found the source of the problem: the computer's battery had run out of power. Once they changed the battery, the depression quickly melted away."
---
I feel as though these types of devices will become a part of us at some point in the relatively near-future. My best guess would say that a significant portion of the population will have some sort of "chip" in the next 30-40 years. There can definitely be some downsides - manipulation and otherwise - but I can also see all of the potential benefits:
Help people with PTSD
Help people with depression, anxiety and many other mental illnesses
Help people build positive habits - stimulate the desire to read books, learn, practice instruments, etc.
I'll leave you with these questions, let me know what you're thinking in the comments below!
What would happen if we could rewrite the inner monologues that go through our head as we go through life? What if you could change the things that you desire so that they are more focused on the things you want to desire rather than the random desires that seem to pop up in your head randomly?
Would you want to change your desires so that you spent more time on the things that you want to spend more time on - be it reading, dancing, playing an instrument, sports, etc.?