Steem just received some high praise from an unexpected source!
In a report out this morning from the Chinese Government, it was revealed that Steem was ranked second out of all the blockchains in the world.
Right behind Ethereum.
A sample of their rankings can be seen here: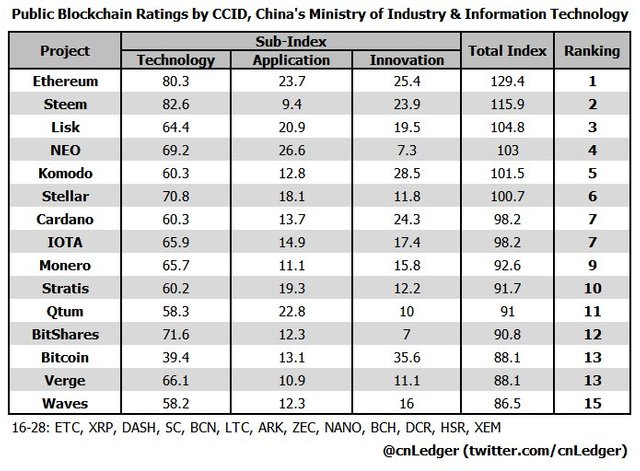 (Source: https://www.ccn.com/china-ranks-ethereum-as-the-worlds-best-blockchain-network-bitcoin-at-13/)
Not only did steem score as the 2nd best blockchain on the planet but it got the highest overall score in the "technology" section.
A section that bitcion did very poorly in by the way.
As you can see, steem didn't receive a very high score in the application section. If that were higher steem had a shot of being rated as the number 1 blockchain overall in the world.
This marks the second independent rating that steem did very very well in.
The previous one can be found here:
https://steemit.com/news/@jrcornel/weiss-rating-agency-issues-ratings-on-cryptocurrencies-and-steem-lands-in-top-5
Given the recent high ratings for steem, it is a wonder why steem still tends to languish in the 32nd position on coinmarketcap.com.
Look way down this list and you will see what I am talking about: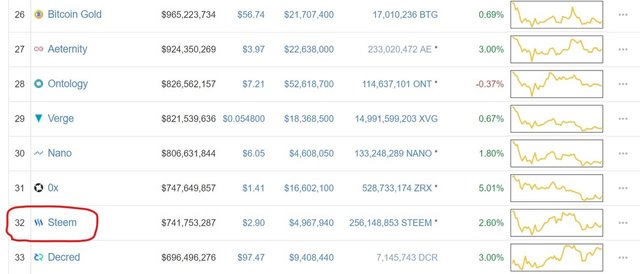 (Source: https://coinmarketcap.com/)
In both independent ratings, Steem landed in the top 5 yet its market cap places it as the 32nd most valuable coin.
Something about that doesn't seem to add up.
Either the market isn't properly pricing the steem project or the ratings agencies are rating it way too high.
I am thinking it is most likely the first one. As price discovery eventually takes place in the space I would imagine steem's valuation will more accurately reflect it's ratings.
Right now promotion and excitement tend to rule the roost in terms of valuations and steem hasn't been promoted to the degree of some of the projects ahead of it.
Until price discovery eventually happens, it's probably a good idea to accumulate steem.
Stay informed my friends.
Follow me: @jrcornel