Hey everyone !
Teaching traders how to derive consistency in the market has been my number one since the last time I was on Steemit! I wanted to share one of my latest projects with you guys! I have been hosting classes frequently on various trading concepts, I snipped a lesson out of the course I am teaching for you to check out! I added captions and made it as informative as possible and easy to look at as I could! I have hours of recorded lessons on various topics I could edit into cool short informative videos like this one.
This lesson is the beginning of one of my lectures, in it I explain the VWAP indicator and how to use it. It is preferred by day traders and reversion to the mean traders such as myself!
VWAP stands for Volume weighted average price. It shows the average price a security has traded at throughout the day.
This can be very useful when determining where to consider the stock overbought or oversold during the day.
VWAP video

I hope you have enjoyed the video!
I am back on Steemit after two years! I do really want to get more involved in Steemit! let me know if you would like me to make any videos on anything involving trading.
I just wanted to share a screenshot from one of the trading sessions I had recently, where I successfully managed to reverse my position in CRON 6 times in one session!
Red triangles indicate - SELL/SHORT Blue triangles indicate - BUY/LONG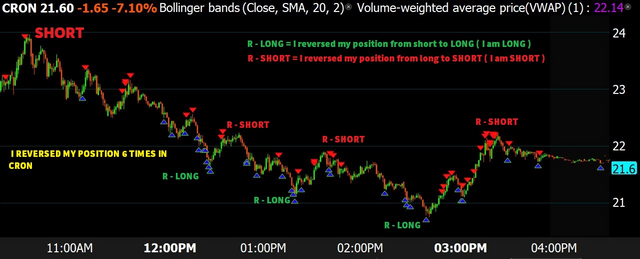 If you are curious about joining me to trade or chat, let me know! cheers!