|english first, scroll down for german|
Hi all,
and welcome to Weekly Update No. 7 from the STEEMPUNK-NET team.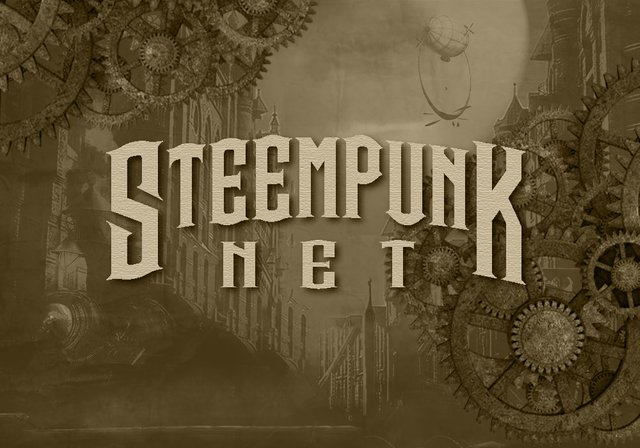 This week we concentrated on givin the player more informations about the battle results and therefore introduced a cool new battle result display, a screenshot is visible in the screenshot area. Additionally we fixed quite a lot of bugs, even if there is one very very persistent one :)
Iam as good as done with the housing concept, which i will post tomorrow and iam looking forward for your thoughts on this one as well.
Last sunday i have been on Live on air in the show of @aggroed !. It was a lot of fun and you can listen to a recap of the show here. Thanks alot @aggroed!
Today we are going to have an update on the following topics:
Development
Open Beta
Artwork and storyline by @asperger-kids, @bronkong and @kunilunde
Communication channels
Beta Statistics
Screenshots
Next steps
Advisors & Sponsors
Community contributions
Development
Bugs, Bugs, Bugs and some cool new features. Thats basically what our week has been looking like. :
Acitivated new constitution(stamina) value, a fight costs 2 points and they are refreshing slowly
Implemented displaying the SPF (SteemPunk Factor), that shows the activity on steem and is influencing fight results
Released the plugin in Chromestore
Almost completed Housing concept
Implemented Fight results page
Bugfixes
Open Beta
There is no closed beta anymore, everyone can join the STEEMPUNK-NET Discord Server and talk to @dehenne or me to get the needed informations.
Artwork and Storyline
Currently all our writers and designers are under heavy pressure in real life, but expect something to come from them soon!
Communication channels
You got multiple options to get into touch with the team behind STEEMPUNK-NET. Currently there are :
Steemit Chat, either direct messaging or for instance in channel Deutsch
Comments under this or other posts from the STEEMPUNK-NET team
Visit our external Website www.steempunk.net
Getting in contact with you is really very important to us, we invite you all to join our discord !
Beta Statistics
Some more fancy statistics for the current Beta, still not what they will be when we are ready with the statistics module but well better than nothing!
Players currently playing : 86
Number of fights already held : 1833
Distribution of players per level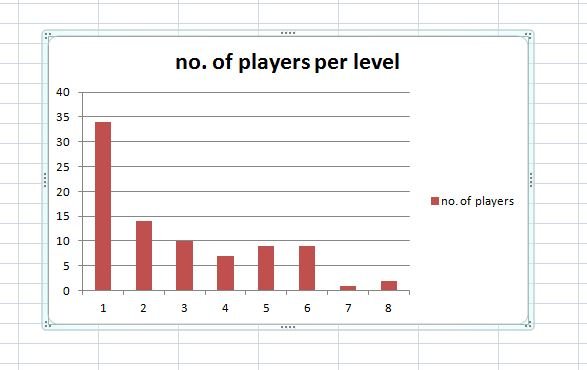 The 5 Top fighters:
287 @copernicus
136 @the01crow
119 @Allstarrunner
117 @happyme
94 @davydd.evans
I know that these are no real full blown statistics, but we will get there for sure..
Screenshots
Here is a screenshot of the new Combat Results page, giving you a lot of information about the fight you just had.
It is also available for the historical fights, go check it out :)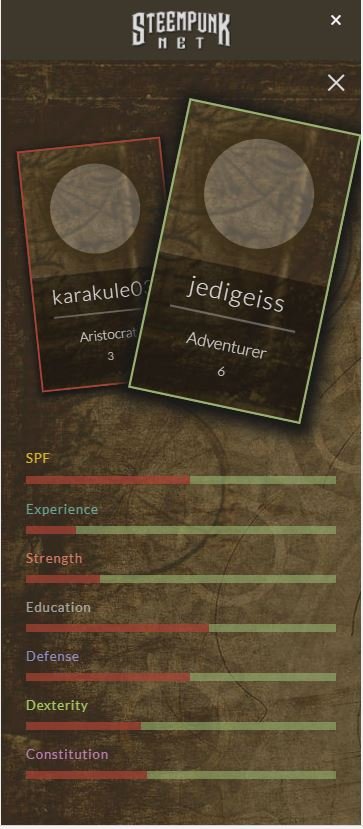 We will enrich this and also use something similar for yout to be able to at least get a feeling in advance of how a future fight could end.
Next Steps
Firefox version in testing
Housing concept finished (writing, not implementation)
Statistics module
Advisors & Sponsors
Added this section to be able to say Thank you to a few people that are helping us a lot.
It is a special honour for us to have @Teamsteem as our first official Advisor, he is doing a marvelous work for Steem and has been already of very great value for us!
If you did not do already please consider voting him as a witness.
Do you also want to help us bring value to steem and be mentioned here? We would be more than happy to have you on board! Come to our STEEMPUNK-NET Discord Server and talk to us! We are looking forward to help Steem grow!
Community Contributions
Another new section, needed to show you how fantastic our community already is, here are some of the works they contributed for STEEMPUNK-NET.
Thats it for this week!
Thanks alot, without you this would not be possible!
Yours
Jan
---
Hi all,
und willkommen zu unserem siebten wöchentlichen STEEMPUNK-NET Update.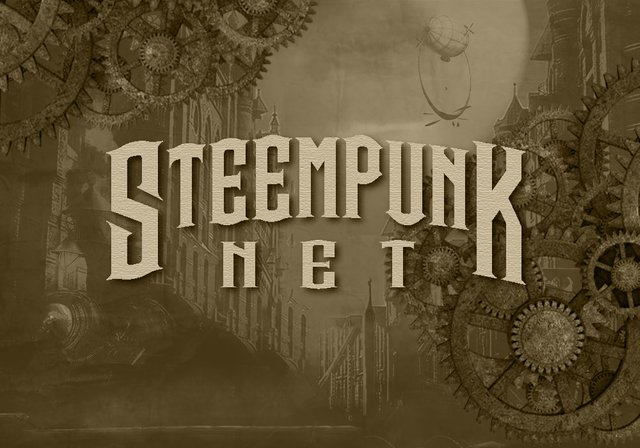 Diese Woche haben wir uns darauf konzentriert dem Spieler mehr Informationen an die Hand zu geben und haben die neue coole Kampf Anzeige eingeführt, einen Screenshot sehr ihr in der gleichnamigen Sektion. Darüberhinaus haben wir einen ganzen Stall an Bugs gefixed, obwohl es da einen ganz bestimmten gibt der sich hartnäckig wehrt.
Ich bin fast fertig mit dem Housing Konzept, ich werde das morgen Abend posten und freue mich auf eure Anmerkungen!
Letzten Sonntag war ich in der Radioshow von @aggroed und habe das Spiel ein wenig erklärt, ihr könnt das hier nachhören. Wir hatten eine Menge Spaß! Vielen Dank @aggroed!
Heute werden die folgende Punkte behandelt:
Entwicklung
Open Beta
Artwork und Story by @asperger-kids, @bronkong und @kunilunde
Kommunikationskanäle
Beta Statistiken
Screenshots
Nächste Schritte
Berater & Sponsoren
Beiträge der Community
Entwicklung
Bugs, Bugs, Bugs und ein paar neue Features. So hat unsere Woche ausgesehen:
Neuer Wert Konstitution aktiviert, Pro Kampf werden 2 Punkte abgezogen die sich langsam wieder aufladen
SPF(SteemPunk Factor) wird jetzt angezeigt, dieser Wert wird durch eure Aktivität auf Steem berechnet und beeinflusst das Kampfgeschehen
Plugin im Chromestore veröffentlicht
Housing Konzept fast fertig
Kampf Anzeige implementiert
Bugfixes
Open Beta
Es gibt keine closed Beta mehr, die Server laufen gut und wir haben beschlossen ab dem heutigen Tag die Open Beta zu starten. Jeder ist eingeladen unseren STEEMPUNK-NET Discord Server aufzusuchen und mit @dehenne oder mir zu sprechen um die benötigten Informationen zu bekommen.
Wir freuen uns auf euch!
Artwork and Storyline
Die Autoren und Künstler sind gerade im RL unter heftigem Stress, aber wir erwarten in kürze wieder updates von den dreien.
Kommunikationskanäle
Es gibt eine Menge Möglichkeiten direkt mit dem Team hinter STEEMPUNK-NET in Kontakt zu treten. Immoment sind das folgende :
Steemit Chat, entweder direkte Nachrichten oder z.B. im Kanal Deutsch
Kommentare unter diesem oder einem anderen Post des STEEMPUNK-NET Teams.
Besucht unsere externe Website www.steempunk.net
Eins der wichtigsten Themen für uns ist mit EUCH in Kontakt zu kommen und auf eure Fragen und Ideen einzugehen, besucht uns einfach auf unserem Discord!
Beta Statistiken
Ein paar kleine Statistiken, damit ihr euch vorstellen könnt wie die Welt von STEEMPUNK-NET immoment aussieht.
Spieler : 86
Anzahl an Kämpfen : 1833
Verteilung von Spieler auf Level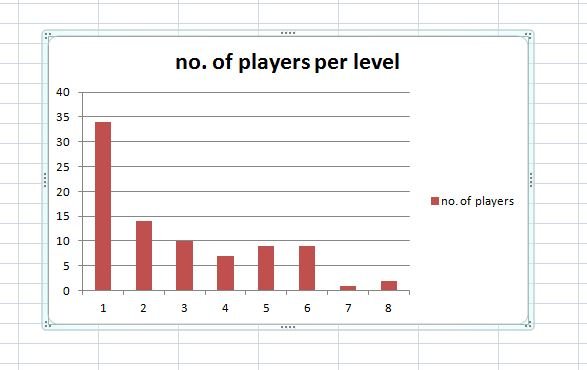 Die 5 Top Kämpfer:
287 @copernicus
136 @the01crow
119 @Allstarrunner
117 @happyme
94 @davydd.evans
Ich weiss, dass das keine schönen Statistiken sind, aber wir sind schon daran das Statistik Modul zu programmieren :)
Nächste Schritte
Firefox version testen
Fertigstellung Housing Konzept
Modul für Statistiken
Berater und Sponsoren
Diese Sektion habe ich neu eingeführt um ein paar Steemians Danke sagen zu können!
Es ist uns eine große Ehre @Teamsteem als unseren ersten Berater an Bord zu haben, er leistet großartige Arbeit rund um Steem und war uns schon eine große Unterstützung!
Er macht ebenfalls großartige Arbeit als Witness, voted Teamsteem mit eurer Witness Stimme!
Willst du auch hier erwähnt werden und uns dabei helfen Wert für Steem zu schaffen? Dann komm zu uns in den STEEMPUNK-NET Discord Server und lass uns reden! Wir freuen uns darauf Steem beim Wachsen zu helfen!
Beiträge der Community
Ich habe eine weitere Sektion hinzugefügt um euch zu zeigen wie fantastisch unsere Community ist und welche Beiträge zum Thema STEEMPUNK-NET schon erarbeitet wurden! KUDOS!
Das wars für diese Woche!
Danke! ohne euch wäre das alles nicht möglich!
Euer
Jan