Steemians | Let's Unite to get Steem Listed on GoNetcoins!
Without a sense of caring, there can be no sense of community.


Steemians, Let's Unite!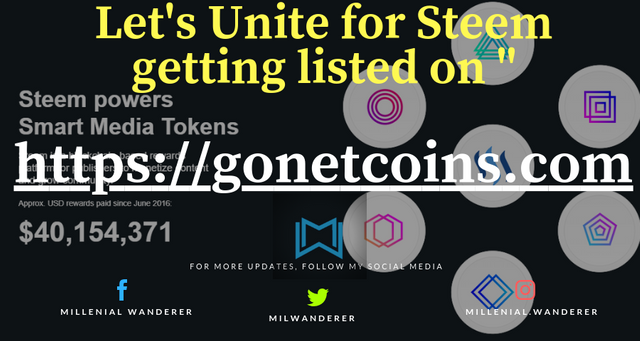 Gonetcoins
(via
https://gonetcoins.com
) is a
Canadian Based
based blockchain company that helps their customers buy and sell bitcoins. They are doing a coin listing event now and we wish
Steem
could be added on the list. It's a win-win for us, we all win if
Steem
gets listed on to the exchange. So please, could you help out?
Now if you may ask, what's the relevance of Steem getting listed into Gonetcoins? - The more Steem gets added to exchanges, the more it generates liquidity which will cause a rise of demand of Steem! Also, getting listed in Gonetcoins avails the following :
Steem gets additionally sold in 171,000 retail locations in over 53 countries across 6 continents!
Media exposure (which Steem needs to work on) on financial sites and cryptocurrency sites (e.g. Coinmarketcap, Nasdaq, coincodex, etc.)
Global OTC desk availability


Source : https://contest.gonetcoins.com
When the demand increases, it is expected the price will increase. More and more users gets the change to buy the coin.
As a Community, let's help Steem get Listed in https://gonetcoins.com !

The steps are quite simple, but creates a good effect in the Steem economy. Everyday, if Steem gets listed in more and more exchanges a better distribution for its liquidity. It only takes a minute or two of your time.
One more important thing is gonetcoins is one of the leading bitcoin exchanger in Canada and allows individuals/entities to become resellers - FOR FREE!
Here are the easy steps into how to vote for Steem in Gonetcoins :
---
Then Choose STEEM to be voted
We're currently ranked no. 2 and we're almost closer to get it to the top. Let's help one another to get Steem listed to the top. Simply search for Steem and click vote.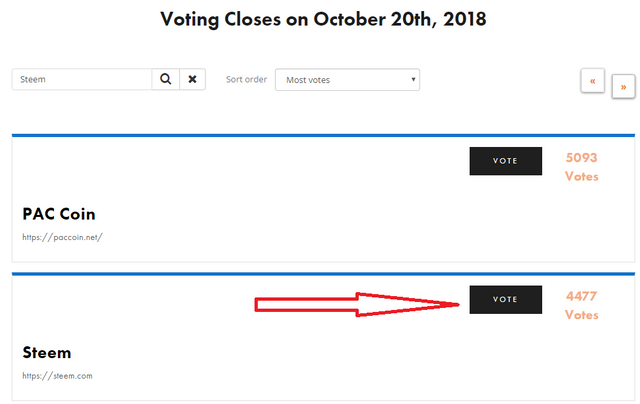 ---
Confirm your Email and you'll get notified into this :

---
If you have any additional emails you can use to vote for Steem, please do so. I did used 5 emails to vote for Steem. Let's help one another as we're closer to getting the first Spot which will give Steem the privilege to have Free listing worth of $30,000 USD.
Let's help one another by spreading this to the community. Make a post about this on Esteem app or Esteem Surfer and you'll get support from Esteem team. @oracle-d will also support our posts encouraging to vote for Steem on Gonetcoins. Let's go!