Over 20 Ways to Make $10 a Day Online
Some people aren't looking to get rich online, they are simply looking to earn a few hundred bucks each month to help out with the bills. Thankfully, not every opportunity requires a scheduling commitment. And many side hustle options can help you make $10 a day online with just a little ongoing work.
Keep in mind, none of these are guaranteed. Some places may have more work or better offers on some days than others. So, as they say, make hay while the sun shines. It's also a good idea to combine a few opportunities as well to ensure you are meeting your $10 a day goal without getting burned out or overwhelmed.
1 - Ebates pays $5 for every person you refer who makes a qualifying purchase ($25). They also offer an awesome referral bonus each quarter allowing you to earn even more for referring more people. For a limited time, get a $10 gift card when you sign up through my referral link and make your first purchase.
2 - Ibotta pays $10 for every two people you bring into the program who redeem their first rebate within two weeks. Like Ebates, this is an easy way for your friends to earn a little extra cash that can be used in an emergency or towards holiday shopping so they may be eager to join. For a limited time, you (and your friends) can get a $10 bonus when redeeming your first rebate.
3 - Clickworker lists a lot of little online tasks like writing or search engine optimization. The site states that pay is around $9 per hour. The biggest complaint I have seen is that you have to wait for your work to be approved before you can get paid and that can take some time. Once approved, pay is weekly by PayPal or direct deposit.
4 - mTurk is a lot like Clickworker in that it is "crowdsourcing" tasks in that a lot of people are completing small segments of a big project. The tasks here are a lot more varied with everything from transcription to surveys. It's "penny projects" in most cases, but it's easy work and you can pick up jobs as you see fit.
5 - Fiverr allows you the opportunity to set up a Seller profile and offer small gigs to Sellers at $5 each. You may want to shoot for completing three gigs per day instead of just two to allow for Fiverr and PayPal fees. Or, offer a great upsell for an additional $5 per gig such as speedy delivery.
6 - iWriter is what many would call a content mill. Contracted writers are churning out a lot of articles for website owners for little pay. On the other side of that coin, you can usually stick to topics you know and require very little research to up your income potential. Seriously though, the pay is around $2.50 per 500-word article for newcomers. When you reach Elite status, you can earn $15+ per article.
7 - Swagbucks will allow you to earn SB, or Swagbucks, by completing surveys, watching videos and shopping online. The amount you can earn each day will be determined by your preferred activities. Some days you may earn more and some less. You can up those earnings by referring your friends as you will receive 10% of their earnings for life. Get a $5 bonus to get you started here.
8 - Famebit may have a few opportunities for you to reach your daily goal if you have a large, engaged social media following. Their sponsors are looking for those on YouTube, Twitter, Facebook, Instagram and more. You get to set your rate for social media campaigns.
9 - InstaGC is another site that will pay you for doing online tasks like surveys and watching videos. The method for earning $10 a day that I have seen recommended by a few InstaGC pros is sticking to Offers, Crowdflower, Peanut Labs, Persona.ly and downloading apps.
10 - Starting a blog may take a lot more upfront work before seeing any return than many of the other options on this list, but it can be worth it. If you love learning and talking about a particular subject give it a whirl. The monetary investment is minimal and you can make money through display ads, sponsored posts and affiliate marketing.
11 - Turo may be a great opportunity if you live near a major airport hub. This site allows you to make money renting your car to travelers. The Turo calculator estimates that if you own a $20,000 car and rent it out just 15 days per month you could earn $6,501 per year. That's almost double your $10/day goal!
12 - Website testing is one of my readers' favorite work at home jobs. There are several sites that will pay you around $5 to $15 for giving feedback on websites. The work can be sporadic so I highly recommend signing up for several sites and then watching your email for tests to come in. They can get grabbed up quickly.
13 - Textbroker is another writing website that will allow you to come and go as you please. If you stick to those topics you know, you may be able to turn around articles quite quickly. Textbroker pays weekly!
14 - Bestmark is a mystery shopping company. What makes this one different is that they occasionally offer phone shops which means you never have to leave the house. Make sure your profile is filled out completely and you check your email frequently to pick up the best shops.
15 - Gigwalk will have you leaving the house, but it doesn't take long to earn $10 completing small tasks with this app.
16 - Field Agent is very similar to Gigwalk in that you may be checking store displays, prices or inventory around town. Definitely give the apps a look before heading out of the house.
17 - Content Gather is another site that will allow you to earn money writing articles. It also has a referral program that allows you to earn 5% of your referrals' transactions.
18 - ThredUp is an easy way to earn money from gently used women's and children's clothes. Request a bag. Pack up your unwanted items and mail them. Get a cash offer for your discarded goods. Granted, you will eventually run out of clothing to sell, but it's a great way to get some fast cash.
19 - Unclaimed property is a nice and easy way to put a few bucks in your pocket. It's not long-term income, but if you have moved around a lot you may be surprised to find you have a paycheck or utilities refund waiting for you out there.
20 - Uber is one of the most well-known companies in the sharing economy. Get paid for giving rides around town.
21 - TaskRabbit will allow you to pick up a little work around town. Again, you will be leaving the house but you may find getting paid for a quick trip to the grocery store is totally worth it. Especially if you are going anyway.
22 - Direct Selling is an idea if you love sales and love a particular product. (You won't sell stuff you don't love.) Chloe + Isabel, for example, pays Merchandisers a base commission of 25% on personal sales. That's a pretty standard commission rate. That means you need to sell $40 worth of merchandise per day to reach your goal. You will need to invest in a starter kit with these business opportunities so keep that in mind.
23 - Selling books can be a great way to make extra money. The going rate varies tremendously based on supply and demand. (Recent textbooks can earn a lot.) I ran through a handful of my books on Bookscouter and received bids from $1.50 to over $14 per book. Once you have gone through your own library, you can hit up thrift stores and garage sales.
24 - OneSpace is very similar to mTurk. The tasks available may be things like image tagging or transcription. Many gigs pay only $.10 each, so you will need to complete quite a few to see any considerable earnings. However, the jobs are short and easy in most cases.
25 - Search Engine Evaluation is a gig loved by many. It's essentially looking at search results or ads and determining their relevancy and quality. There is a lot of flexibility in scheduling and the pay is around $12 per hour. Companies like Lionbridge, Leapforce and Appen hire for these positions.
26 - Fancy Hands is a virtual assistant firm that performs small tasks for individuals and business owners. You may be setting an appointment or doing internet research. Each task has a set rate and you can pick and choose those that are of interest. This is a fast and easy way to earn a few extra bucks each day.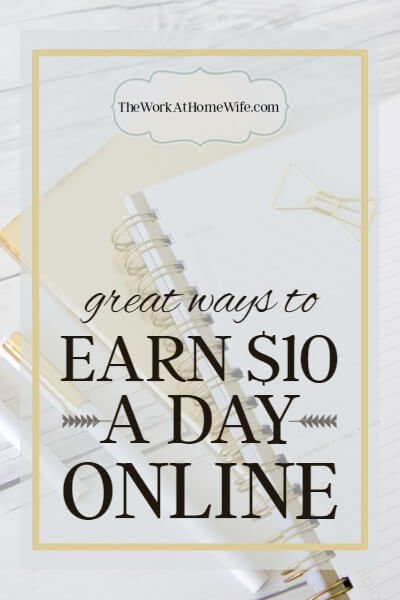 Ten dollars a day may seem small potatoes to some, but that's an extra $3,650 per year. That's a mighty fine Christmas splurge, a nice investment into a passive income opportunity like a REIT or dividends. You can also use it to help fund your retirement through an IRA. After all, the only thing better than making money is making your money make more money.