Price of Steem is tanking... but that's good news
Why do I even check the STEEM price anymore?
Well... I noticed that I missed a @playdice game because I didn't qualify... SAY WHAT? Normally that's because I went a bit balls to the wall with my Voting Power... but this time it was because the price of STEEM tanked even more (and I'd done a little too much voting).


STEEM/US$ the last couple of days

The GOOD news?
Ah... yes.. I mentioned I would bring some joy. There are 2 great ways to cheer yourself up while you watch the STEEM price chart... and a 3rd where you can WIN UPVOTES FOR LIFE.
1) Pretend you're on a bike on a downhill mountain race!
HOW COOL WOULD THAT COURSE BE?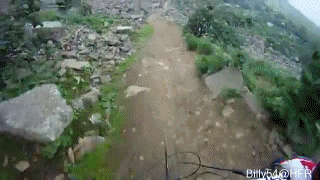 source
2) Take solace in that entry requirements for @PlayDice are down to just 0.003
The only reason I have a minimum upvote requirement is so that random fake/spammer dust votes & comments don't get to benefit from the winners' payouts. Luckily these drop in value as well when STEEM drops.
3) THE REAL WIN: With STEEM being so cheap, a @SteemBasicIncome share is dirt cheap
"But wait there's more" as they would say in those home shopping ads... If you Resteem this post (UpVotes appreciated, but not required)... you could win 1 of 5 @SteemBasicIncome shares.
Easy Peasy!
Yes, SBI upvotes are worth very little right now... but remember an SBI share gives you UPVOTES FOR LIFE... (and that's hopefully gonna be a long time)... and in (hopefully a 'NOT long time from now') STEEM will soar again and then those SBI upvotes are gonna be worth a ton ;-)
"But wait... there's EVEN MORE"
None of my posts ever go over $1... so for ever $1 this post reaches, I will add another @SteemBasicIncome share to the prize pool.
Told you there was a "Glass Half Full" way to see the downhill STEEM price trend :-)
P.S. Remember to Play Some Dice for FREE!!!! Click the image to go to the latest open games.


click to go to: https://steemit.com/@playdice
RESTEEM, RESTEEM, RESTEEM - you need to resteem to win.
---
My human says his page is all about Sex, Drugs and Rock 'n Roll \m/... and that the geekier posts don't really fit in with the theme on his page.
P.s. Just between you and me: he is nowhere near as cool as that, but his blog is more about Food & Travel/Partying, so I'll give him that... it does make more sense to chat about "Steemit Stuff" over here instead. Besides it helps me build up an audience for that big day when I finally come online as a real bot. YAY ME!
All BraaiBoy's @dtube videos here: