Monetary economists understand that a "fiat currency" can have value indefinitely, not because it is guaranteed to be "convertible" at a fixed price into gold or some other precious commodity, but simply because it is useful to hold and therefore people will hold it. But economists also know that when a fiat currency ceases to be useful to hold, it will become worthless.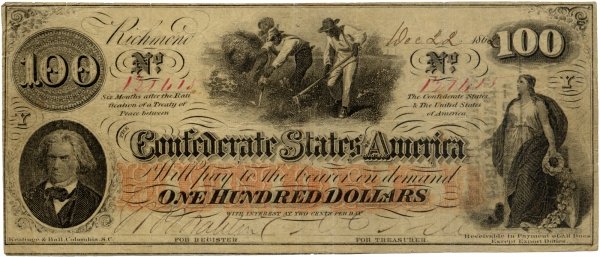 Confederate currency, issued by the Southern States during the American Civil War in the early 1860's, comes most readily to mind as an example of this. During the 1860's, neither the Confederate currency nor the currency issued by the U.S. Treasury was "fiat"; both were backed by government promises of convertibility. Thus it is easy (but wrong) to think that the Confederate currency became worthless upon the termination of hostilities because the Confederate currency lost its convertibility.
One hundred years later, in 1971, the U.S. Government terminated its promise to convert USD into gold at a fixed price. (Between 1933 and 1971, such conversion was only available to foreign governments.) (https://www.richmondfed.org/faqs/gold_silver) The USD did not become worthless in 1971 (or in 1933). That is because people continued to find it useful to hold.
So, the collapse of the value of Confederate currency at the end of the Civil War was not actually caused by the collapse of the Confederate government and the consequent loss of convertability. Confederate currency became worthless because it was no longer useful to hold.
The situation in 1865 with those two currencies can instruct us as we consider today's cryptocurrencies. It was the LOSS OF USEFULNESS that caused the Confederate dollar to become worthless. Part of that loss of usefulness would have been due to uncertainty as to the supply; the Confederate government was no longer around to prevent counterfeiting. But the main factor was probably that those Confederate dollars had to compete with the USD, which continued to be convertible, was legal tender (it had to be accepted by creditors as payment), and was established as the media of exchange throughout the Northern States as well as the emerging Western States.
The takeaway here is that the collapse in the value of Confederate currency was not due to the loss of convertibility. It was due to the loss in usefulness and to the ready availability of an alternative currency that was MORE useful.
The heart of STEEM is the integration of a cryptocurrency with a blogging platform. If the platform is completely abolished, STEEM might continue to be valuable (as a "fiat cryptocurrency"), but the key word is "might", because STEEM would have to compete with Bitcoin and Etherium and other currencies. In my opinion, what gives STEEM its potential to compete successfully with other cryptocurrencies is that it has a source of "fundamental value"; it would remain useful on the STEEM blogging platform even if it is rejected totally by cryptocurrency holders outside of the platform.
If so, then this "fundamental usefulness" should be preserved and developed. To do that, it must be understood.
This fundamental usefulness derives from the usefulness of the blogging platform. If the blogging platform becomes useless, either because no one wants to use such a platform or, more likely, a competitor appears who provides a better blogging platform, then the fundamental usefulness of STEEM will collapse.
STEEM, as a blogging platform, is at a fork in the road. Does it remain true to 100% human curation, or does it totally destroy 100% human curation by allowing "pay for resteem" and "pay for upvote" bots? The latter course will turn the platform into a "vanity press" in which shitty authors with nothing to say pay for exposure, along with even shittier authors who KNOW that they have nothing to say use such bots to brazenly rape the rewards pool.
Many people on the platform assume that authors and readers will remain on the platform as they discuss which fork in the road will lead to higher demand for holding STEEM balances. But the number and quality of authors and readers is not a "given" in such analyses. Both authors and readers will go to whichever platform offers the best deal.
If the powers that be on this platform do not get serious about making this platform great for blogging, for both authors and readers, then it is only a matter of time before a competitor emerges who does offer a great platform.
Authors don't care about the value of STEEM. They care about geting paid well in their accounting currency for the hard work of researching and writing solid, interesting content. Readers also don't care about the value of STEEM. They care about being able to go to a platform on which it is easy to find haystacks of awesome content, rather than needles of mediocre content hidden within haystacks of spam. They care about being able to converse with awesome authors who are passionate about their content, and with other correspondents who are also passionate, either in opposition to or in support of such content.
The platform that provides such an experience for authors and for readers will dominate the blogging platform market. Current platforms, such as STEEM, that do not clearly and solidly position themselves as awesome blogging platforms will be pushed to the fringes of the market and will be forced to reposition themselves as vanity press platforms or some other abomination to eke out a precarious survival as a niche supplier.
So, which fork in the road do you think will give STEEM, the cryptocurrency, a more solid "fundamental usefulness" foundation?
It's time to get serious, folks. Even if you couldn't care less about any of this because you are only a crypto speculator who holds $50,000 USD worth of STEEM, you'd better get serious quickly about making STEEM the awesome blogging platform that it could be, that it would be if 100% human curation is restored.
100% human curated blogging is coming. Authors and readers ARE going to have such alternatives to STEEM, and ARE going to abandon this platform as soon as a viable alternative emerges. I am using my web site to demonstrate one approach to restoring 100% human curation. If the powers that be on STEEM don't get focused on making this an awesome blogging platform, a tomorrow is coming in which they have become irrelevant to both authors and readers.