Delegate your Steem Power and get Regular Upvotes & Weekly Steem Payout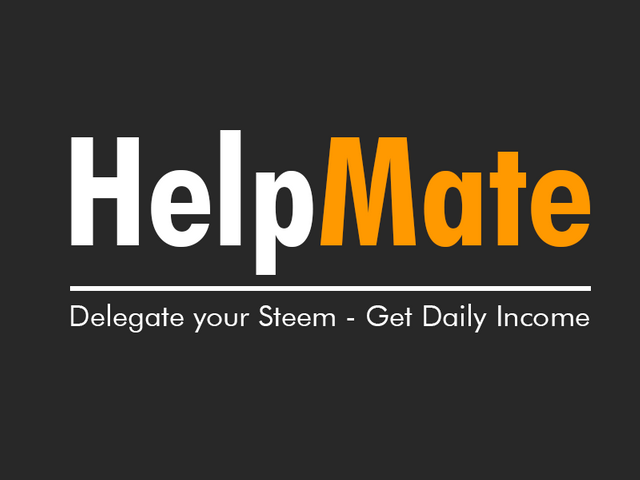 Image Source
Hello Steemians!
If you have some spare Steem Power in your wallet than you can use it and get regular upvotes plus daily income with it. We are offering you to delegate your Steem Power to @helpmate and get upvotes + daily extra income.
We've decided to provide a daily 0.003 Liquid steem on every 10 SP delegation. We're looking for 10,000 SP Delegation at the moment. You can delegate us as many as steem power you want. The minimum delegation limit is 10 SP and a maximum of 10,000 SP.
Suppose:
If you Delegate us 10 SP You'll get 0.003 liquid steem daily.
If you Delegate us 100 SP You'll get 0.03 liquid steem daily.
If you'll Delegate us 500 SP you'll get 0.15 liquid steem daily.
If you'll Delegate us 1000 SP you'll get 0.3 liquid steem daily.
We'll keep your income safe and transfer it to you after every seven days. Which means you'll get a weekly payout on your delegation. Because it is not possible to provide daily payouts to all the users at once because we're not using any specific bot for it.
Get Life-Time Upvote
---
Now you can get a daily upvote of worth $0.001 on your post for the lifetime by sponsoring
@helpmate
into your SBI Share. One SBI share is equal to $0.001 worth upvote, One user can only Sponsor us into their Five SBI Shares which gives you a daily upvote of worth $0.005 for the lifetime. We will increase the limit in the future when we get enough Steem Power.
How we'll track our sponsored SBI Share?
There is none of the options is available where we can find out who sponsored us into their SBI. So we have got the only manual option where we can track that by two ways
Sponsor @helpmate into your SBI Share and comment below any of our posts. We'll check your transaction history and confirm that.
Send your steem to @helpmate with the memo "SBI Share" We'll transfer them to Steem Basic Income and sponsor you in it.
For More Details
Join our Discord Channel https://discord.gg/Y7JfJMH