Bittrex exchange transferred 14.5m STEEM to Steemit, then Steemit transferred 21.5m STEEM to Binance exchange.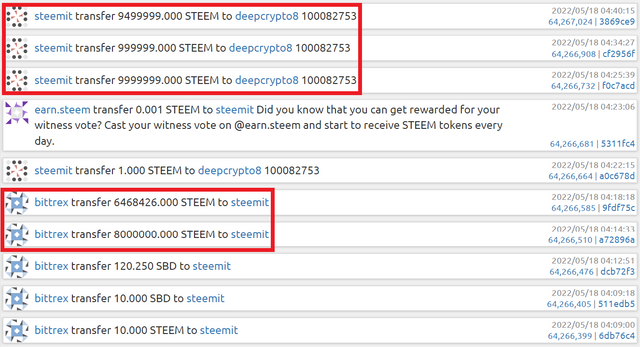 Around 04:18 UTC, 18th May, Bittrex exchange transferred 14.5m STEEM to Steemit.
---
After Justin Sun took over Steemit in 2020, 24m STEEM was hacked during the STEEM hard fork related to HIVE. And, that STEEM was transferred to the Bittrex exchange.
Bittrex Is Puzzled Over 24M Stolen STEEM Tokens on Its Holding Account
That frozen STEEM is related to the STEEM blockchain attackers who left violent comments and posts. The hacker stole the recovery account and changed the keys. Then, the guy transferred it to the Bittrex exchange. The exchange is based in the USA and has held it for 2 years.
---
Based on those backgrounds, I'm still wondering.
Since Bittrex exchange has no issue about transferring that STEEM with respect to American law, so, did they transfer to Steemit?

If so, why did they transfer only 60% of 24m STEEM?

If not, Steemit bought 14.5m STEEM in Bittrex exchange, then are they planning to do MM(Market Maker) in Binance exchange?

We all know Steemit received 14.5m STEEM. But, why did Steemit transfer 21.5m STEEM which is more than 14.5m STEEM?