A Major Sell Off Is Afoot...
I don't know what it means.
I don't know why it's happening.
I'm not particularly alarmed by it, since it appears all of crypto is getting hit, and EOS is down over 22% at the time of this writing.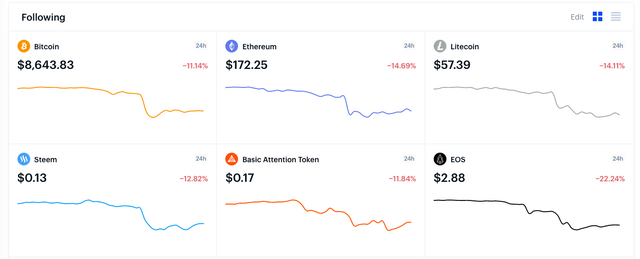 What does bother me some is where SBD is right now. Coin Market Cap has SBD at $0.647811 USD. SBD has been steadily trading well below it's supposed peg of $1 USD, and internally, as far as I know, it continues to be at $1 USD. That can't be good, can it? SBD Debt Ratio continues at 10%, meaning liquid STEEM ratio is at 100%, and I'm wondering why I haven't seen anyone talking about this?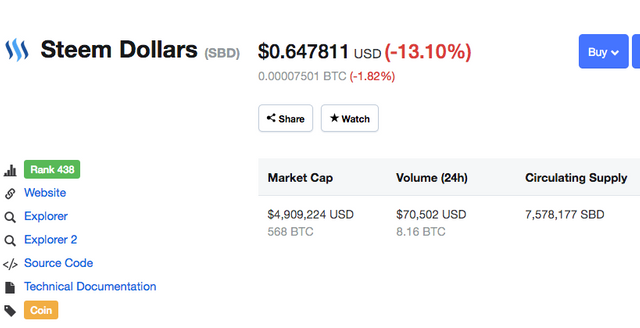 Maybe I'm not following the people who have been trying to draw attention to it. And maybe the folks I'm following aren't following them, either, or haven't resteemed the posts, anyway.

As far as STEEM goes, if you believe in it at all, and if you have any disposal income at all, and can get through the exchange hoops without having your money tied up for a week at a time, STEEM pricing just keeps getting better and better.
If you think the sky is falling on STEEM, don't have extra money to spare, or don't want to go through the hurdles and obstacles I seem to need to do just to buy some crypto, any crypto, let alone STEEM, well, I can't say that I blame you for holding back. We all have to do what we feel is right, and sometimes that means missing out on an opportunity, or dodging a bullet.
It seems to me that there can be little to go on to try to determine which way something is going to go, too. Especially in crypto. That said, I personally still feel like that STEEM is way, way undervalued, but it's certainly not showing it at the moment.
With as much good as I think has happened over the last 10 months (I'm still in wait and see mode with the EIP, but hey, maybe it's more a personal issue than anything at this point), and with more good things finally seeming inevitable at this point—SMTs, Communities—barring something major happening, there's a lot of good going on here.
If people outside of STEEM can see it.
That's just it. I don't know if they can. And it's not just STEEM. It's crypto in general, outside of maybe Bitcoin, and I wonder just how many people know what it is, or have even considered purchasing any.
I'm pretty good at finding spot news, like this, thanks to my journalism days, but as far as interpreting it for anyone, well, that's just not my thing.
Any thoughts on what's going on now? Anyone want to hazard a guess? Is there more to go before STEEM hits bottom, or does this just mean STEEM will finally shoot up to where others have been saying it will go. Are you still holding and powering up, or are you one of the ones selling?
Images sources—Coinbase and Coin Market Cap