Oh, you're quitting because Steem's price is down? Well, fuck right off then, ya fucking moron. Crypto hasn't been barely adopted yet, so it's almost guaranteed to go up from any high that it has had, and it's WAY fucking down right now. Are you a fucking moron? You BUY when it's low, and perhaps sell when it's high, to again buy some more at a lower point. Or you learn to trade, and do it over and over again, trying to grow your purse.
Steem is fucking frustrating as fuck sometimes. I wrote almost an entire book here. Actually, I kinda did write the whole thing, only thing left is the final chapter that's actually a lead in to the next book. But I wanna research all the closest exoplanets to figure out where I want my main character's home base to be. I got what was like $1 on multiple chapters of that book. Imagine writing a book, and people being like "Ehh...I'll give you a dollar for it." And I'm still fucking here! I've also gotten Curied on absolute shit posts as well, and got a tiny ass curie as a result. But I'm still here.
Trending is an absolute travesty. There are people writing utter shit on here, then buying upvotes on it. And then there are people defending that action, saying that it's for promotion or some shit. Unless those people are completely fucking delusional, they KNOW their post is shit before they buy a $400 upvote.
But I'm still here.
And I'm not fucking leaving!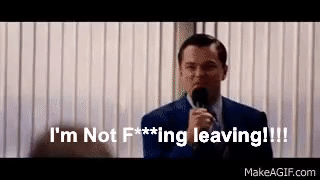 (source)
And you know what? You shouldn't be fucking leaving either! You should be writing posts. You should be telling people how your day was, and what your hopes and dreams are. You should be telling them about the latest cool ass shit that you heard about was! This is a fucking social network! There will be lots of fucking asshats. And you know what? I might be one of them!
We have to work together to deal with the problems on here! We shouldn't just fucking give up!
Are you a fucking quitter?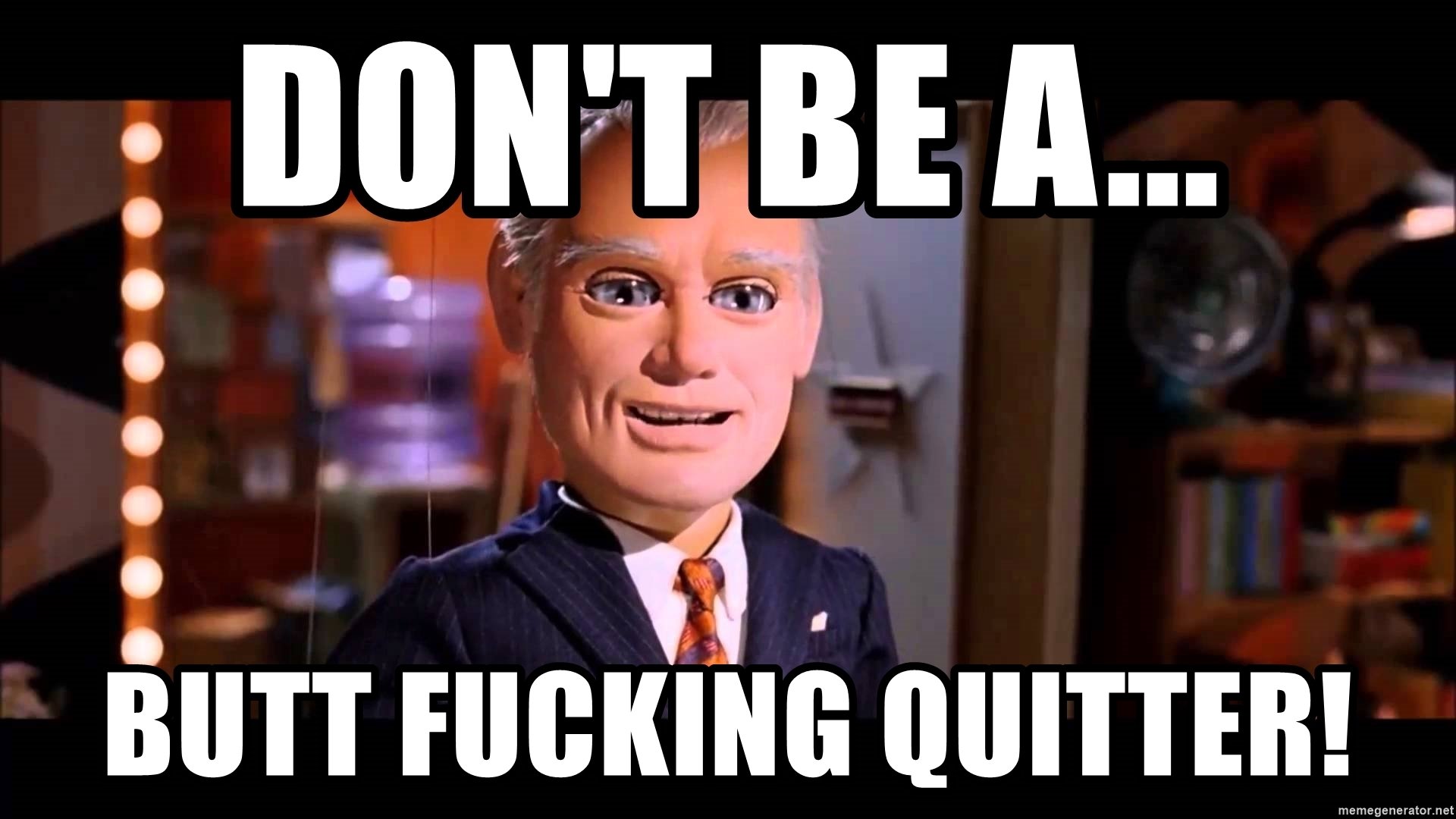 (source)
You know, maybe Steem isn't going to be the one. How many social networks existed back in the day that just don't anymore? Does anyone even remember Friendster? Everyone mentions MySpace, but it was actually really big for a while. It kinda succeeded before they just let it languish and die. We aren't even there yet! We're fucking tiny. We only have a million accounts, and a fuckton of those are bots and just fucking DEAD!
So I'm not fucking giving up yet. We're only in the begining. And if it doesn't work out, I'm finding a new place to make crypto from my random fucking rants and posts about technology and geek shit.
Why? Because FUCK YOU, that's why!