When You Say Steem, What Are the First Things That Come to Your Mind?
Let's do this simple exercise, and attempt to answer a simple question:
When You Say Steem, What Are the First Things That Come to Your Mind?
If you are not familiar with Steem, the answer can be... nothing or almost nothing.
But that's ok, nothing is lost for you or for Steem, since it only has a little over two years.
If you have been here for a at least a while, and your first thoughts bring you to its problems, then think about the granddaddy Bitcoin or even to daddy Etherium, both of which had had (and still have) their share of issues, scandals, hardforks (resulting in separate blockchains), etc. and yet they are still standing with plenty of investors wanting pieces of them, despite in many ways being surpassed in characteristics by newer blockchains, including Steem. So, the test of time is important! And in the crypto world, two and a half years of a working blockchain, like Steem has, is rare.
If you think at the token with the same name or its market cap, it's good. Most investors do! On the long term I believe they both are way lower than we will see them. Time will tell.
If you are a crypto enthusiast or investor, you might have heard of the STEEM token, maybe even bits and pieces (some inaccurate or old news) about the blockchain, but it probably wasn't the core of your preoccupations, unless you are also an active user of it. Otherwise it's just one of the Top 50 crytos, how could anyone ask you to know it in detail?
If you think at the blockchain which powers everything up, you couldn't be more right. Its' qualities compared to other blockchains have been preached so many times...
Here's a nice graphical sum-up: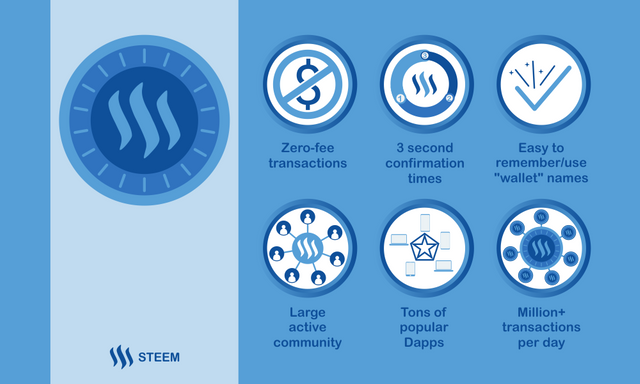 (Source: @podanrj, licensed under Creative Commons Attribution 4.0 International License)
Or, if you prefer a long, up to date and interesting read about the Steem blockchain, here's an excellent source from @timcliff:
https://busy.org/steem/@timcliff/it-s-time-to-start-paying-attention-to-steem
If by Steem you first think of its community, this is commendable and great. Without users (and Steem has reportedly over 100,000 active users, out of more than 1 million accounts), without people, there is no social platform.
Almost 450. Do you know what that number represents? That is the total number of tools and decentralized applications built on the Steem blockchain to date.
Let me say that again: almost 450! If we were to make a useless calculation, that's one new tool created every 2 and a half days since the Steem blockchain is live! And it is live for two and a half years, give or take.
If you think at those tools and DApps when you say Steem, that's also great!
Personally, I have the entire Steem ecosystem in mind when I say Steem. That's blockchain+community+DApps/tools.
For the Steem ecosystem to flourish, all these components need to do well. And if one of them suffers for a while, the other two must step in to help it. Just like any other ecosystem in the world. It only thrives when all components do it and there's a balance between them.