I know many of you are hodling your SBDs in hopes that it will go up. But chances are that it might not go back up over $10 or some insane figure you are expecting it to do. When SBDs first pumped up couple of months ago, the circulating supply was very low.
It isn't the same case today! Infact the supply has more than doubled in the time frame owing an increase in price of Steem. As Steem continues to rise in it's value, higher number of SBDs are printed to be distributed to the users of our platform.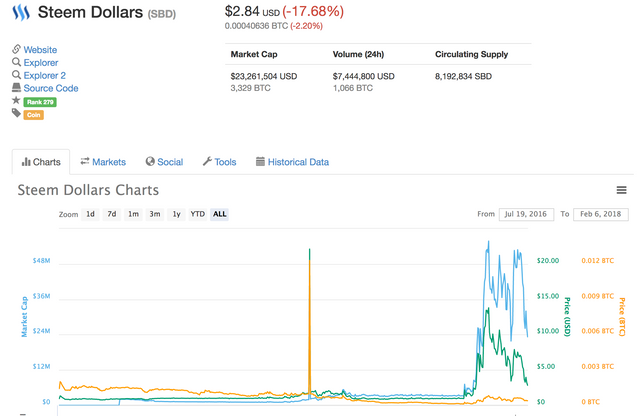 These amongst other factors is what has resulted in SBD value reducing back towards it's original peg of $1 value. It was created with the purpose of being a stable currency but in recent times it has been pumped up massively. Ofcourse, it has benefitted all of us, especially those amongst who are earning here only to encash %100 of their earnings.
But, for some of us who are actively trying to increase our stake, buying into Steem has been very valuable.
However, we also have bills to pay amongst a whole lot of other things for which sometimes we must sell the liquid portion of our earnings to fund our life expenses.
This can be difficult in a tumbling market. Today, as I logged on to trade I found myself with a stash of SBDs. Since i've been in and out of flights and airports lately I hadn't the chance to get rid of them sooner when the price was a bit better. I have already booked my profits when they were over $10 so I don't need to necessarily encash them for Rupees.
But Steem is what I want and even though Steem is at a higher rate, I sold all my SBDs today for Steem.
Simply because Steem is volatile. It isn't a pegged currency. It is what drives this platform and is the better currency to be holding over SBDs. Steem is more likely to appreciate in value. When it goes over a mere 30% I would already be in profit. If it pumps over $6 I've doubled up my profits. The point being I can sell Steem for BTC/ETH and buy it back lower therefore increasing my holdings.
My goal was to get to 50K SP by end of 2018. I was at 33K SP when I set this goal for myself. I'm now at 41000 Steem Power and I'm not going to stop when I get to 50K. I will continue to invest in Steem anyway I can.
We all complain of distribution. Now is the time to be wise and play your cards right and adapt to the changing market conditions. This is no trading advice but just my personal experience.
Steem is the fastest blockchain today and powers some very useful applications on top of it such as Steemit -which is also rapidly growing towards being one of the most popular sites in the world.
As a stakeholder I'm betting on Steem.
So Let's Talk,
How are you making the most out of this on-going market correction?
---
If you like my work kindly resteem it to your friends. You may also continue reading my recent posts which might interest you:
---