An Update on @EZVote and the collective going along with it! HIGHER RETURNS NOW AVAILABLE! Over 14K SP now available to vote with! :)
| Extra SP? | Idle SP? | Want to earn? | Need promotion? |
| --- | --- | --- | --- |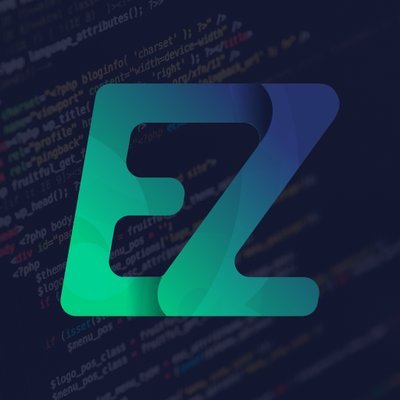 Delegate/Send 0.1SBD/STEEM to "EZ" Vote! (@ezvote)
---

---
Updates | What's to come
---
After a very successful round of delegation requests and SP acquisition, we are happy to announce that a full vote with us is worth $0.22 and that sending the minimum amount of 0.1SBD/STEEM, with around a half power vote, still returns about $0.10 worth of a vote! If you only sent 0.1 STEEM, that would mean you spent $0.02 and received $0.10 in return!
A new feature! If you send 1SBD/STEEM+URL and above, to @ezvote, your content will be promoted to the @ezpromote account! This account will be hosted directly on the main page of the upcoming LookPlz.com! :)
The account @ezgaming has been created as well and will be where videos of matches as well as other gaming-related content will be posted, shared, and promoted! The different accounts are to keep things separate so that nothing becomes too cluttered, as it may in the future.
As an added measure for onboarding, we are collecting account creation tickets as well, so that we may instantly create accounts for new users we may wish to invite to the blockchain. This will allow them to get started instantly and allow us to make the process of joining the blockchain even more diversified, without needing to rely on faucet delegations and thus, demanding more from those already doing enough.
Currently, we have more power than both the @MinnowVotes and @MinnowHelper accounts and are quickly approaching and about to pass the power owned by the @VoteMyPost account, so if you're using any of those vote bots, you'll be earning equally or more, using ours! If you delegate to larger bots for earnings, you'll actually earn more with us, because your delegated SP will be a larger portion of the overall stake, than it would be if it were to get lost in the vast sea of delegators that large vote bots possess.
The return for delegations has been upped! :) This means more return for your delegation in daily payouts! The bot now has over 14k SP to use for voting and more delegations are awaiting fulfillment in the meantime. They are offering over a 24% APR, so they should fill in no time! Go to DLease.io's market to check out the offers we have standing!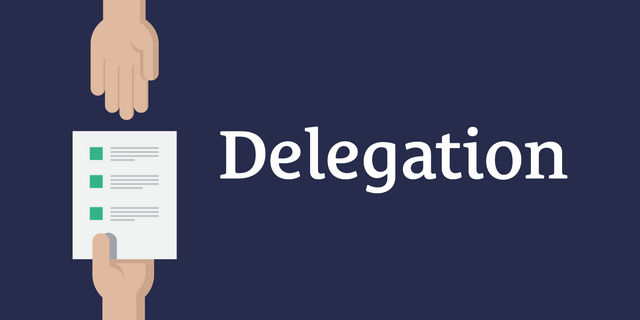 The higher return offers will surely go first, so act quickly!
In addition to your payment through DLease, you will receive delegation returns.
---
Gaming
---
Do you like Minecraft?
Our Alpha server is currently running and is whitelisted in the meantime! Just request to be added to the whitelist!
(The Alpha server is for testing purposes only. Release will allow earning.)
IP: mc.lookplz.com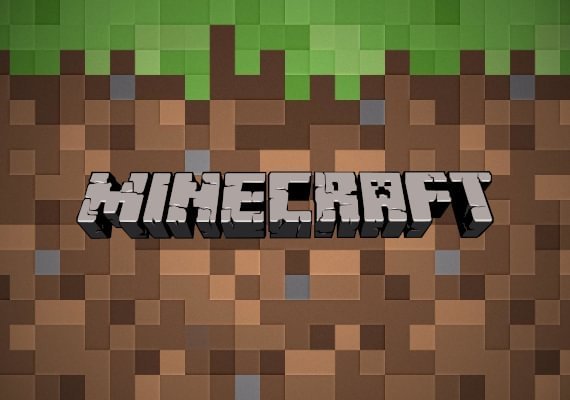 How about Starcraft? Fortnite? MTG? You will be able to COMPETE and EARN!
Soon, we will announce application to the tournaments we will have structured!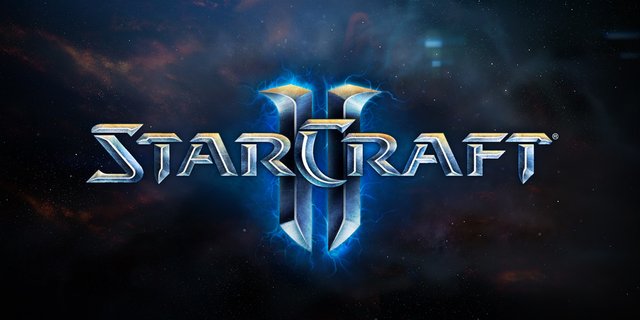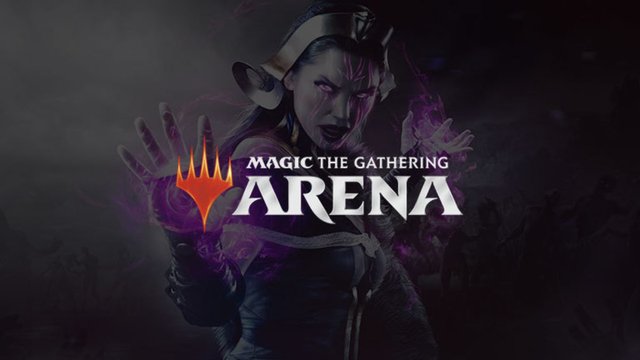 So you're not a gamer, but a fan of art/an artist. Want to earn for works/critiques?
We will be integrating with art communities soon! :)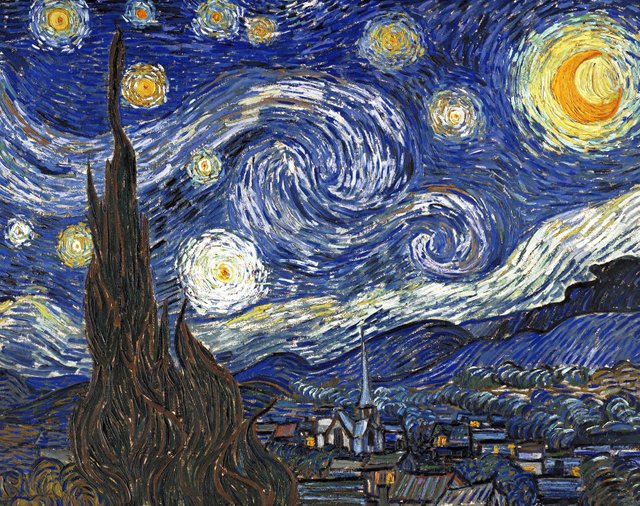 Love trading strategy/predictions? How about rewards when you guess correctly?
Rewards for Daily/Weekly guesses on various cryptocurrency prices will happen soon!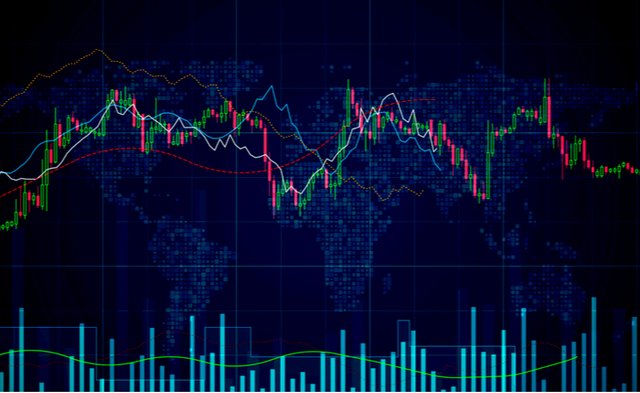 The options are limitless, the community will decide what's in demand!
This is just an update mostly to explain the release of the Minecraft server. The other plans for the other games will take a bit more orchestration, so it will take a bit more time to have a solid structure of how those will be conducted. All in due time! :)
---
LookPlz.Com
---
As of this moment, the main website is under construction for https://LookPlz.com. This will be the website where all promoted content is shared on a wider scale, and where most of these competitions/contests will be updated from/promoted from. There will be an iframe pointed directly to the @EZPromote account that this account posts resteems to! This means that if you're promoting with the @EZVote account above 1 STEEM, your post is being resteemed and, as a result, shared on the other website as well.
The website is still a skeleton of a structure, as we are working on it and have just begun, but as you can see, the iframe will display the content easily for all to see, directly on the main homepage. :)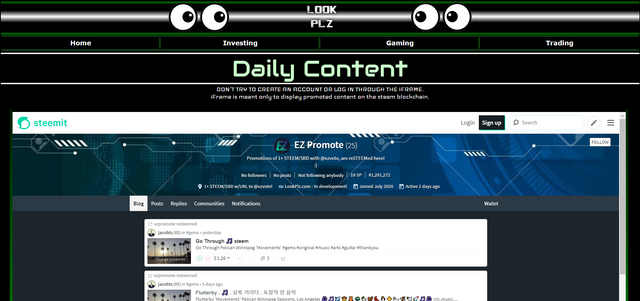 Not only will the website be designed to promote the STEEM blockchain and content on it directly, it will also be responsively coded, so that it won't look like absolute shit on mobile devices! :)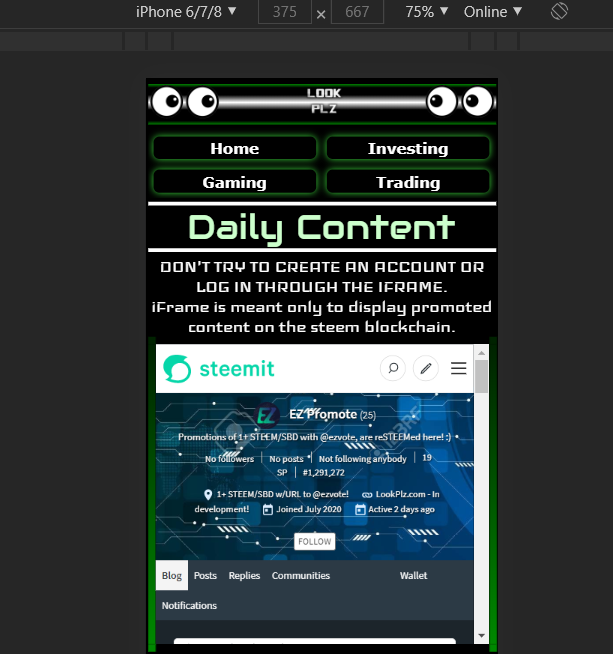 As you can see, the mobile view scales down quite nicely and everything fits well, with nothing being too hard to read.
Obviously, the theme of the website can be modified, but I think I like the "Matrix" colored, "90s Feel" themed, simple and easy to use, nothing complicated, feel of the current theme! ;) Maybe that's just because I'm the one working on this part of it the most, but I digress... :P
Many features of the website will work directly with the STEEM blockchain and the blockchain as well as members of the community, will be promoted through this site. It will be another tool for onboarding of new users and hopefully bring some added value through the initiatives it brings! Here's to the future!
---
Voting | Promotion
---
The prices for votes will NEVER change in the future, as stated in the original post! They are set no matter how successful the bot becomes or how much the vote becomes worth. The idea here, again, is not to focus on profits, but to focus on promoting as much material as possible for as many steemians who need a boost as possible. This could mean you, this could mean a friend, either way, it helps in the long run to be promoted!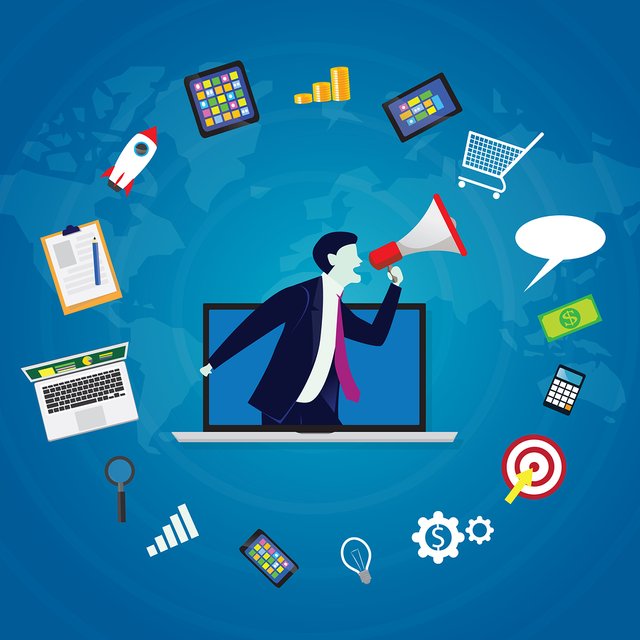 Voting Cost

| MINIMUM | MAXIMUM |
| --- | --- |
| 0.1SBD/STEEM + URL in MEMO | 4SBD/STEEM + URL in MEMO |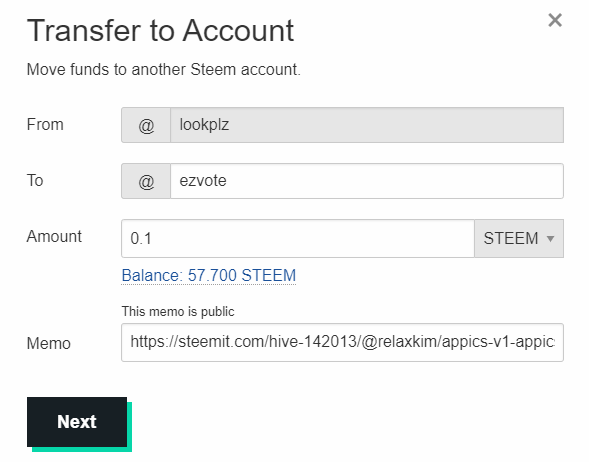 | Vote | Conditions | - |
| --- | --- | --- |
| Posts | Comments | Both acceptable for promotion! |

Sometimes your comment needs a little boost too!
It can be hard to have your words seen; This definitely helps!