DTube Airdrop is coming... How many DTCs will you receive?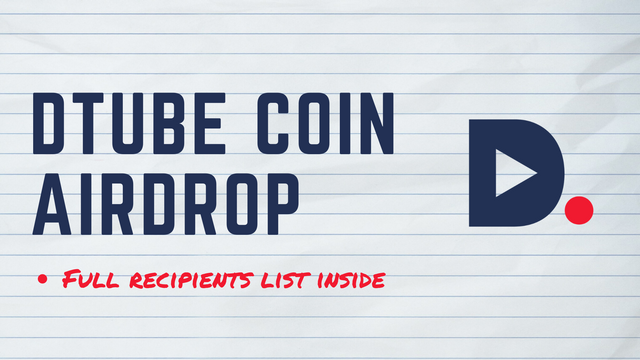 As mentioned previously in multiple blog posts, and in our whitepaper, 50% of the starting DTC supply is going out as a big airdrop to our past STEEM users. That's a whopping 2 million DTC.
Thanks for using DTube for almost three years. Thanks to you, DTube will be opening a brand new social blockchain on 1st of July, with a fresh new stake distribution, focused on fairness.
We calculated the list based on the beneficiary rewards generated on DTube videos through time. Bad actors such as bid-bots or spammers have been arbitrarily excluded from the airdrop.
This airdrop will be released over 6 months. You will need to log-in with the Steem account listed a recipient, and a DTube account. Then, a popup will appear on d.tube every 10th of the month and allow you to claim 1/6th of your total airdrop, starting on 1st of July and ending on 1st of November.
Unclaimed DTCs will be burnt, however we reserve the right to re-distribute 20% of the unclaimed tokens in real-life events related to DTube, crypto-currency, or video.
The snapshot for the airdrop was April 18th 2020 at 00:00 UTC, therefore the only possible way to acquire more DTC until the launch of the main-net, is the token sale (still 340,000 DTC available).
Need support?
For support from the team and the community, please comment this post or go to our:
If you have lost your private keys, please read this article.
The DTube team
https://d.tube