Bitshares DEX is the most reliable way to liquidate or acquire STEEM

Regardless of your position on the recent HFs 20 through 20.5+, the Bitshares DEX remains the most reliable method of exchanging STEEM. Not everyone is comfortable being stuck (albeit temporarily) with immovable STEEM and without the ability to move funds and exchange freely.
Most centralized exchanges and bridging services choose to suspend deposits/withdrawals during a hard fork. This is the case currently with our major markets such as Binance, Poloniex, HitBTC, Bittrex. Even OpenLedger's gateway (OPEN.STEEM) is suspended. However, in the open market of gateways, we find Rudex's (RUDEX.STEEM) wallet functioning normally and allowing STEEM to be moved onto the DEX for sale against other assets on Bitshares.
Price observers would have noticed STEEM price increasing while the chain itself was halted during HF20.0 and exchange wallets closed, leaving a fixed supply of STEEM available on the respective exchange. These false price increases will return to market price almost immediately after they enable their wallets. Although STEEM volumes on the DEX have been trivial, the actual transfer and exchange of tokens via Rudex is working smoothly. I feel that if more people were aware of this method they would be able to trade during this volatile period.
Thus, to trade my available STEEM and SBD immediately I have moved to working markets, such as:
When dealing with any gateway to the DEX, its up to you to do your own due diligence on the gateway's credibility, security, market fees and reliability. Check with others who have been transacting recently, send small amounts first to confirm wallets are working and do not make any assumptions, particularly with new or smaller gateways, and when a coin is experiencing a difficult hard fork.
We will monitor and advise on our experience with Rudex and should any reliability issues arise, we will report them in addendum to this article.
Guides how to transfer STEEM to Bitshares/OpenLedger/Rudex have already been written so please refer to the following sample or the original source article below.
So get on with it, try a true decentralized exchange (DEX) and forget all about the suspended wallets, unexpected delistings, security failures, DDOS downtime, government seizures, KYC/AML and other negatives associated with the traditional centralized crypto exchanges.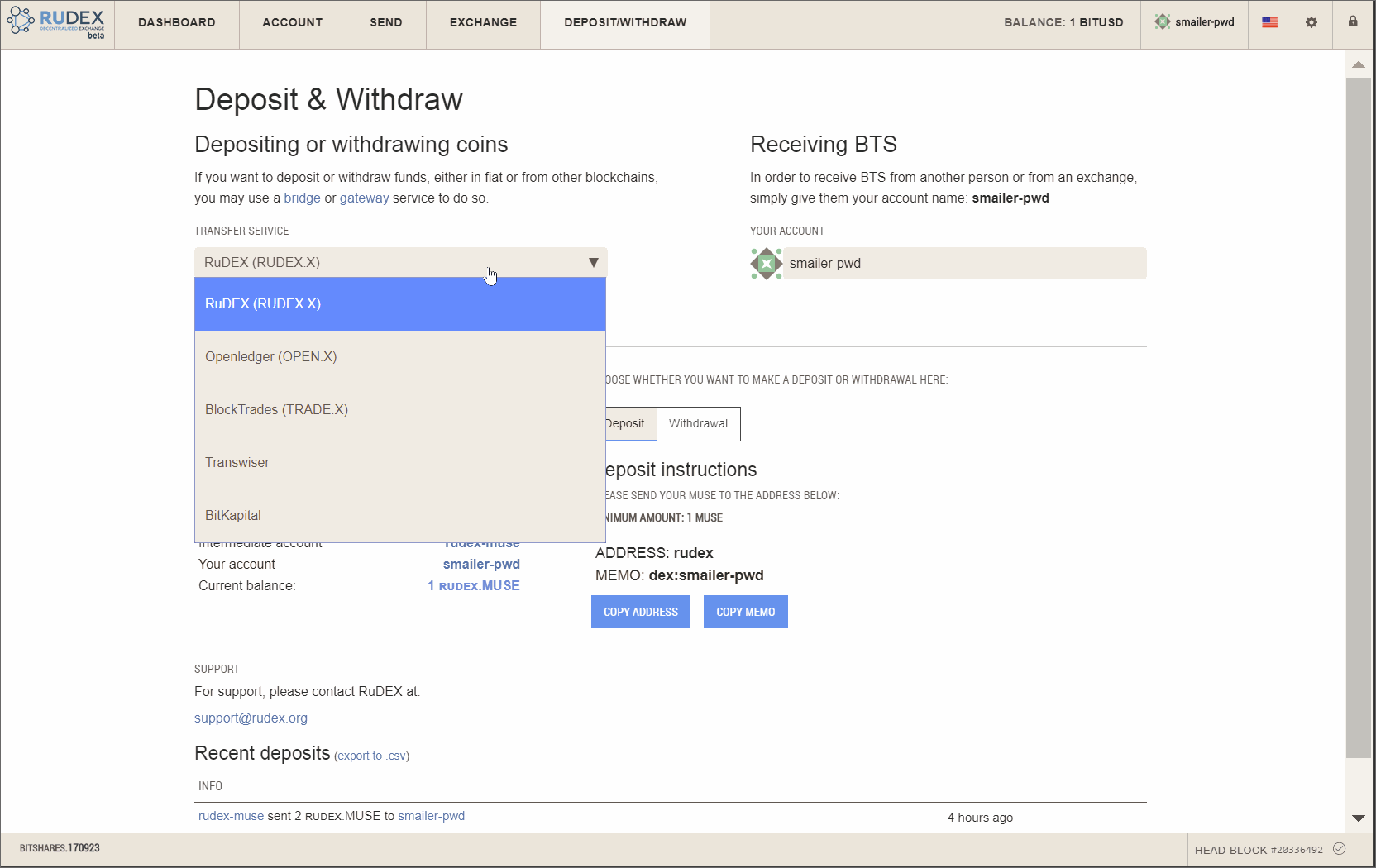 @blockchained announcement and guide for STEEM & SBD

Since 2016, @donchate has operated numerous DPOS blockchain servers, both public and private seed/RPC nodes and witnesses on chains such as: Bitshares, STEEM, Scorum and EOS.
Feel free to reach out if you are having trouble creating an account on the DEX or if you would like a premium name account.