Delegationhub.com X-Mas Competition: Win additional delegated SP and STEEM!
In the last few weeks we have again seen significant progress on delegationhub.com as we saw the number of active leases increase in October by 145% to 115. We are glad to see that many Delegators appreciate our lean platform and the lowest fees in the market.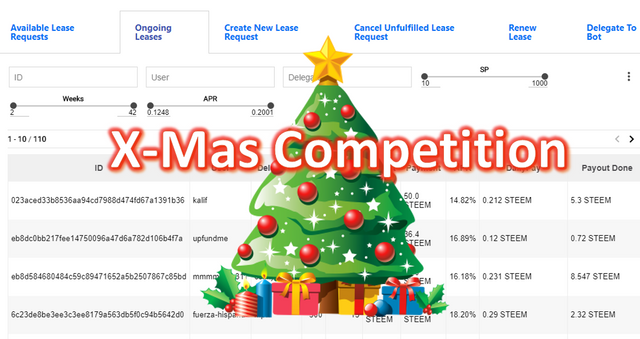 STEEM delegation market Christmas competition 2018
Following-up on the success of the October competition, we are announcing the Delegationhub.com X-mas competition. Furthermore, the prices for Delegatees have been increased. Competition period: 15.11.2018 – 31.12.2018 UTC.
1. STEEM Delegatee competition
Who wins: The top 3 STEEM Delegatees measured by amount of STEEM spent for filled or renewed lease requests receive additional delegated SP for 2 months (January and February 2019).
Prices: 1st place: 1000 delegated SP, 2nd place: 500 delegated SP, 3rd place: 250 delegated SP.
2. STEEM Delegator competition
Who wins: The top 3 STEEM Delegators measured by amount of STEEM to be received for filled and renewed lease requests will be rewarded for their loyalty.
Prices: 1. Place: 50 STEEM; 2. Place: 25 STEEM; 3. Place: 10 STEEM.
For detailed information and the overview of the current leader board please visit our delegation market rankings.
Happy Steeming and good luck!
About Delegationhub.com
Delegationhub.com is striving to become the leading delegation market place for selected Delegated Proof of Stake (DPOS) utility tokens such as STEEM and EOS. The Delegation Hub aims to connect different stakeholders of the STEEM and EOS ecosystems and thereby foster the growth and strength of communities and help them succeed. Delegation Hub is an independent initiative not associated with any block producer and self-funded.
Please get in contact with us via the channels provided below and visit delegationhub.com.