Delegationhub.com market update: Delegate STEEM POWER for highest returns
In the last 2 months many more Delegators and Delegatees have used delagationhub.com to lease or delegate their STEEM POWER. It is very satisfying to see that many community members are appreciating our transparent approach with no high fees hidden unlike other services. More value stays in the community!
Delegationhub.com Steemit market development
Since the last update in January the amount of Steem Power delegated through delagationhub.com has reached the 100k STEEM POWER mark. We are very pleased that many new Delegatees and Delegators are using our platform. Thank you for using our service!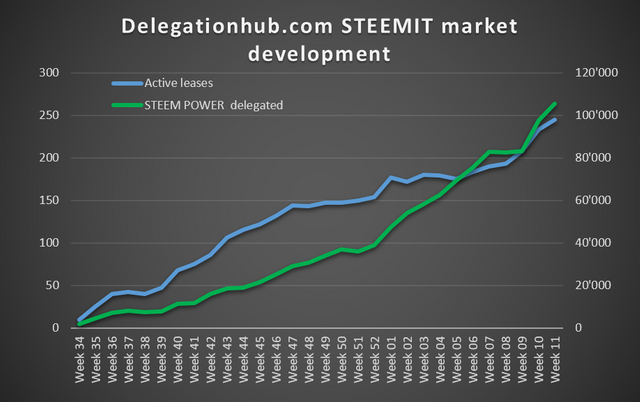 Monthly Delegator & Delegatee Bonus System
Delagationhub.com offers a monthly bonus system to both our Delegators & Delegatees. Please visit our STEEM POWER market rankings for the current standings.
1. Delegators: Monthly STEEM Bonus
Each month, the top 10 Delegators are rewarded with additional STEEM payout (up to 50 STEEM). Please check out the available lease requests on a regular basis. There have been many offers that were filled over 20% APR recently with one over 100% APR.
2. Delegatees: Monthly STEEM POWER Bonus (+2 SP for 1 STEEM invested)!
Each month, all Delegatees get additional 2 STEEM POWER for every 1 STEEM invested (new lease requests filled and renewals). In January and February this year we have already delegated several thousand STEEM POWER to many Delegatees. As it stands right now in March with 2 more weeks to go, already 7 Delegatees will benefit from additional STEEM POWER delegation in April.
Steem on dear friends!
About Delegationhub.com
Delegationhub.com is striving to become the leading delegation market place for selected Delegated Proof of Stake (DPOS) utility tokens such as STEEM. The Delegation Hub aims to connect different stakeholders of the STEEM ecosystem and thereby foster the growth and strength of communities and help them succeed. Delegation Hub is an independent initiative not associated with any block producer and self-funded.
Please get in contact with us via the channels provided below and visit delegationhub.com.