Deegram-onboarding: "Most of us do not always understand everything" - By Jørgen Lybeck Hansen
System developers are amazing. We have an incredible everyday life, where most of us thought coding is so fascinating that we like to do our spare time work.
Many of us spend a lot of time setting up workspaces, different applications that can help, batch scripts, extensions to our applications, email filtering, directory hierarchy, and process routing optimization. Even project-specific technologies offer a variety of ways to customize our workflow.
All in all, this results in a sea of ​​preferences. Each developer, each with their own method of making the day fly by efficiently while working on their project.
It's amazing how we all learn so much differently. And how we are all so different! Being a developer is beautiful. Grind and grind on problems, and then have a small rush of success, just to rush over to the next problem.
Everyone can learn something new in no time. Everyone learns something new, often. And many sit together in the same office, ready to share knowledge, tips, and tricks. It's almost like a "gotta catch em all" experience, where you never finish.
My name is Jørgen Lybeck Hansen and I have been a developer for 3 years and 2 months. So, professionally. I like to write technology articles about React and AWS, but today I want to try something new.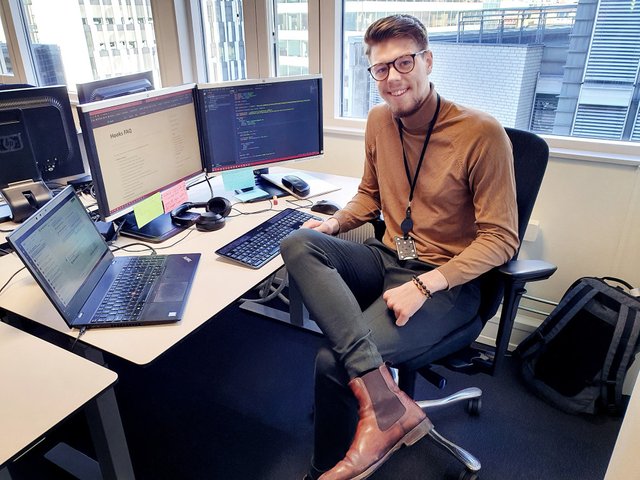 Being a developer
You sit on the school bench and slowly glance at the screen. Then you lift your eyes and look around you. Everyone else in the class is fixated on its screen. You look back at the screen. Syntax error. The Java task you have been assigned will not play ball. One hand reaches into the weather. He over there is done, how did he do it so quickly? Then shoot a few hands in the weather. Now there is a bunch that is finished and you are still as far. What are you doing? You will never learn this.
You are a new developer in a company. Right off the school bench, and now you're in a big company all your friends have heard of. You look next to you toward the senior's screen. Things are flying away, and you see tools you've never heard of. Eventually, you turn up to ask what the black box was for. "ConEmu? Cool." You now have your first program that makes the terminal look very sexy.
The months go by and you start to get comfortable in the project code. Little by little, you get more tips from the senior. You will be better off looking for tools yourself, and one night you will get the hang of downloading VS Code Extensions. You can't wait to get to work the next day to see how much faster you work! … And it works. You feel much more relaxed with the new colors of VS Code, and the new shortcut to test code in open files was what was lacking to bother writing more tests. All your windows have dark mode.
And now, after 4 years as a developer. You have coded and coded, every day. You feel you have learned so much, but there is still so much to learn! Is it going to end? You hope not, because what are you going to learn? You are thinking about technologies you will learn for the new year. And when the year is over, you may have learned something from what you planned. Maybe you've learned something else and. At least you've learned lots of new stuff! And the people you met this year were nice too and. Some were annoying. But they had some good points they and.
You look back a couple of years and think you were a young and stupid developer. Then you start thinking, "Have I really gotten so much better? I have been stuck on this problem for many hours. And I'm even googling the things I googled at school… "Imposter Syndrome is labeling you.
You take a break from hobby projects and do other things. You don't read as many articles and don't watch as many videos. You don't test out as much new. You are also a bit jealous of her in the team who has learned an awful lot of cool lately. On LinkedIn, it says that she knows machine learning. You can't. You should learn that.
One day you are sitting in the office staring at some code. There is the solution! Of course, everything works now. You lift your coffee cup and take a sip. It's terrible as always, but you have it forever. The carbonated water is also an inexhaustible resource. And god how much cool you have on your desk. A Star Wars character, and a cute rubber duck that everyone in the office got from the project manager. That's great. You look over the desk and think "Shit, this desk reflects who I am!"
A few years later you sit in the office. You have known many victories over the code. You have known of some defeats and, but most ended up in victories in the end. The dopamine has had its mountain-and-valley course. But you are mostly reliant on yourself, and that you deliver fast, documented and tested code. You don't promise too much in a short time anymore. You have many interesting objections to the project. And you are respected.
You are given responsibility for a newly qualified colleague. She impresses you. She has not yet been in working life. She holds a master's degree from NTNU. So did you. She can fight a lot! Things you haven't had time to look at yet. She asks about the black screen application. "ConEmu". Cool! Now she has changed the way the terminal looks.
You smile. For 20 years you have worked as a developer. You are the boss of other developers. You get code too, that's the best thing about the job. You are asked when someone has a problem, and most often you have an answer, or at least a hypothesis. You don't understand all the new frameworks being used, but you do understand what they are for. How they are set up.
End
This was a tribute to developers.
We live an ambivalent life with ups and downs. There are also many phases we go through, times when we are uncertain, and times when everything just flows.
It is during these times that we become insecure about ourselves as developers that we need to be better at asking for help. Most of us do not always understand everything, and then it is easy to think that others are better. Instead, I think it's important to put our developer ego aside and merging heads much more than we do.
Two heads think better than one, and three developer heads, one designer, one project manager, and one coffee machine think best! Remember that the team is there for you!
The Deegram-onboarding initiative
This post is the first in the new series from Deegram where the goal is to onboard great content creators. We contact them, post for them, and the subsequent rewards are sent to them. This is a means to show them in an easy way that their voice matters, and has a real value.
Hopefully, some of these contributors will realize their potential on Steem, and create an account for themselves to post regularly.
Feel free to comment and provide insights and criticism for the author, or to the initiative itself.
Read more about the Deegram-onboarding initiative here