An Efficient Way To Buy Steem - 7 Simple Steps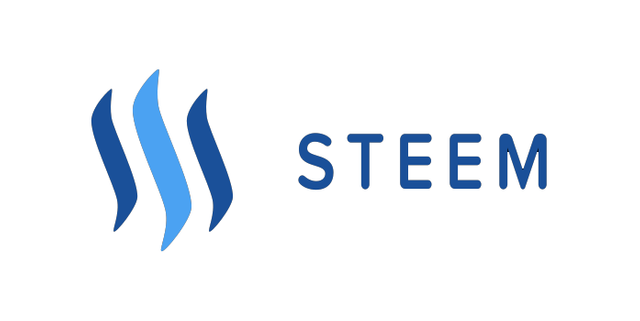 I recently decided to buy some steem so that I could support making a market in Steem Monsters cards. I had never bought steem with my own fiat, but I had heard horror stories about how complicated it was. I got help from @revisesociology, @abh12345, @themanwithnoname to do this, so thank you guys!
The truth I found is that while it isn't really intuitive, it is fast and easy. Note: with the caveat that you already have the accounts open.
Caution: Always start with a small amount and practice so you do it right. If you make a mistake with a small amount of money it is a learning curve. If you make a mistake with a lot of money its a disaster. So start small and practice!


So having said that cautionary note, here is my attempt to give you a basic guide to buy steem with your fiat in 7 simple steps!

Step 1 - Must Have 2 Accounts Opened: With Coinbase and Bittrex
Go to: https://www.coinbase.com and https://bittrex.com and set up an account at both places. (It takes both because Coinbase trades only 4 cryptos for fiat and Bittrex only accepts cryptos)
Note: you will have to verify yourself so make sure that you have 1) a recent photo taken of yourself taken from your phone and loaded on your computer and 2) a valid drivers license (both sides) or passport and have those also loaded on your computer

Step 2 - Deposit Money Into Coinbase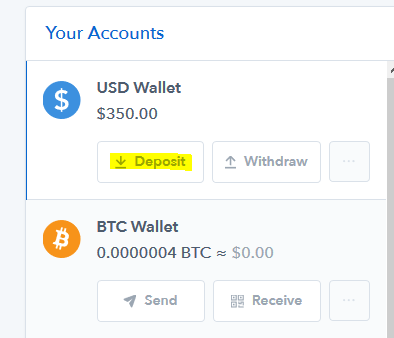 They make depositing money into Coinbase fast and easy, you literally just connect your bank account to Coinbase and you can deposit instantly.
I found this super easy, but one thing you need to realize is your funds will take 6 days to clear and ready to be sent out. That is why I now keep extra fiat sitting on deposit in the event that I want to buy some crypto!
Once you have your funds deposited, it takes them 6 days to clear, so you will have to wait that 6 days to go to step 3.

Step 3 - Converting Fiat To Bitcoin For Transfer To Bittrex

Coinbase is where you will turn your deposit of fiat into crypto. You can do Bitcoin, Bitcoin Cash, Litecoin, or Etherium. I use BTC because once I buy the BTC, I transfer it to my BTC wallet in Bittrex, and then I can easily sell it to buy steem. To buy the BTC, just click on the Bitcoin button and enter your order... That's it, fast and easy!

Step 4 - Transfer BTC From Coinbase To Bittrex

To send your BTC from Coinbase, you first need your Bittrex receiving key. To find you Bittrex receiving key you need to go to your wallet on Bittrex (shown on the right). And then click on the GREEN BUTTON which says "make deposit" next to your Bitcoin. Note: you are transferring BTC to your BTC wallet.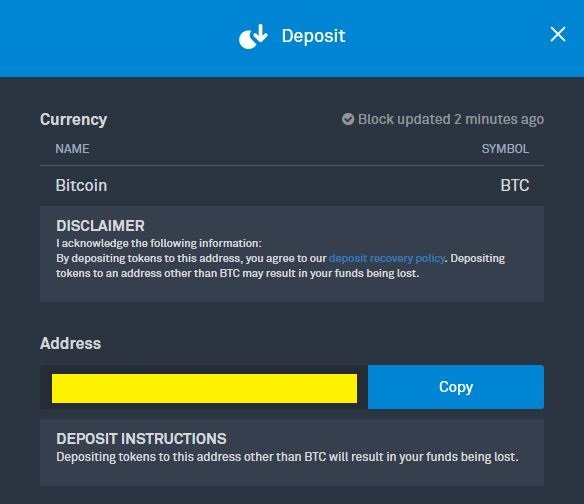 This will pull up the window on the left. I have already opened mine so I have a number in the yellow box. But the first time you will be given the option to generate your number for deposit. Its your key for the BTC blockchain that sends the BTC to your wallet at Bittrex. Once it is generated, then just copy it and paste it in your coinbase account in the section where it wants you to tell it who is going to receive it. (See below)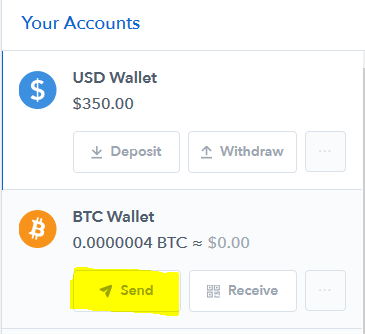 To transfer your newly purchased BTC, you simply go back to the Accounts tab and choose the "send" option highlighted on the right. From there you just a) enter the BTC address at Bittrex that we just generated, b) the amount of BTC to send, and then c) click continue. See entry screen below:
And this will complete your conversion from fiat to BTC and transfer it to Bittrex for steem conversion!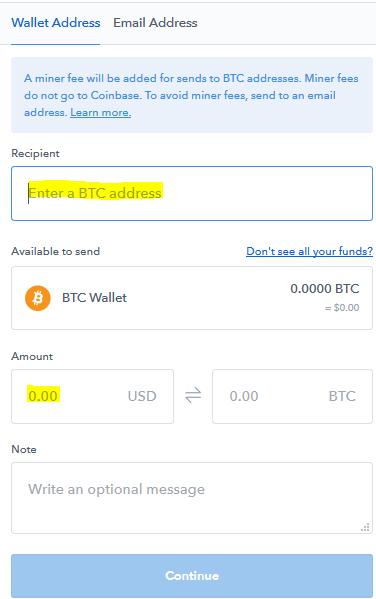 Step 5 - Convert BTC To Steem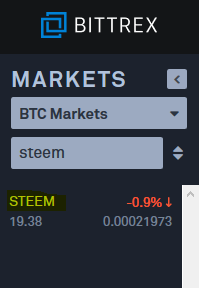 To convert your BTC (that is now in your Bittrex wallet), you go to your wallet and look on the upper left and you will see a "Markets" Tab. (see pic on right).
Make sure the settings are on BTC markets and underneath it type in steem (as in the picture).
Now click on the steem quote (highlighted in yellow) and it will give you an order screen to input your conversion of BTC to steem. (see photo below)
Note: this part looks complicated, but it is just an order entry screen so that you can see the other orders. The bids are the prices that people are trying to buy and the ask is the price people are trying to sell.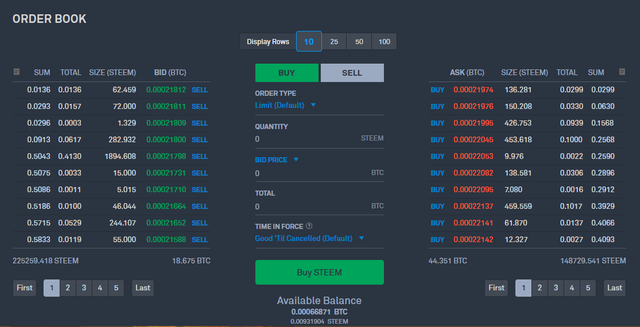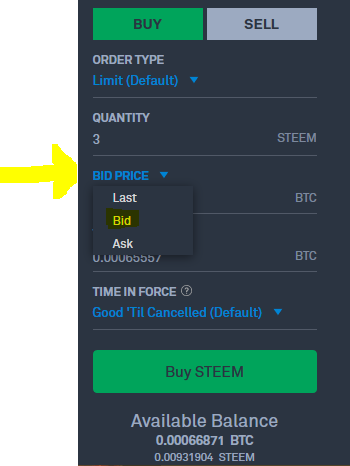 I have focused on the smaller entry screen on the right to show you how to do it simply (this isn't a trading course).
The 1st thing to do is determine the price you want to pay. I go to the "bid" and put my price in there (if you are impatient, then go to the ask and pay a slightly higher price).
The next thing to do is enter the quantity of steem you want to buy. Note: in my example I chose 3 steem and clicked the green "buy steem" button.
Once you do that, then you will get another window that pops up and asks you to "confirm your buy limit order"... See screenshot below and if everything is right, hit confirm!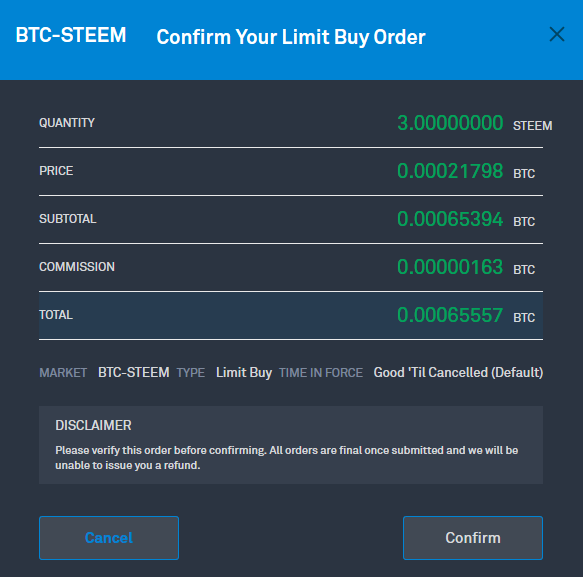 Step 6 - Send Your Steem To Your Steemit Account

This is the fun part. Sending your steem to your Steemit Account. Go back to your wallet (on right) and instead of clicking green, you will now click on the little red button next to STEEM. If you hover over it, it says "make withdrawal".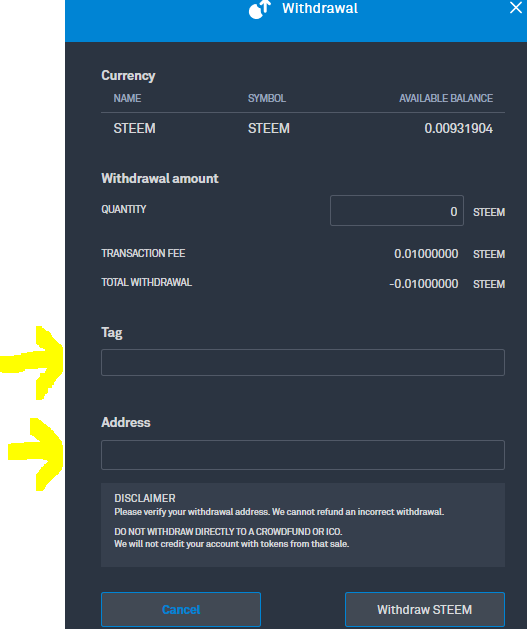 This is what you will see to send your steem from Bittrex to Steemit. (left photo).
From here you just fill in the information. You need to:
#1) put the amount of steem you want to send in the amount
#2) put your steemit "public memo key" in the 'tag' line and then
#3) put your steemit user name without the @ in the 'address line'
CAUTION: DO NOT PUT YOUR PRIVATE MEMO KEY IN THE TAG LINE Your public memo key is the one that comes up when you click on permissions in your wallet and you don't need to convert to your private key. If you do use your private key, you will have to reset all your passwords. Hint: I know because I made that mistake ;)
Now hit withdraw steem and you only have one step left.

Step 7 - Confirm The Transfer By Going To Your Email
The final step required is to go to your email and Bittrex will have sent you a code to click to confirm the transfer. Once you click it, it will then say your transfer has been confirmed.
Congratulations, you have now succeeded in transferring your fiat into steem in 7 easy steps!
If you have any questions, please let me know. I am not an expert, but it if fresh in my mind so I might be able to help you :)

My "highly recommended" witness votes will now be added to my posts. I hope you add them as your witness and to your posts too!
@steemcommunity
@danielsaori
@yabapmatt
@steemgigs
@jackmiller
@noblewitness
@comedyopenmic
@curie
@qurator
@swelker101
@ats-witness