Steem Update: "Communities" Are Coming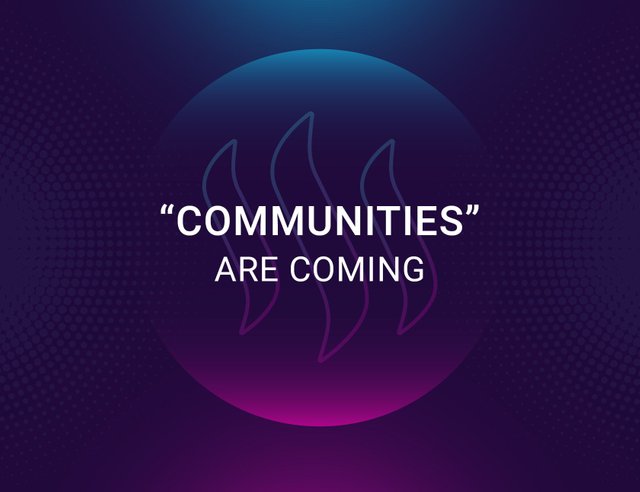 This article will give you an overview of some important updates to the Steem ecosystem. The "Hivemind" and "Communities" updates will improve the Steem experience for both everyday users and developers.
What is Hive?
According to the Hivemind Github, Hive is a "consensus interpretation" layer for the Steem blockchain. It will be the foundation for social features like communities, post feeds, and follows. It also improves the efficiency and scalability of the Steem platform as a whole.
How Does It Work?
Hive developers want to open up vast new social features while maintaining efficiency and scalability. To do this, Hive will separate most front end features from the backend nodes. This lets front end developers work on features without making changes to the foundational infrastructure.
Imagine if you had to open up the hood of a car and tweak the engine just to increase the volume on the radio. That's the way Steem operates currently. This system puts a lot of pressure on the backend technology. Plus it's very inconvenient for front end developers. Hive lets developers tweak features while letting the backend nodes focus on scalability and performance.
Communities
"Communities" will be one of the biggest updates to the Steem experience in recent memory. Communities let moderators create groups devoted to certain topics. You might have a "New York" community, a "technology" community, a "music festivals" community, and more.
You can think of these as the Steem equivalent to "Sub-Reddits". The whole Steem platform will become more organized around user interests. As the name implies, this will help increase the sense of community for Steemians.
The idea of Steem communities has been talked about for some time now, with an enthusiastic response. Helping like-minded individuals connect turns Steem applications into true social networking sites, rather than purely content sites. The 'hivemind' Github has been very active lately, and updates should roll out soon.
Other Features
"Communities" is the biggest structural change to Steem. However, Hive can be leveraged for a host of other features as well. The following are mentioned in the Github:
• reactions, bookmarks
• comment on reblogs
• indexing custom profile data
• reorganize old posts (categorize, filter, hide/show)
• voting/polls (democratic or burn/send to vote)
• modlists: (e.g. spammy, abuse, badtaste)
• crowdsourced metadata
• mentions indexing
• full-text search
• follow lists
• bot tracking
• mini-games
• community bots
Conclusion
The Hive updates will be a major improvement to the Steem experience for most users. The features that the update unlocks will help Steem applications mature into community based platforms with more potential for growth.
If you have any questions about the Hive updates, please comment below. Click "Follow" to hear more news as the updates approach their launch.