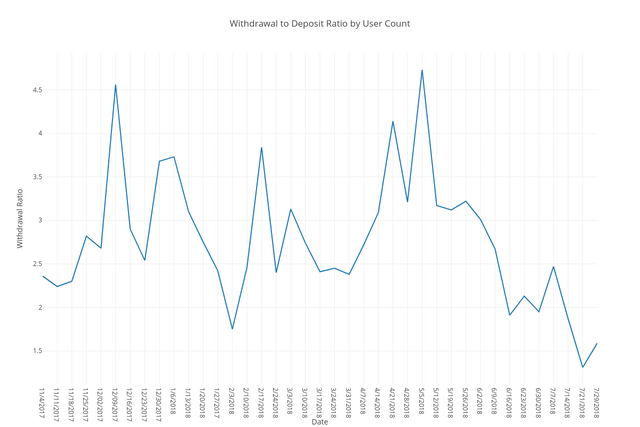 @lukestokes made me aware in his most recent post of a little known underappreciated metric called the deposit to withdraw ratio. If we understand how businesses work or lifeforms in general then we know it is about growth. A business grows when it has healthy financials. This general means when revenue is calculated to be over expenses then the business is financially healthy. Businesses call this the Operating Expense Ratio.
Operating expenses are costs associated with running a business's core operations on a daily basis. Thus, the lower a company's operating expenses are, the more profitable it generally is. Over time, changes in the OER indicate whether the company can increase sales without increasing operating expenses proportionately (i.e., if the business is scalable). In real estate, companies can compare properties by using the ratio.
That quote highlights the importance of the OER for business. In Steem we have the deposit to withdraw ratio. In Steem because we have to measure things differently we can track the health of Steem by looking at whether the amount of USD value being taken out is greater than the amount of USD value being put in. The deposits have not been keeping pace with the withdraws which shows that the ratio is unprofitable. As much as people jump on others for "reward pool rape" and other accusations we have to understand the fact that Steem as an ecosystem is currently unprofitable.
Unless Steem becomes profitable the reward pool is going to shrink forever and all arguments become moot points. So the real question is how can Steem be made profitable? The developers have been saying for months (years) that communities are coming, that oracles are coming, that SMTs are coming, but we still haven't seen any of this. As a result the demand for Steem has diminished greatly now that the hype surrounding crypto has gone down. Primarily speaking the current holders of Steem realize Steem is not profitable and rather than simply holding to receive in some cases 10% yearly interest the choice is being made by many to sell into USD or into BTC with the expectation that BTC is going to rise.
Let me be honest, even if BTC does not add as much utility or value as Steem it is likely going to get a higher price rise than Steem. If we look at the trend we see the BTC value of Steem has been going down for most of the 2 years that Steem has been online. This indicates that in BTC value Steem has never really been consistently profitable but in USD value Steem has had moments of profitability.
In my opinion this can change and should change. First the mindset in my opinion has to change and that is how can we make Steem profitable? We know Steem is adding value but we also know that if we look at Steem as a business that the business is failing. In other words it's unsustainable unless effort is made to change the trend and soon because we also know Steem 2.0 is under development for EOS.
SMTs may make SP more attractive to hold but I suspect people might not understand the value SMTs bring.
Third party developers can make apps but these apps have to create supply sinks for Steem.
Third party developers also have to figure out how to make their apps "profitable" in the context of BTC value not just USD value.
Steem core developers have to create the tools and platform to allow efficient value and wealth creation. This includes the sort of features that would make it in a person's economic interest to want to hold a token long term. At the moment delegating Steem Power, curation guilds, and similar features do actually make people want to hold Steem for the passive income. At the same time Steem isn't even mentioned for being available on Coinbase or the major exchanges yet Cardano is? It's important that Steem be put on Coinbase particularly with a million+ users and the largest community in crypto.
Finally Steem developers have to inspire people. Now is the time to release at least some of the ideas of where Steem will be going in 2019. We need to know that if we hold on that not only will we get SMTs, Oracles, Communities, but that there are plans going all the way to 2020. We know Dan Larimer and EOS think long term, and we know Ethereum and VItalik also think long term.
References