Dear Community, We, the Artists of the "One Life Celebration", Are Kindly Looking for Your Support!!
Greetings Everyone!
Driven by our passion for music & to finally meet in person,
we,
Jeff Leinwand ( @jeffleinwand ),
Keith 'Zig' Stewart of OneMedia® ( @onemedia ),
Ed Privat ( @edprivat ), Elaine Faye ( @elainefaye ),
Brian McGuire ( @hilladigahackles ),
Dookiebrownflow ( @wolfnworbeikood ), Father Earth ( @fatherearth ),
Ason Intrigue ( @asonintrigue ), & myself D-Vine ( @d-vine ),
artists on the blockchain, vocal advocates of cryptocurrency, free speech, and the democratization of capital,
are organizing the
"One Life Celebration" in Karlsruhe, Germany, on the 11th of January 2020.
We are kindly looking for support!
We have created a fundition page where you can find more information & where you can show some love...
"ONE LIFE CELEBRATION" on Fundition
If you want to come, grab your ticket "ONE LIFE CELEBRATION" here!!
---
This is your opportunity to be supporting something truly epic!
---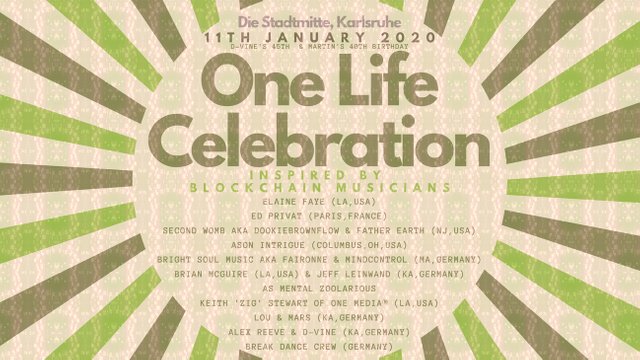 We organizers of the "One Life Celebration" are also offering top tier sponsorship!!!!
Sponsorship includes:
1.Adding your name to the poster, that means, promoting YOU whenever/ wherever we promote "One Life Celebration" on the interweb.
2.Mouth to mouth propaganda ( the talk is big )
3.Promotion through posters throughout the Karlsruhe Region
4.Named on the "ONE LIFE CELEBRATION" Compilation recording
also,
5.Endless gratitude & love from all the artists involved
So here's your chance to have your name associated with this historic event...
---
For further inquiries please contact @d-vine on Discord.

Respectfully,

The "ONE LIFE CELEBRATION CREW"