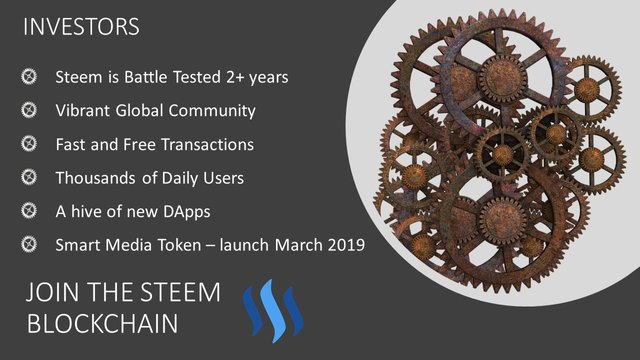 Are you an average crypto investor?
Perhaps you hold between $1,000 and $10,000 in cryptocurrency – that might make you an average investor by size of portfolio.
Today though, I am referring to the average investor as being someone HODLing, staring at their screens and pleading for a crypto market bull run!!
Sound familiar?
Are you thinking:
Which is the safest currency to hold at the minute? and;
Could I learn more about the Steem Blockchain?
This article contains no investment advice but does have two sections for your general crypto edification and enjoyment:
Section 1: Earn more STEEM organically and dynamically
Section 2: Five reasons why STEEM could outperform the rest of the market

EARN MORE STEEM ORGANICALLY OR DYNAMICALLY
1. EARN FROM YOUR STEEM POWER ORGANICALLY
You can accumulate more STEEM by vesting your currency in a process called powering up. You would do this by opening a Steem account and then powering up from the Wallet.
Vested STEEM is called Steem Power. Holding Steem Power(SP) is like HODLing, but it can be withdrawn evenly, weekly, over a 13-week period. If you hold Steem Power you can also benefit from feeless transactions.
Steem Power gives you the ability to reward content whether that be projects, DApps, community contributions, art, videos, photos, music, charitable and humanitarian acts or just comments and blog posts. Let me give you an example of the free rewards you can distribute as a result of the daily mining of new currency.
On 1 September 2018 – STEEM was valued at $0.95, an account holder with 17,000 STEEM POWER (equivalent USD $16,150) would have the ability to reward content of approximately $10 per day in aggregate.
All users have the potential to distribute the equivalent of ten 100% upvotes per day – in the example above 10 x $1 upvotes (for a total of $10). As long as an investor has more than 500SP, the weight of the vote can easily be changed between 1% and 100%, allowing for a much wider distribution. This upvote value fluctuates with the price of Steem.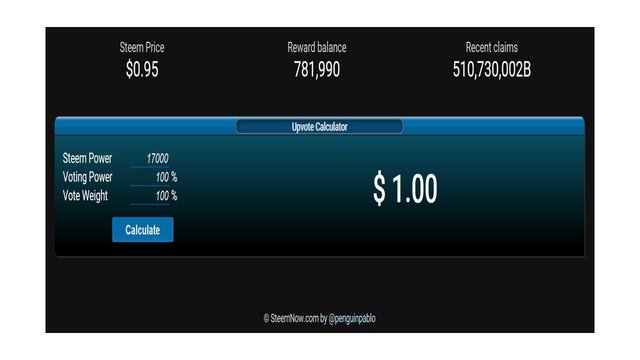 You can do the live calculation yourself courtesy of @penguinpablo at steemnow.com by clicking here
You can change other people's lives one upvote at a time without it degrading your balance, at all.
In fact, every time you reward others, you earn small amounts of STEEM in return for this "curation" of content. Many bots and other communities have emerged on the Steem blockchain, which means that users can reward others manually or automatically.
There is also an opportunity for investors to research other ways to gain a ROI on their stake, such as leasing out the use of their Steem Power through minnowbooster.com. Please do your own research, the use of some services and bots can be frowned upon. I do not lease out Steem Power but I do delegate power to projects which I feel can add value or have a mission I believe in, and personally I do this with no expectation of any return.
As a result of (i) curation and (ii) a low level of "interest" accumulating the Steem Power, an investor is actually growing their STEEM holding with sometimes little or no effort.
2. POWERING PROJECTS WHICH ADD VALUE TO THE BLOCKCHAIN
If you have a larger holding of Steem Power you can actually influence projects built on the Steem Blockchain, which will add value to the chain and could in turn lead to an improved currency valuation and in time, perhaps a Top 10 Cryptocurrency Market Cap.
If you personally have some time, skills or resources, and you want to get more involved, there are many projects on the Steem blockchain who will welcome contributions to drive their projects forwards.
Do you want to be part of something great – do you want to partake in finding solutions to real world problems – finding systems and solutions that replace those that are antiquated and broken.
Look at this short selection of exciting projects, applications and communities that have made the Steem Blockchain their home: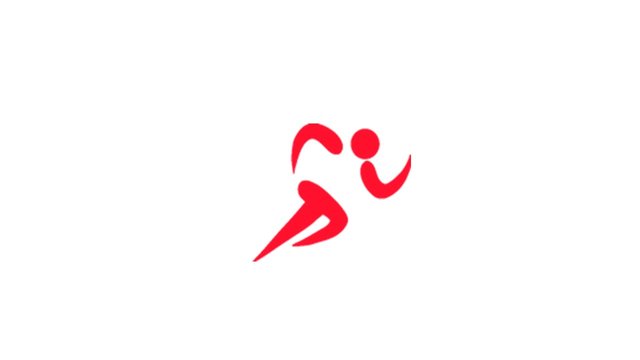 ACTIFIT –
@actifit
built in Q2 2018 is one of the first DApps gearing up for [Smart Media Tokens](
https://smt.steem.io/
), and rewards fitness activity with cryptocurrency! The app is available as an Android app, with an iOS version in development. See their [website](
https://actifit.io/
) for more information.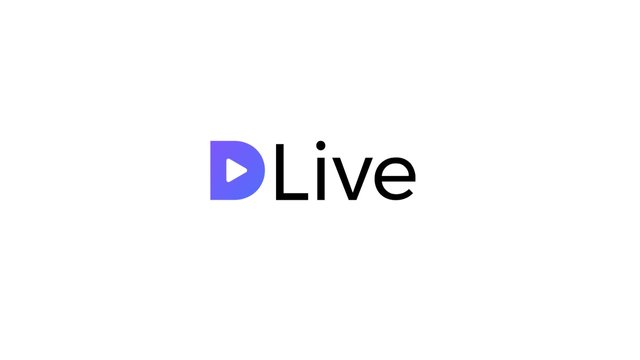 DLIVE –
@dlive
is a video and live streaming service built on the blockchain used widely by gamers and vloggers with a really neat [website here](
https://dlive.io/
).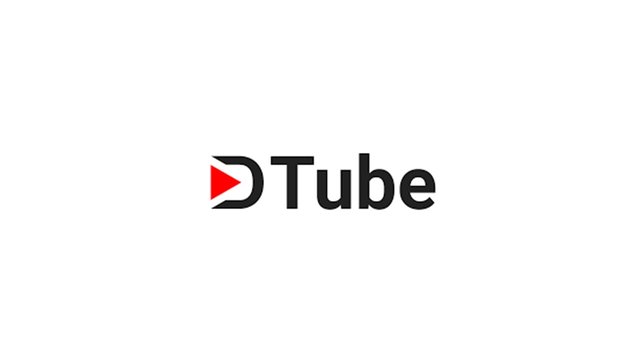 DTUBE -@dtube is a decentralised video sharing platform along the same lines as YouTube. It is one the most popular applications on the Steem blockchain with over 75,000 followers - you can see how popular it is from their website here.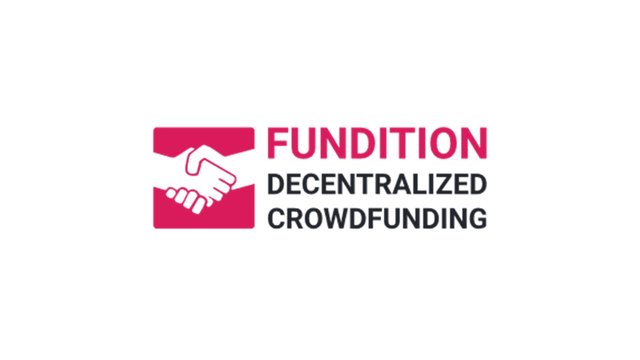 FUNDITION - @fundition is like the Kickstarter of the Steem blockchain – being the first crowdfunding site which connects project founders with backers and donors, and does not take any fees in the process. There is a lot of information on their clever use of blockchain technology on their purple paper here and on their website here.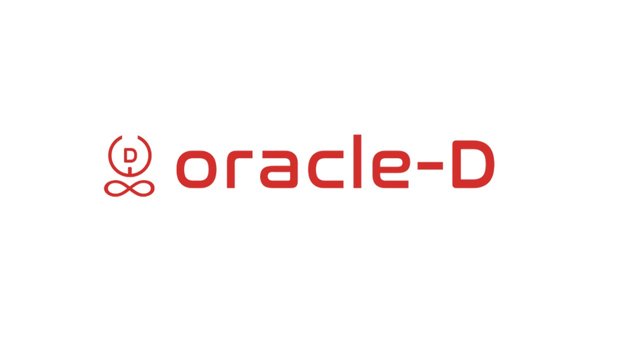 ORACLE-D – @oracle-d incentivise and reward exceptional digital content creators with STEEM for choosing to produce valuable work for clients in order to help them improve SEO and to spread the word about their products and services. This is a new project with website here being built upon daily.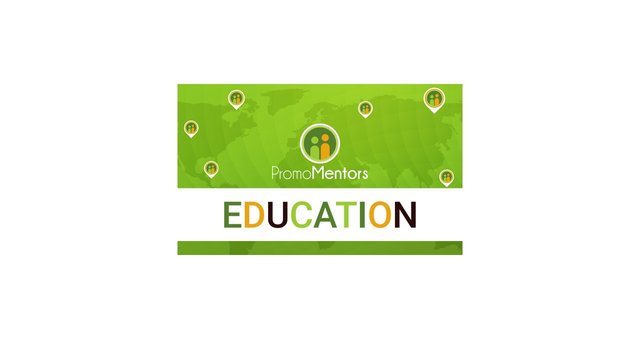 PROMO-MENTORS - @promo-mentors are at a very early stage of building a Decentralised Education Platform which pairs tutors with learners for an exchange in value and tokens.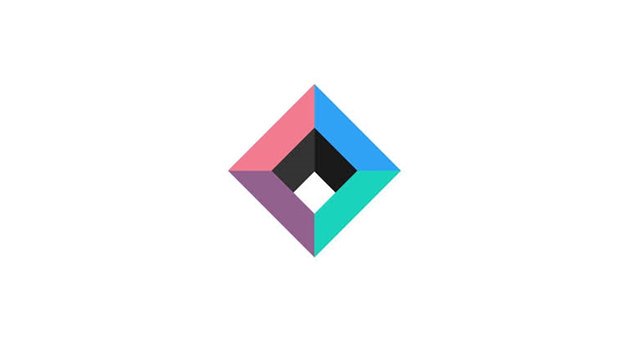 SNDBOX - @sndbox a community program with roots in NYC which develops educational, exhibitions and creative programs that help bring together creatives, communities and business with the emerging tools of the blockchain world. Their website is here.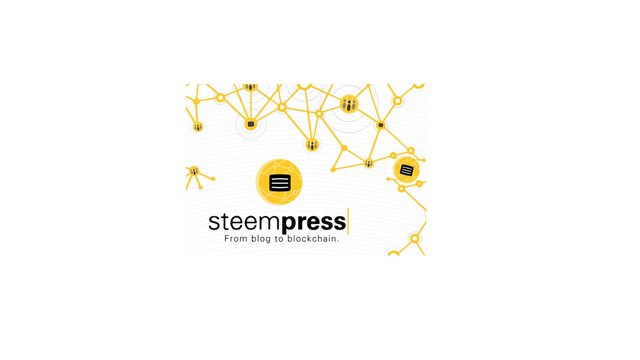 STEEMPRESS - @steempress have built a convenient tool for automatic posting from WordPress websites to Steemit – meaning it is even easier for content curators to share their news and articles on both the internet and the blockchain automatically, further information is available here.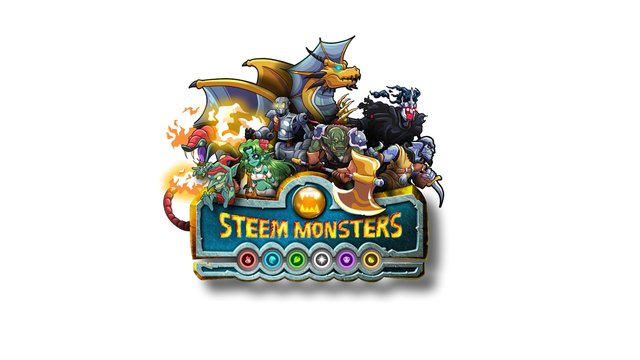 STEEMMONSTERS - @steemmonsters is a decentralized, digital collectible trading card game built on the Steem blockchain, currently in alpha pre-sales stage; with an imminent deadline on pre-sale of 1 October 2018. The launch has been highly successful, and you can read more about this game on their website.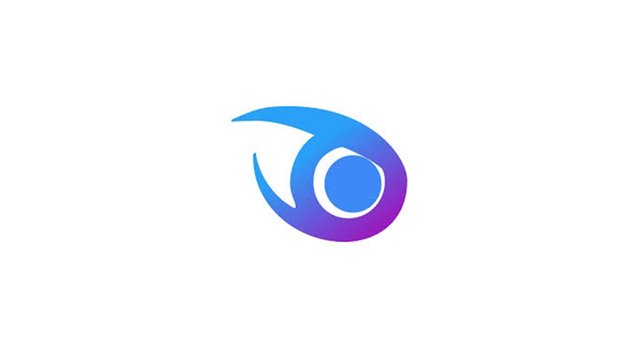 UTOPIAN - Utopian is rewarding professional contributions to Open Source projects by utilising a decentralised, vote-based reward system. Contributions include code/development tasks, bug-hunting, graphic design, tutorials, translations and analysis. @utopian-io can be found here.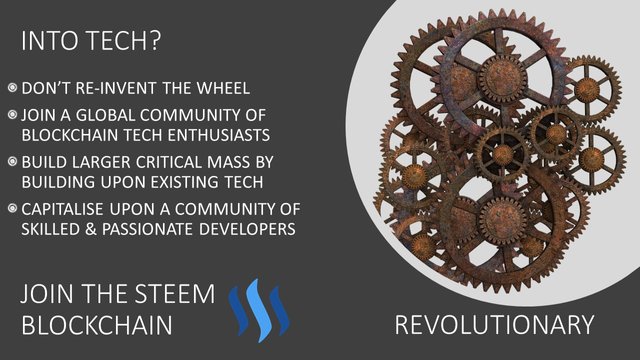 As you can see, there is some innovative and exciting applications of blockchain technology. Have you seen this many use cases on any other blockchain?
AND this is just the beginning!!

FIVE REASONS WHY STEEM COULD OUTPERFORM THE MARKET
As you can see above, you can earn a greater holding of STEEM just by being invested in Steem Power. Furthermore, you can make a positive impact on the communities and development projects, which will surely add further value to the currency.
One thing I didn't mention, was that you can also earn from generating your own content or commenting on other peoples. This is evident from the section at the bottom of this article, showing the value that the community placed on this post and also below that the value placed on the community comments.
Here are five more reasons that make the Steem Blockchain different:
1) Fast and Free Transactions
A transaction on the Steem Blockchain is completed within THREE seconds for FREE. Say no more - that is outstanding.
2) 100,000+ community
There are over 100,000 unique visitors to steemit.com each week – some may come just to read whilst others have active transacting accounts. Furthermore, this community is engaged in businesses that use STEEM as an acceptable currency to trade goods and services. SteemEconomy.com is a website charting businesses accepting STEEM as a currency.
3) DApps
I have listed a series of decentralised apps above. I think Steem is the "go-to" place if you want to be involved in cutting edge blockchain technology. Let me share with you a quote from Steem Monsters co-founder @yabapmatt. The Steem Monsters project caught the imagination of the Steemit community and the project received $200,000 from the community for the pre-sale digital trading game in the first two months. I think this quote really explains why the Steem Blockchain has become a hotbed for development activity:
"We didn't need to raise money or put in a huge amount of time investment. The Steem blockchain made it really easy, with the existing tools and the engaged community, we could try things which had huge potential returns with very little risk".

"My message to web developers out there is that the Steem Blockchain offers a great opportunity. There are so many ideas for building new web applications and this coupled with the tech community support means you can create something very fast with very little risk."
There is real value in the protocols being used by developers and entrepreneurs, and it appears to set this blockchain apart from competition. I wonder when this will be recognised in the currency valuation.
4) Roadmap
HF20 & Witness Consensus
The Steem blockchain will implement hardfork 20 on the 25 September 2018 which brings about numerous changes including a more efficient account creation service. The release of hardfork 20 also includes a new "test-net" area for developers to test. The Steem blockchain has a history of one persistent chain as a result of clear and specific rules for how a change in protocol occurs. It is unlikely to result in a fork like Ethereum or Bitcoin where multiple chains result as a fork, and therefore provides a certain amount of stability.
Smart Media Tokens
SMTs are launching in Q1 of 2019. This is a new way for online publishers to monetise their content and capitalise on their growing community by creating their own tokens. Content creators can be rewarded by an engaged community without the interference of advertising. There are so many potentials uses for this technology – perhaps you are ready to read the White Paper on this project.
5) Capacity & Activity
Look at the table below which demonstrates activity levels on various blockchains. Look at the Steem blockchain completing easily over one million transactions a day: a clear indication of purposefulness. Do you think this should inculcate into value, and will we see the value of STEEM outperform the rest of the market?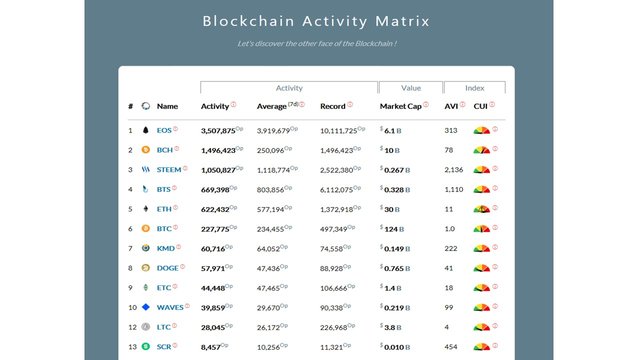 The indicator on the RHS is capacity – The Steem blockchain is currently using less than 0.5% of its capacity, and so it has masses of room for scalability to support applications which might require high volumes of transactions.
Source
Why not also look at the AVI score on STEEM, indicating a very low market cap versus the volume of transactions being completed.
Activity Valuation Index (AVI):
This is one of the most interesting data points on the website. This index takes the Bitcoin value (market cap) and the number of transactions (Tx) per day and makes it an index set to "1". Then, it varies with the other blockchains data. The index grows when the blockchain is very active and its market cap is low.
A blockchain with the same amount of Tx as Bitcoin but with only half of its market cap would have an AVI of 2. From the investor point of view, it would be twice as valuable as Bitcoin because it would have the same level of activity with only half the market cap. Another blockchain with half the amount of Bitcoin Tx with the same market cap would have an AVI of 0.5.We can see blockchains like BitShares and Steem having very high index values. That is explained by the fact that they have a very low market caps but they process the same kind of Bitcoin activity or more.
Clearly the Steem blockchain has been well battle tested with both transactions and development and is emerging stronger than ever.

Has this whet your appetite to learn more about the Steem Blockchain?
Yes!
Okay Great News: what next?
To learn more about the detail of the History of Steem, obstacles which have been overcome, Steem features and Steem futures -there is a huge amount of information from Steem Witness @timcliff here. Tim is also available for questions here: timcliff.steem.witness 'at' gmail.com.
To register for free now: click here. The process is simple but will take a few days to come through. Other faster alternatives for account creation are included in Tim's article.
If you would like to buy STEEM from an exchange: you will find that it has been listed on the following cryptocurrency exchanges:
If you have a sizeable investment and you want to brainstorm how you might achieve your goals in utilising the active community to achieve a goal: for example, to market an ICO, or, to launch, advertise or market a product contact the @oracle-d team here support@oracle-d.com.

Disclaimer
The information contained within this post shall not be taken as financial advice. I am not a financial advisor and none of your investment decisions should be carried out based on any information presented here. You can lose all of your money by investing. The information presented in this article is for educational and entertainment purposes only.