Hey Steemians
I happened to come across this interesting graphic from the peeps at data light stating that in January 2019 Steemit was the second most popular cryptocurrency site in the world with 5.5 million visits.
I assume this doesn't include people who use dApps like @esteemapp, @busy.org or @partiko so it makes it all the more impressive that we're beating out the likes of exchanges like Binance and Kucoin in a bear market.
If the site is so popular in a downturn how popular will it be if we can continue to show steady growth going forward? Just thought id share this to give steemians a little bit of good news for the week! Don't be so hard on yourself this Valentine's day, let someone be hard on you!
Check out their insights on steemit here - https://datalight.me/coins/steem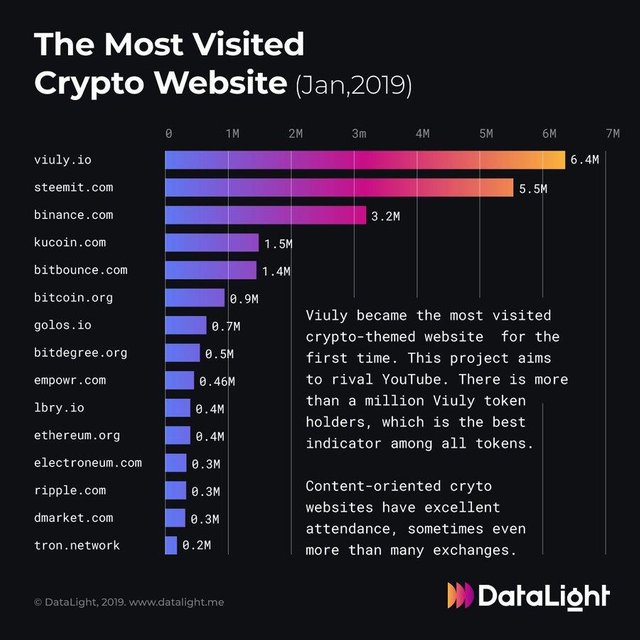 Source: datalight
Where the hell does vuily.io come from?
My reason for this post is to ask how is vuily.io more popular than steemit? It seems to be a sort of dTube alternative. How did this video sharing platform become so big? Have you ever heard of it? Do you use it? What are the rewards like?
What is data light?
DataLight is a web-portal that offers a wide range of data on assets, where the user can configure the visualize blockchain data according to the data they need and find relevant insights for studies and improved tactical approaches.
Datalight offers users:
complete and relevant data in an aggregated form;
asset valuation model with more than 250 parameters;
a regular release of analytic materials;
assets and market ratings
Visit Data light - https://datalight.me
Let's connect
If you liked this post sprinkle it with an upvote or resteem and if you don't already, consider following me @chekohler


---
Get Daily Upvotes With SmartVote

Trade Bitcoin, Ethereum, Litecoin, Doge or Dash for STEEM instantly
Check out blocktrades to quickly exchange popular cryptocurrencies for STEEM, STEEM power or STEEM Dollars or trade your STEEM, STEEM power or STEEM dollars for popular cryptocurrencies
---