As easy as 1 2 3 (quite literally), Steem has finally broken out of (and closed out of) the accumulation phase after 123 days. It's still early to call anything, and I've seen several Steem posts trying to figure out what the story is behind this breakout, with one calling it a pump and dump (seriously?), but I don't think the story is anything more than accumulation ending.
Aside from extending the time bar at the bottom, I have not altered anything else since the last time I posted about Steem accumulation. I drew the green triangle more than a month ago based on the trajectory of the 200 day moving average, and thus far it has held. Up until last week, I was anticipating a final drop before the breakout, but it seems time had run out for any more shakedowns.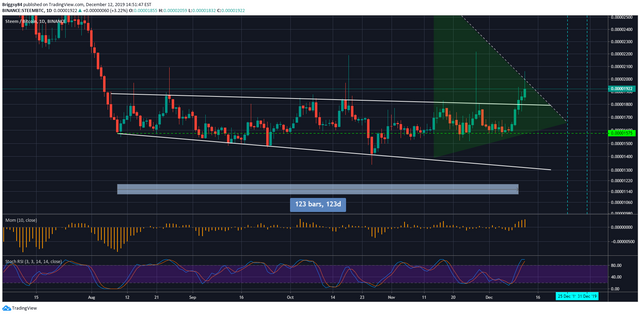 ---
All that being said, nothing is guaranteed and this very well could be a false pump. I have strong doubts that is the case given the timing, but anything is possible. Bitcoin still has room for another short sell-off, but its time is running out too, and Steem has no reason to do anything until after Bitcoin acknowledges its long-held logarithmic support.
Thanks for dropping by