SBD Giveaway ( The Test )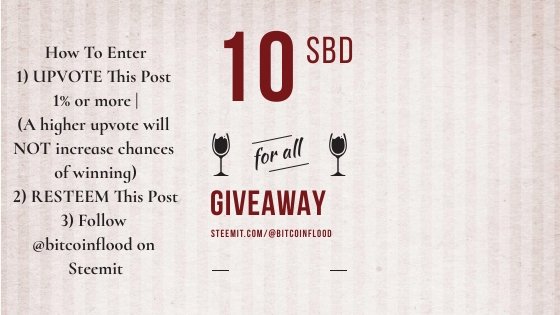 I am totally curious how well this works and so I wanted to start it here while I am away as the idea came to my head to apply it here. I run a huge amount of giveaways so I want to test the waters and see what type of response I get from this and how well it is taken.
At random times I am going to run a giveaway post for SBD and heck I might even do it for other communities from steem engine as well.
It Is Very simple to enter just complete the 3 tasks below. YES, all 3 tasks must be completed otherwise the script I run will not include you in the drawing.
This is a test run while I am away for the next few days but
YES someone will be walking away with 10 SBD at the end of it.
Complete ALL To Be Entered To Win 10 SBD When This Post Pays Out
🗳️Upvote this post at least 1%

↩️ Resteem This Post

👋Follow @bitcoinflood on steemit

Optional but helpful - 💬 Comment below about what you think of giveaways and if this would be a good idea? Valued comments always get upvotes from me so don't rush it!
GOOD LUCK