Dear @crypto.piotr
Firstly, I want to commend you on your passion and devotion for the Steem blockchain. But, as nice as I am sure you are, we need to talk about your spam problem.
There is nothing wrong with promoting yourself, send all of the SBD and STEEM to bidbots that you want to get your posts onto trending, but when you're churning out transaction spam to promote your own posts or your latest stunt: the posts of others, that's a problem.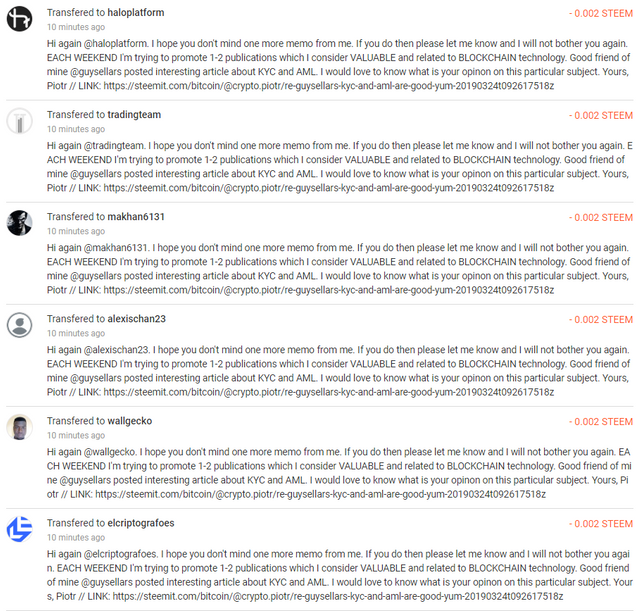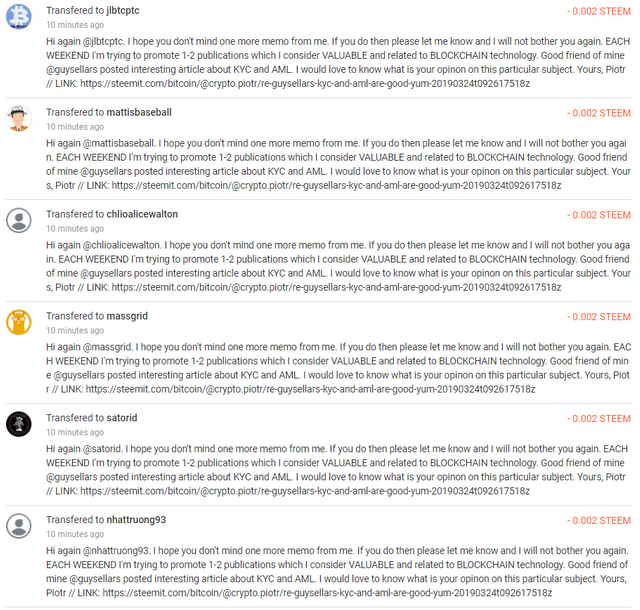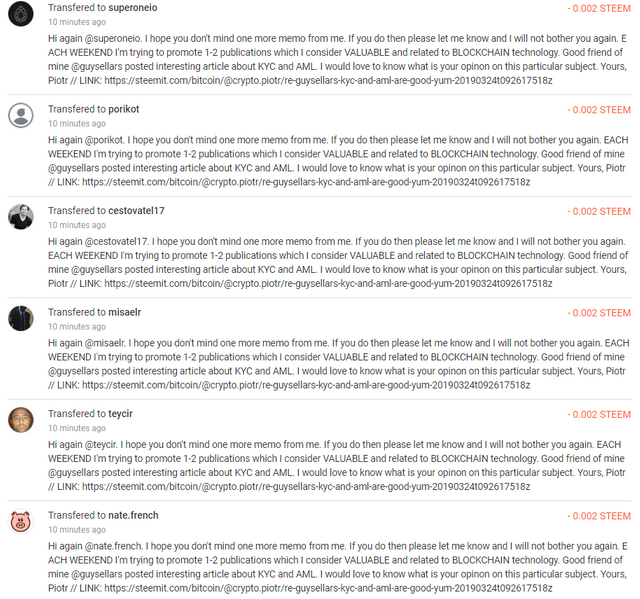 This is only a small snippet of the copious amounts of transaction spam messages you're sending. If I screenshot the full extent of your spam escapades, anyone who attempted to load this post would find their browsers crash and phone batteries instantly deplete because of the number of images that would entail.
And the crazy thing about this is, this isn't the first time you've spammed me. For months I would see your self-promotion 0.0002 memos come through and it was annoying. Eventually, I "unsubscribed" myself and you said you wouldn't bother me ever again, which was cool To your credit, the spam did stop for a little while. Apparently, this only extends to your own posts and not the promotion of other people's posts? Or maybe your spam bots got amnesia and forgot I opted out?
Please, stop spamming. Steem has a serious spam problem as it is and if we want newcomers to arrive and take this place seriously, we want them to see a semi-credible blockchain and not a garbage fire of dust transactions with links to posts.
Nobody likes being "opted-in" to a widespread spam campaign. People hate spam email and what you're doing is exactly the same. If you want to offer a newsletter service, that's fine, but MAKE IT OPT-IN, NOT OPT-OUT. If your content truly is amazing, I am sure some people will sign up.
If you want to promote yourself, do what everyone else does and whip out your fiat, buy some Steem and push it to the trending page with bidbots.
Kind regards,
@beggars