Steem(it) Town Hall with @ned hosted by @aggroed and @llfarms and a personal perspective on the challenges we face.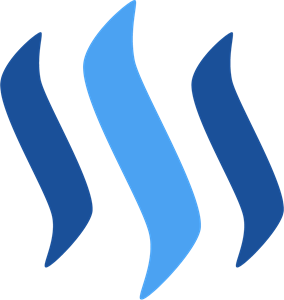 The Peace Abundance and Liberty Network PALnet is the largest off chain Steem community and we're housed in Discord. Inside of the Discord channel is a Broadcast station called msp-waves where we host talk and music shows. I've hosted a show on msp-waves for over a year called the Minnow Mayor Town Hall. @llfarms recently joined as co-host. On this last one we had a pretty large audience and as per usual any member of the audience is welcome to put a "1" into chat to indicate they would like to go on air. Tonight I was joined msp-waves station manager @r0nd0n, Minnow Support Project Senior Moderator @clayboyn, dlux founder @disregardingfiat, Steamspeak founder @frystikken, and Steemit CEO @ned joined as well.
Ned chose to come to Discord and this show on his own. I'm grateful that he did and we can start a conversation. I have a responsibility to the stakeholders here to communicate to the best of my ability the things that I'm personally looking for to come out of any discussions between Steemit, the witnesses, large steem power holders, community leaders, and the community at large. This is my best attempt to do that. I'm doing my best in the following paragraphs to only speak for myself.
Background
Ned and Dan started a coin. To act within the law, but circumvent massive regulatory hurdles they decided to launch the coin with public mining rather than an ICO. They intentionally limited the number of people who could mine by restricting information regarding how to mine the coin in an effort to have the majority stake to then spend it on onboarding and chain development. Anyone who was an experienced token miner who happened to be following the bitcointalk forums regarding the mining opportunity could setup a miner and go. So, it was publicly available, but most people couldn't. I saw Dan (acting as thereverseflash) on bitcointalk seem to help a few miner's who were close, but struggling, but I didn't see any evidence of a tutorial or the like on how to mine.
This system created some distrust of the process because of the exclusivity. It was made worse when a bug in the code would require a hardfork or a chain restart. Steemit opted for a restart. That made a lot of early miners rip shit angry. They started mining, they put in a lot of energy to make it happen, they had costs, and it seemed like an assault on their coin ownership to simply restart. An early attitude was "Steemit is just going to keep restarting the chain if they don't get the high stake they want." The "ninja mine," the chain restart, and the distribution of Steem (meaning the concentration of steem in the hands of a single entity that can alter chain governance if they choose to vote at any time for witnesses) has lead to low levels of investor confidence in the market.
At the time Dan (thereverseflash) was saying that the mined stake would be used to onboard new users and develop the code for the blockchain. In the 2017 roadmap it was unilaterally amended and put on the chain as this-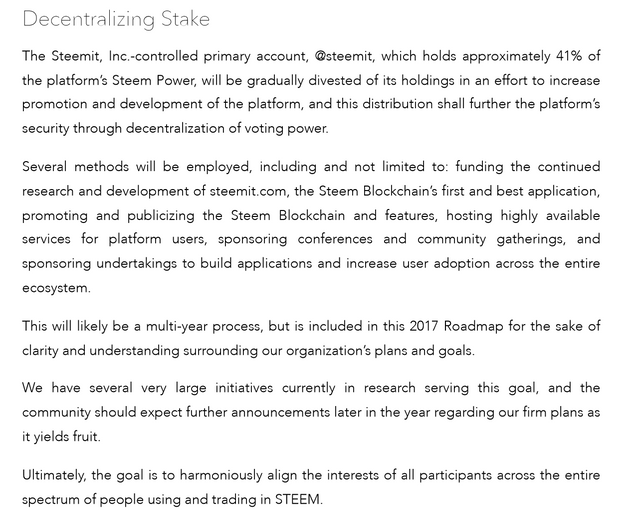 As a positive consequence of pre-mine there's a theory that Steem isn't a security, which removes a lot of regulatory challenges. As negative consequence the distribution was such that Steemit mined close to 75-80% of the steem power. The remaining Steem went a very narrow group of miners and developers. To make matters worse the platform had an insane inflation rate. The amount of steem getting manufactured was enormous and it was stake weighted. Stake weighted means if you owned steem you got more steem. The price plummeted, a holders value stayed roughly the same, but the sheer amount of steem grew tremendously. It led to my comical post of how I made 7 cents in 5 posts.
The Catalyst
There's been a lot of activity recently on the chain and in off chain communications between a variety of community stakeholders. The powder keg seems to be not just the bear market, but how Steem continues to slip in the rankings on coinmarketcap showing that we're dropping faster than other chains. Steem has one of if not the largest active community, a fantastic chain, and something like half of the leading Dapps in the cryptosphere, and yet we're in the 50s. Investors, dapp builders, community leaders, and steem power holders keep telling me things are broken!
This precipitous decline is exasperated by Steemit selling roughly 800,000 steem per month on the market to partially cover operating costs.
The catalyst was when johan, a previous steemit employee and a non-witness, decided to clone steem, create what he called Hardfork 21: Freedom which "[if] this hardfork is adopted by witnesses will set all Steemit Inc. controlled accounts authorities to the null key." It was based on a previous though unimplemented hardfork code change that was written by steemit at a previous time that intended to set authorities to the null key for a different list of accounts. Steemit has known control over at least 70M steem and there's 292M steem in the world. So, this hard fork is targeted at 25% of all the known steem power and mentions the accounts owned by steemit exclusively.
Major Grievances
Ned, here are my major personal concerns.
I'm worried by financial mismanagement at Steemit Inc; specifically regarding the use of pre-mined stake. In 2018 the deliverable put out by Steemit Inc was hardfork 20. The start of it felt disastrous and more to the point if that's really the only deliverable it cost on the order of 10,000,000 Steem to create and launch HF20 and host steemit.com infrastructure. That's insanely expensive and I can't support support even a 10th of that cost, especially during the price highs of 2018.
Refusal to communicate and ineffective communication - Rare communication from a CTO would be fine. Rare communication from the CEO and defacto overall community leader is inexcusable. Particularly, announcing livestreams, abandoning them, and providing no further announcement is flatly unprofessional. In order to get you to engage it appears there has to be a threat that one of your former employees put on the table to fork out 70M steem. It shouldn't take that to get you to talk to the people using the tools Steemit creates.
Mass adoption has stalled - You built the most commonly used App in the crypto sphere and then sunset it. HF20 allows for discount account creation tokens, but the flagship app of the platform doesn't let you claim or use them and effectively we're in the same spot as a community where onboarding new users is still a bad and unclear experience. People are leaving the platform as a whole, not just because of the bear market, but because there's no marketing, the news cycle has been strongly negative about us, investor sentiment is weak, and you seem tone deaf to it all.
"It's open source code with a closed source repository" While the code is open source everything about it feels closed source. There's almost no insight other than what is put into github, which isn't a place that the vast majority of steemians visit. There's extremely little communication from the dev team, and my previous experience trying to pry that communication open forces me to interpret it as extreme to the point of xenophobia against non Steemit employees. We're trying to ask questions and get involved withe the code and changes. The response is frankly hostility and dismissive. It would be one thing if development was flying off the shelf. It's something entirely when deliverables appear infrequently and recent deliverables are met with community dissatisfaction.
Requests rather than Complaints
I believe strongly in this technology as a way to spread Peace, Abundance, and Liberty. I believe Steem can be the foundation of a better world. I want to see this be as successful as possible, and that means I want to see Steemit and development here be as successful as possible. It also means that I'm willing to go to extremes to make this project successful. I've learned over the years if you want another party to do something the trick is to make it as easy as possible, as clear as possible, and beneficial as possible.
Here are my hopes and requests:
Improved Communication - As I have been asking for over a year I'm again asking for a constant public 2-way town hall style dialogue between you and the community in PALnet, Steamspeak, and other Discord groups where the public frequently congregates. You said you'd bring that up with your team. I hope it turns into a regular conversation. I've already heard concerns that the second you feel you can you'll bail on it that you will. I urge you to set a time weekly, biweekly, or monthly where you'll field open ended questions from the community just like we did last night. Then STICK WITH IT!
Structural Change - I don't think Steemit has the capacity to be both the leading developer of blockchain code and manage all other aspects of the chain. I think it's better to shift towards a more decentralized model favored by lovers of blockchain technology. The proposal I've been floating around can be found here. I plan to formally put that out into as a proposal this week and have a meeting about it the Feb 2nd at 1pm EST 1800 UTC held in PALnet.
By moving Steem Power from @Steemit to a community managed account and setting up committees I think we can collectively get better, faster, cheaper development and grow this community faster.
Essentially the plan would be to open up governance to anyone in the community that wants to participate. Form committees with precise operating objectives that have organizational structure needed to be productive, and set an army of Steem community lovers with defined objectives to make change happen. I think what the anons call "mass fuckery" will lead us to mass adoption a million times faster than one company acting in competition with it's community ever could.
In short, I want to see the mined stake and Steemit development efforts merge into community governance while taking things like marketing and business development off of Steemit's plate entirely.
I think when you first reacted to this you thought it excludes you, but I would want you to personally look into that document, see how you could amend it to cooperatively participate. I don't hate you. I think you're a little awkward at times, but I think you have an exceptional vision. I think you're a asset to the community. Ironically I don't think you see yourself as part of that community. So, when I say it should be community driven you think "but then I'm not a part of that." That has to change. You're a central part of this community, but we need a different organization to grow.
With structural changes in place I think we can address the remaining components.
We can open up community development to the community and hopefully get new code developed that has had more eyes on it and likely to be less buggy as a result.
I think with a community effort we can spend less money to get more businesses building apps on the chain and more communities forming here, which can help mass adoption.
I think with more people having a say in how the mined stake is spent it's more likely to be spent in a way that this community consents to.
This is my home
I pledge to work to the best of my ability to bring about a cooperative agreement where this chain and this community can grow and the coin can moon.
Call to the community (this includes Steemit) for action
Please read this: https://hackmd.io/EzrGbFQdQ0yGRtrx4lGQ3w?edit. Think about how you can fit into it or what changes you would need to consent to partaking in it.
Join me for a discussion in PALnet on Saturday Feb 2nd at 1pm est 1800 UTC where interested parties can self select to work on various parts of what we need to grow this chain.
Partake in CONSTRUCTIVE conversation about how we can work collectively to moon. Cause remember... WE ALL GO TO THE SAME MOON!
With Love,
Aggroed