STEEM QUEENS- @stellabelle, @allasyummyfood, @gringalicious, @rhondak, @patrice - cohosted with @crimsonclad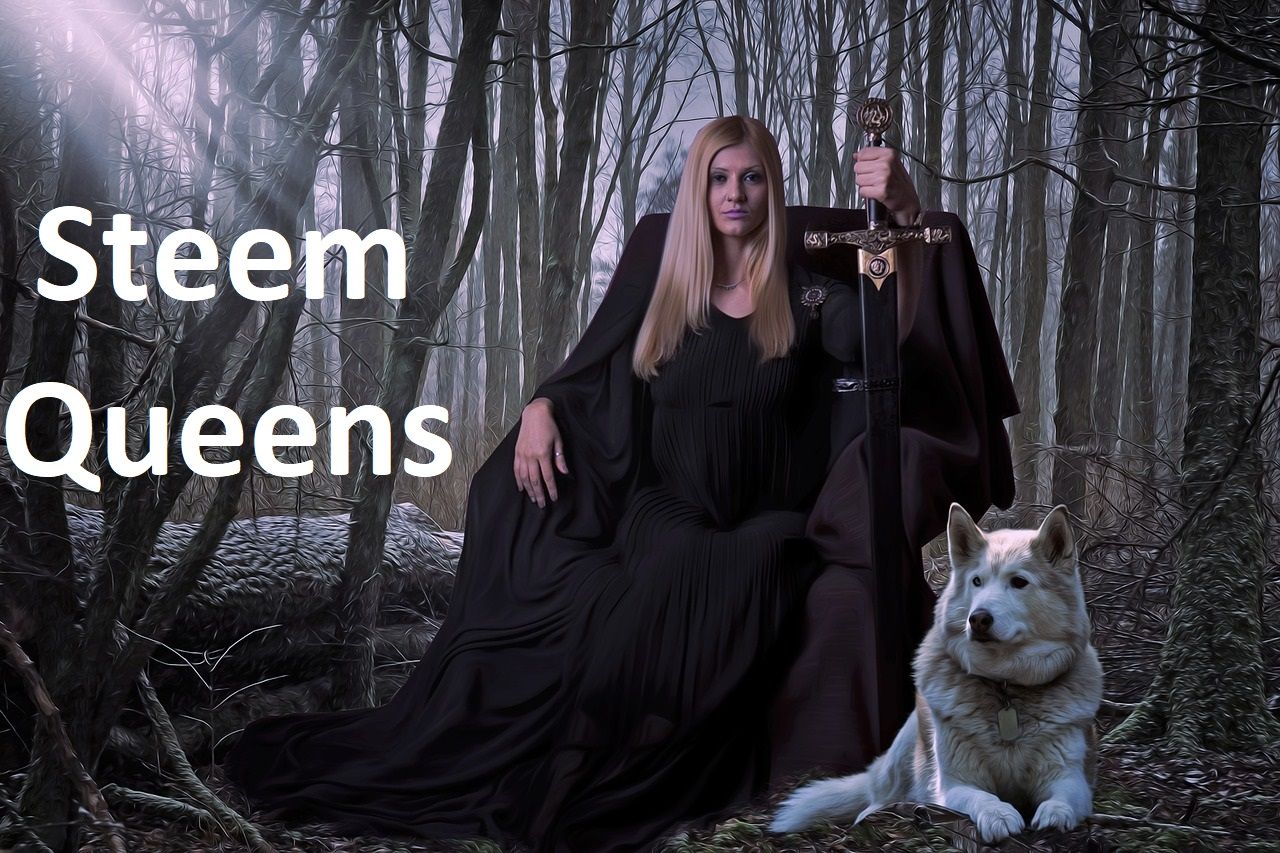 I'm super pleased to present to the community the next panel- Steem Queens!!! I've gathered up some of the best known ladies on the platform to provide what should be an extremely entertaining panel discussion.
The Queens
@stellabelle- Literally the first thing I did on this platform when I got here was follow @stellabelle. I'm pretty sure it was a post by her that got shared to my facebook feed that brought me to Steem. It's my absolute pleasure to bring my friend Stella onto the show! I'm sure we're going to hear how Slothicorn will grow and ultimately change the world. Maybe she can tell us what Steem was like back in olden times circa early 2016!
@allasyummyfood- It seems that Alla may have mastered the art of Dtube. She's entertaining, charming, and is trailblazing as a foodie on the Steem blockchain. She's killing it, which is great especially as she's recently turned full time Steemian. I'm very much looking forward to see just how much she'll grow the platform with her content!
@gringalicious- Another lady I owe a personal debt to. She was one of my first sizable witness votes on the platform. It's been fun to watch her growth with her photography and her take on food. It's fun to see someone who is part of an active Steem family blog about it. Gringalicious is a little worried about travel arrangements for the panel and potential conflicts, but I'm putting her on as a yes even though we may have a last minute cancellation.
@rhondak- I met @rhondak early on in the life of the Peace, Abundance, and Liberty Network Discord Channel. She came in as a spitfire story editor giving dagger sharp critiques. She built up a highly active channel, took on the moderator tag, and before long outgrew the Minnow Support Project. She started the Writer's Block, which has hundreds of dedicated and professional authors in it in with @gmuxx. I can't wait to see where it goes and looking forward to one day publishing some Steem Memoirs with her future publishing company.
@patrice- Witness turned crime fighter extraordinaire will be joining us. She's the highest ranked female run witness on the Steem blockchain, and she's the day-to-day manager of some of the Steem blockchain's biggest anti-abuse bots. We'll talk about her work and her rise in the Witness ranks. Grats on top 50. 51 --> 50 was the worst!!!
Crimson serves as a moderator on more Steem based Discord groups than you even knew existed. She leads the committee for PALnet Discord and watches over our digital home like a momma hawk. She's a talented photographer, an accomplished front end designer, a MSP Medal of Honor winner, and one of my dearest friends on the platform.
Extra Addition!
Looks like we're be getting @beanz to join us as well!! Beanz runs the Voices of the Underground podcast and Discord server. I've been lucky enough to be on the show and talk about the Steem network with her. I'm looking forward to her thoughts on what it takes to grow an account and a channel on Steem.
Logistics
The show starts on Saturday February 17, 2018 at 11am EST (1600 UTC). Shows typically run for 1.5-2 hours.
You can join the show by joining the Peace, Abundance, and Liberty Network.
I typically start DJing around 10:30am to give guests something to listen to and to give panel members a chance to test their audio in Discord. You'll need a headset and a microphone ideally though a cell phone can work.
If you'd like to participate in the chat you can join us in the audience channel
Post show
Leaders of female centric Discord groups are welcome to come towards the end of the show to pitch their Discord Channels to audience members who are looking for that experience.
Topics
This show is airing on the MSP-Waves. MSP is the Minnow Support Project. Like many things for MSP this show is geared towards figuring out how to grow, and these Queens represent some of the best success stories that we have. While I believe the show will be educational and entertaining for everyone I hope it will be especially useful for our female audience members. I imagine the stories of those who have been successful will help others looking to do the same.
I've reached out via steemit.chat and on your wall. If you'd like to be on this panel I'd be thrilled!!! I'm eternally in your debt and want to sing your praises! I wouldn't be here and really neither would all of PALnet or MSP without your help.
Should be fun!
I'm looking forward to hearing success stories from these ladies. I've been entertained by their content and looking forward to getting to know them more and hearing about what it takes to get to their level.
Same rules apply here as to all the other panels. We have community standards in terms of how folks are welcome to talk to one another. Disagreements are certainly allowed and discussion may be warranted, but everyone is expected to stay respectful. Folks that can't abide by that will be removed from PALnet.