The accounts distributing stake have changed a lot in the past year or so. Early on and prior to the rise of the apps, which have been kindly fueled by Steemit Inc and @misterdelegation, most of the stake was distributed by a handful of early adopters who had either bought in early or mined their stake at the beginning.
Nowadays we have the apps. Many early adopters or large stake holders delegate to these apps, but for the most part this stake currently sits in the hands of the Bid-bots. So in the past, to get a nice vote for your content you needed to get spotted by a whale, whereas nowadays, you can either buy a vote or get involved in an app like @fundition or @utopian-io.
However, if none of these apps fit your Steem-style, the other option is to steadily make your way by engaging with fellow members of our community and hopefully pick up some friends who will support you along the way.
As a new user starting with little to no investment, you are 'looking up' to almost everyone. As time progresses, and hopefully your SP grows, new users arrive and are in the position you once were. This is where things start to get interesting, especially if you are trying to be a good Steemian, and distribute stake to a variety of content and accounts, in the hope that the good authors (high and low SP), will stick around and in turn help grow the network.
At the beginning of last year, I reached 5000 SP, and found myself (easily) in top 1%. At 16000 SP, I'm now somewhere in the top 0.01% of accounts by SP on the Steem blockchain. We are seriously bottom-heavy, but it is what it is.
So now what to do?
In reality, the only accounts that can seriously impact my earnings are those holding around the same SP as me, or really, those above. I've just checked and I'm the 850th largest account on Steem. Frightening really. Anyway, so without seeking an app, and with much whale stake out to the Bots, those wanting to grow their account need to attract the active community members still holding the majority of their SP, who are still looking out for new and interesting content/authors.
However, what about the the new people? I was a new, 0 stake-holding account once, and I was fortunate in gaining support from accounts much higher than up the tree than me who knew that i'd never be able to support them in the same way they could me. I should be seeking to support new, keen, engaged people too, right?
This is the end of a rather long introduction to a pie chart :) A pie chart i'm willing to provide to anyone else who's still awake at this point.
The chart shows the number of votes I gave to accounts in 2018, grouped into those with less SP and more SP than I/they currently hold today.
There are a couple of large caveats in that my SP could now be higher than it was when my my vote was cast, and there is also a chance that the account I voted on has now grown larger than mine. Also, if you are a 400,000 SP account, the pie is probably going to look rather skinny on the votes to larger accounts - not many accounts that large actually produce content.
I was hoping though, that the chart would still give me a little insight as to whether I'd been supporting lesser accounts, whilst still doing a bit of 'looking up' at the same time. Although now, I'm at the point in the blog where I'm considering trashing it going for a shower. Oh well, let's continue...
So this is my chart for 2018.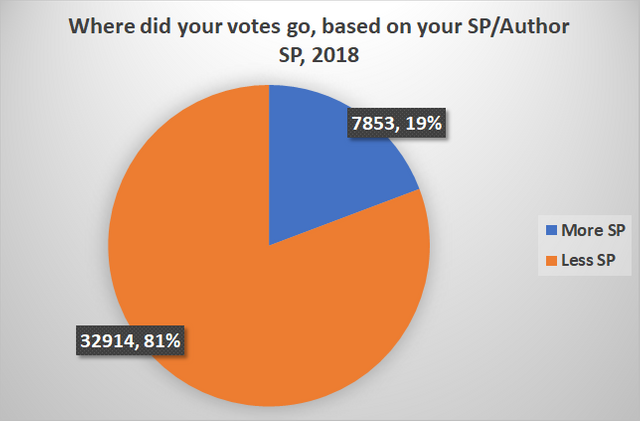 19% of my votes going to larger accounts. That seems 'OK', but considering there are only 849 larger accounts (by own SP), perhaps it's not that great?
This is another chart I produced for those that asked 4/5 months ago, and this time it covers the same period at the above graph - all 2018.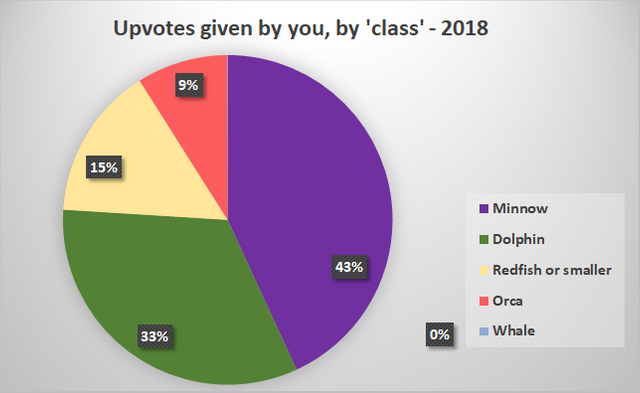 Well it's more colourful than the first chart, and perhaps a bit more interesting?
---
Is anyone interested in having one of these produced for their account?
Is this content at all interesting, or should I be sharing something else today?
What do you think about the idea to try to 'look up' and down in order to grow your account and help support the new people?
Cheers
Asher